Das Bunker covers the Industrial generation in new compilation album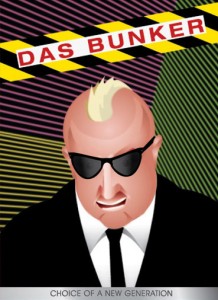 The reknown Los Angeles-based club Das Bunker will release a special compilation with bands from the Industrial scene covering 80′s songs.
The compilation, entitled "Choice Of A New Generation", includes Modcom, Leaether Strip, Combichrist, Assemblage 23 and System Syn to name a few. See full tracklist below.
Limited to 500 copies, the physical package will be delivered as a standard CD in a DVD box together with a Das Bunker USB dogtag. Release date is May 30th.
Tracklist:
01. Straftanz – Looking for Freedom
02. God Module – Round and Round
03. Northborne – No Sleep till Brooklyn
04. HexRx – Living on Video
05. FGFC820 – We Don't Need No World War III
06. Gentleman Junkie – When I Hear Music
07. Modcom feat. Leæther Strip – Native love
08. Sars feat. Amanda Jones – Two of Hearts
09. Combichrist – Gonna Make You Sweat (Everybody Dance Now)
10. Assemblage 23 – Don't Change
11. Continues – Perfume Garden
12. System Syn – A New England
13. SD6 – As The End Draws Near
14. iVardensphere – The Dogs of War
Comments