New album out from Funker Vogt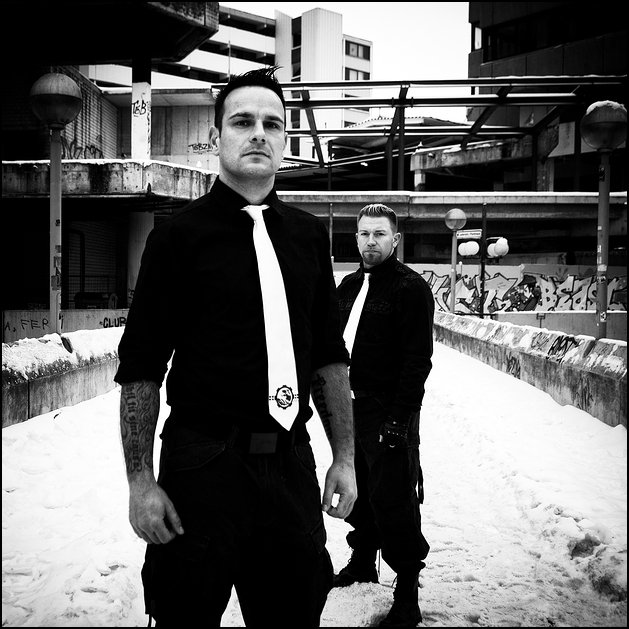 Tracklist
01. Columbine (03:43)
02. Mein Weg (04:05)
03. Religion (03:58)
04. Six Feet Under (03:24)
05. Kampf den Maschinen (03:14)
06. Gott noch nicht (03:48)
07. Kill on Command (03:17)
08. Our Life (04:42)
09. Kapitulation (03:57)
10. W.o.t.W (04:16)
11. The Firm (03:41)
12. Revolution (03:26)
13. Brüeder (05:23)
written and performed by Neuroticfish. Filmed, edited and directed by Judith Klein. (C)2013 Neuroticfish all rights reserved. Taken from the forthcoming album "A Sign Of Life".
http://www.neuroticfish.com
https://www.facebook.com/OfficialNeur…
https://soundcloud.com/officialneurot…
A film by Dave Hoser
© Notable pictures
From the album Cryptex [BDMCD22] / BOREDOMproduct
The Firm is taken from the new Funker Vogt Release "Companion in Crime"
(release 28th June 13)
Lyrics: A. Watts & G. Thomas
Music: G. Thomas
Video Script: Steven Dornbusch
Regie: Cara MC Finn & Steven Dornbusch
Video Production: TalkingFish Media
Video Edit: TalkingFish Media
Camera: TalkingFish Media
Label: Out of Line Music GmbH
Distribution: Rough Trade
SPECIAL THANKS TO
SZENE DÜSSELDORF, Route 66 Düsseldorf, Dietmar & Cara Mc Finn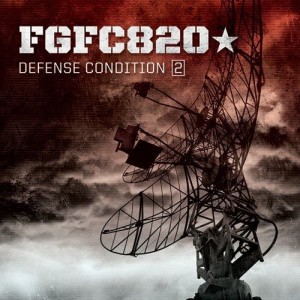 Three years after their last release the album "Law & Ordnance", FGFC820 are now returning with new EP "Defense Condition 2."
The New York-based duo formed in 2004 and debuted on its own with the EP "The Hanging Garden" the following year. Now they are on the Black Rain label NoiTekk, where, besides the above-mentioned "Law & Ordnance" they also debuted with "Urban Audio Warfare" in 2006. The next EP contains nine songs and title tracks "Insurrection" and "Revolt Resist" is supplemented with remixes signed Funker Vogt, Accessory, Comoros Command and Arian 1
"Defense Condition 2" is released November 18 via NoiTekk.
Tracks:
Insurrection (Call To Arms Mix)
Revolt Resist (Reload Mix)
We Don't Need No WWIII
Insurrection (Fuxxor Mix By Accesory)
Revolt Resist (Comrade Mix by G.Thomas of Funker Vogt)
Resolution 9
Insurrection (Resurrexion Mix by Arian 1)
Revolt Resist (Billion Dollar Killing Machine Mix by Komor Kommando)
God & Country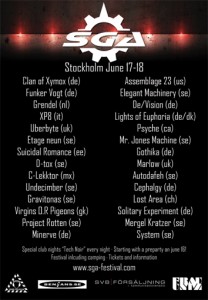 The new outdoor synthpop, EBM and goth festival Stockholm Goes Alternative (June 17-18) has hired all live acts (but one which will be picked from a contest in February). The line-up looks like this:
Lights of Euphoria, Psyche, De/Vision, Gravitonas, Grendel, Funker Vogt, Assemblage 23, Clan of Xymox, Solitary Experiments, XP8, Autodafeh, Elegant Machinery, Uberbyte, Etage Neun, C-Lekktor, Undecimber, Virgins or Pigeons, Project Rotten, Minerve, Mr Jones Machine, Gothika, Marlow, Cephalgy, Lost Area, Mergel Kratzer, Suicidal Romance, D-Tox, and System.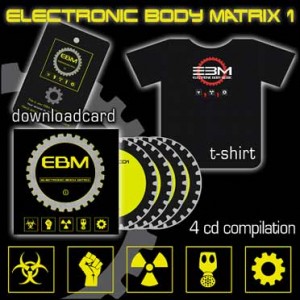 The Belgian label Alfa Matrix has announced what seems to be a real "who is who in the current EBM scene" boxset uniting no less than 112 artists bringing rare are exclusive tracks. The full tracklist can be viewed at www.alfa-matrix.com/ebm1 . Expect material Front 242, Nitzer Ebb, portion Control, Covenant, Pouppee Fabrikk, Funker Vogt and so on and so on.
Titled "Electronic Body Matrix 1" this new compilation series runs across 4 CD's plus an exclusive download card giving you access to another 40 additional bands for a total music play more than 500 minutes. Promised are over 70% rare or previously unreleased tracks.
"Electronic Body Matrix 1" also marks Alfa Matrix's 10 years of existence. Says Seba Dolimont: "Through this set we are revisiting the roots of the old school 'Electronic Body Music' movement and bridging them together with the current electronic sound. The sampler pays homage to the various branches of the electronic music genre throughout the last decades, gathering pioneers, leading figures of today's scene, rising new talents and artists who deserve to be discovered. This is NOT simply a re-release of new wave EBM classics, but fresh new music!"
Via SL