November 26, 2010 · Posted in
Uncategorized
·
Comments Off

on Who's who in EBM – Alfa Matrix shows us the way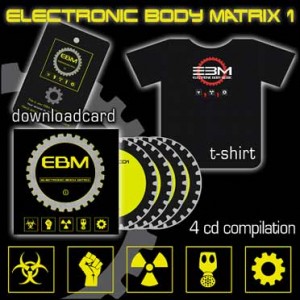 The Belgian label Alfa Matrix has announced what seems to be a real "who is who in the current EBM scene" boxset uniting no less than 112 artists bringing rare are exclusive tracks. The full tracklist can be viewed at www.alfa-matrix.com/ebm1 . Expect material Front 242, Nitzer Ebb, portion Control, Covenant, Pouppee Fabrikk, Funker Vogt and so on and so on.
Titled "Electronic Body Matrix 1" this new compilation series runs across 4 CD's plus an exclusive download card giving you access to another 40 additional bands for a total music play more than 500 minutes. Promised are over 70% rare or previously unreleased tracks.
"Electronic Body Matrix 1" also marks Alfa Matrix's 10 years of existence. Says Seba Dolimont: "Through this set we are revisiting the roots of the old school 'Electronic Body Music' movement and bridging them together with the current electronic sound. The sampler pays homage to the various branches of the electronic music genre throughout the last decades, gathering pioneers, leading figures of today's scene, rising new talents and artists who deserve to be discovered. This is NOT simply a re-release of new wave EBM classics, but fresh new music!"
Via SL
September 2, 2010 · Posted in
Uncategorized
·
Comments Off

on Recession Festival featuring Marc Almond, Front Line Assembly, Portion Control and more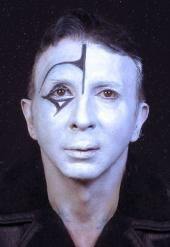 The Danish city Århus hosts the Recession Festival again on October 8-9. The program 2010 includes Marc Almond, Front Line Assembly, Portion Control, Rummelsnuff featuring Claus Larsen, Necro Facility, Kite, Andreas Tilliander and Familjen. More acts will be announced shortly.
April 29, 2008 · Posted in
Electronic Music
·
Comments Off

on Portion Control back with retrospective album in May
And for those of you who don't know who these guys are, here's a sample:
[youtube=http://youtube.com/watch?v=mzBY1qL7Eyg]
There new album is called Slug
Portion Control are a British electronic and industrial band formed in London in 1980. The band calls its music style electropunk or hard rhythmic electronics. They are one of the most famous obscure electronic music acts in the world and have been honoured and name checked by the likes of Depeche Mode, Skinny Puppy, Front Line Assembly, NiN  & Orbital

Having made a stylish return to the electronic underground with the album Wellcome  in 2004, industrial act Portion Control now delivers a timely retrospective box set for collectors. Here we find 5 CDs of which appears to be the vast majority of their vinyl back catalogue work – plus extras – for the first time available in digital format. The material includes the bands early albums and EPs spread over the first 4 discs, with a limited edition bonus CD including high quality MP3s of everything included on the initial 4 discs, plus a remix of the track Refugee Rebuild by Rhys Fulber and 135 past & present related images of the band.