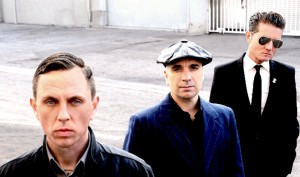 "Industrial Complex", Nitzer Ebb's 6th studio album to date and produced by Flood, will be re-released on vinyl in 4 different versions.
The re-release will include the "I am Undone" remix by Alan Wilder and new remixes of "Once you say" byApoptygma Berzerk, Vince Clark, NZ, MRDTC, Technomancer feat. Angst Pop, Neotek vs. Birmingham 6 and K-Bereit.
The editions are:
"Industrial Complex" featured guest vocals by Depeche Mode's songwriter Martin L. Gore on the song "Once You Say".

The track list for the double vinyl is as follows:
LP1:
SideA:
1 Promises 3:50
2 Once You Say Featuring [Uncredited] – Martin L. Gore 3:41
3 Never Known 3:58
4 Going Away 4:10
5 Hit You Back 4:19
6 Payroll 2:57
Side B:
7 Down On Your Knees 3:52
8 I Don't Know You 3:12
9 My Door Is Open 3:15
10 I Am Undone 3:51
11 Kiss Kiss Bang Bang 2:57
12 Traveling 3:13
LP 2:
Side A:
1 I Am Undone (Alan Wilder Remix) Remix – Alan Wilder 5:29
2 Once You Say Remix by Apoptygma Berzerk 4:16
3 Once You Say MRDTC Version 5:19
4 Once You Say PUREMIX by NZ 4:48
Side B:
5 Once You Say RAWMIX by NZ 3:47
6 Once You Say Neotek Remix 4:28
7 Once You Say Angst Pop feat. Technomancer Remix 4:43
8 Once You Say K-Bereit Remix 4:37
9 Once You Say Vince Clark Remix 5:51
Here's a Nitzer Ebb modular patch so authentic it could easily be from the Belief era.
stepper acid driving frequency central 100m modules in a nitzer ebb style
great snappy fcuk adsr ,
drums provided by the dokta2
turing machine into filter cut off cv and bpf of dokta2 doepfer lfo into pwm of the fcuk osc
Album: Industrial Complex (Limited Edition) (2010)
Cover of Nitzer Ebb – Join In The Chant using Elektron Analog Four and Roland TR-8.
This is what Douglas' new album will sound like, sort of more electronic pop type music than EBM or Nitzer Ebb type of style, the producer is Mark Bell.
The album is called "kill your friends", and reminds a lot of System700 or at least Roland sounds with dynamics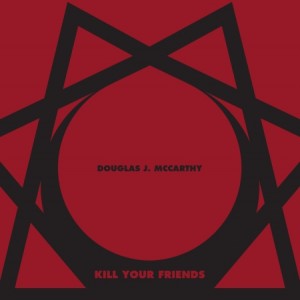 New track from the upcoming solo album of Douglas McCarthy, the frontman of EBM pioneers Nitzer Ebb

Available now for listening is a brand new track from Nitzer Ebb frontman Douglas McCarthy. "Move on" is the 3rd track – after the "Death is king" video and the "Hey" EP (buy it here on iTunes, Amazon USA, Amazon UK or Amazon DE) – taken from McCarthy's forthcoming solo album "Kill your friends" which will be out via Pylon Records on November 23,2012.
The release will be out in 2 formats. The first is a limited edition color vinyl (limited to 300), hand signed by Douglas McCarthy, which also comes with a bonus CD. The Bonus CD will contain 3 songs not included on the vinyl version, plus several remixes exclusive to this CD. The 2nd format is a so-called 'commercial' CD which will contain all 12 songs featured on the vinyl and the 3 songs on the bonus CD.
Regarding that new album, Pylon Records had this to say: "We have just received the masters for the new album and they sound really nice and tight, lot of Dynamic Range, not so loud that yours get crushed, we leave that up to you to turn your volume knob, watch the Base!!!"
http://vimeo.com/34407936
Nitzer Ebb frontman Douglas McCarthy returns with a new solo project of which so far only a short video turned up online, "Untitled". On douglasjmccarthy.com you only get the sentence "Life is sucking the life out of me". A release and tour are scheduled for 2012 but no more news is known so far, we'll keep you informed.
The Shadow Bureau is a new project from Nitzer Ebb's Bon Harris and A Matter Gray's Jeehun Hwang. What at first started off as compositions for several indie films has since taken on a life of its own, featuring collaborations with the likes of Wolfgang Flür (Kraftwerk), Curt Smith (Tears For Fears) and Isabelle Erkendal (Peaches, West End Girls).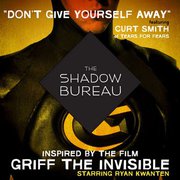 The band's 2-track single "Don't Give Yourself Away" is now available for listening on the band's Facebook page at www.facebook.com/theshadowbureau. The title track "Don't Give Yourself Away" features Tears For Fears' Curt Smith on vocals while the B-side "Axis Of Envy" features Wolfgang Flür (ex-Kraftwerk).
Enjoy
http://youtu.be/KfZDgARG9fI
New video with Nitzer Ebb and Die Krupps. Read our interview with Nitzer Ebb here, that we made some weeks back.