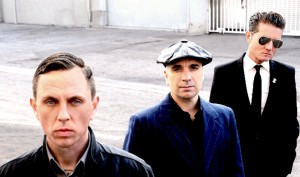 "Industrial Complex", Nitzer Ebb's 6th studio album to date and produced by Flood, will be re-released on vinyl in 4 different versions.
The re-release will include the "I am Undone" remix by Alan Wilder and new remixes of "Once you say" byApoptygma Berzerk, Vince Clark, NZ, MRDTC, Technomancer feat. Angst Pop, Neotek vs. Birmingham 6 and K-Bereit.
The editions are:
"Industrial Complex" featured guest vocals by Depeche Mode's songwriter Martin L. Gore on the song "Once You Say".

The track list for the double vinyl is as follows:
LP1:
SideA:
1 Promises 3:50
2 Once You Say Featuring [Uncredited] – Martin L. Gore 3:41
3 Never Known 3:58
4 Going Away 4:10
5 Hit You Back 4:19
6 Payroll 2:57
Side B:
7 Down On Your Knees 3:52
8 I Don't Know You 3:12
9 My Door Is Open 3:15
10 I Am Undone 3:51
11 Kiss Kiss Bang Bang 2:57
12 Traveling 3:13
LP 2:
Side A:
1 I Am Undone (Alan Wilder Remix) Remix – Alan Wilder 5:29
2 Once You Say Remix by Apoptygma Berzerk 4:16
3 Once You Say MRDTC Version 5:19
4 Once You Say PUREMIX by NZ 4:48
Side B:
5 Once You Say RAWMIX by NZ 3:47
6 Once You Say Neotek Remix 4:28
7 Once You Say Angst Pop feat. Technomancer Remix 4:43
8 Once You Say K-Bereit Remix 4:37
9 Once You Say Vince Clark Remix 5:51
Album: Industrial Complex (Limited Edition) (2010)
Recoil is a musical project created by former Depeche Mode member Alan Wilder. Essentially a solo venture, Recoil began whilst Wilder was still in Depeche Mode as an outlet for his experimental, less pop-oriented compositions. Once he announced his departure from the group in 1995, Recoil was transformed from a small side-project into Wilder's primary musical enterprise.
Youtube alias 'CrazyDMco1' explores the role of Alan in DM
"I still believe Alan was the mastermind behind all the success… Martin may had been the writer but only one man brought the songs to life.. Just my opinion."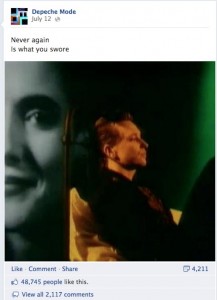 The post above on the official Facebook Depeche Mode fan page has puzzled the world – are the rumors true that Alan will yet again join DM on their upcoming new album?
A still taken from the "Policy of truth" video accompanied by the line: "Never again / Is what you swore". Many (ten thousands of fans actually) have interpreted this as a hint that Alan Wilder will indeed be rejoining Depeche Mode in order to work on the band's new upcoming album.
So far no comments has come from Alan after being approached and for the moment Alan Wilder has other things on his mind though as he is busy promoting his soon to be released Blu-ray "A Strange Hour in Budapest". The release is getting quite some feedback from fans, with a first limited edition even literally selling out in just a few hours.
"Following the departure of Vince Clarke, Depeche Mode placed an advertisement in the music magazine Melody Maker: "Keyboard player needed for established band – no timewasters." Even though the ad was looking for someone under 21 (Wilder was 22) he lied about his age to get the job, and got away with it. He joined Depeche Mode in January 1982, initially as a tour keyboardist, and soon thereafter as a full member of the recording band… On 1 June 1995 (his 36th birthday), Alan announced his departure from Depeche Mode: "Due to increasing dissatisfaction with the internal relations and working practices of the group, it is with some sadness that I have decided to part company from Depeche Mode. My decision to leave the group was not an easy one particularly as our last few albums were an indication of the full potential that Depeche Mode was realising."
For more info: facebook.com/depechemode
Recoil / Alan Wilder. Teaser for the upcoming Blu-ray release of 'A Strange Hour in Budapest'. Live concert film directed by Atilla Herko.
Trailers edited by Martin Vladar.
http://www.recoil.co.uk / http://blog.recoil.co.uk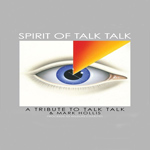 Following the recent news about the book, Fierce Panda have announced more details about the upcoming Talk Talk tribute album 'Spirit of Talk Talk'.
Here is a summary of the info released by the record company.
Well we've been keeping it under our furry hat but the truth will always out. And so it is that likes of Pitchfork have picked up on the factette that we have been working on in our top secret bunker – a compilation tribute album to those abstract wonders TALK TALK. It was 1982 when Mark Hollis and pals first soared into view with a slew of deceptively commercial hit singles. However by the time Talk Talk delivered the seminal 'The Colour Of Spring' album, which brilliantly merged pop instinct with experimental flair, they'd long since shed any hint of being mere also (Duran Du)rans.
After then – in a career shift eerily similar to that of future labelmates Radiohead – Hollis and co turned their backs on the mainstream and made three albums (two as Talk Talk, one solo) of breathtaking scope and mind-blowing minimalism before completely fading from view. The compilation album entitled 'Spirit Of Talk Talk' is a mighty affair which, in testament to Talk Talk's 30th anniversary, will feature artists, acts and personalities including King Creosote, Recoil, Jason Lytle, Zero 7, Linton Kwesi Johnson, White Belt Yellow Tag, Joan As Policewoman, Electric Soft Parade, Goldheart Assembly and many, many more guests from Bon Iver to Arcade Fire covering close to 30 Talk Talk tunes from 'Today' via 'Life's What You Make It' to 'After The Flood'.
The album is slated for release on May 28th on double CD and download and will be accompanied by a lavish book, also called 'Spirit Of Talk Talk', which features eulogies from, among others, the likes of Guy Garvey (Elbow), Richard Wright (Pink Floyd), Karl Hyde (Underworld), Wild Beasts and James Lavelle (UNKLE). The artwork for both artefacts is provided by original Talk Talk illustrator James Marsh and the book features all manner of Mark Hollis-related delights for music lovers old and new to swoon over, such as lost photos and handwritten lyric sheets. There is also a plan to feature a Roll Of Honour listing the names of fans who pre-order the book.
Alan Wilder (Recoil / ex-Depeche Mode) has been helping out as music supervisor and is currently involved in the compiling and mastering process.
He says: "It's already proving quite a complicated process collecting all the mixes and final masters from each artist, deciding (with Toby the organiser) which work best, and which can be elegantly edited and tweaked in order to fit so many exciting contributions on, whilst retaining a pleasurable and balanced overall album experience. We want to avoid just throwing out a mish-mash of different styles without considering the continuity from which any album should benefit. I hope this fine tuning, along with so many great versions, will help to ensure 'Spirit Of Talk Talk' becomes one of the very best tribute albums ever made."
More news will follow in the next few weeks.
Check out www.spiritoftalktalk.com to get a flavour for the project and sign up to register your interest
Here's a brand new interview with Alan Wilder at ElektroStat in Norway. You can also ready our interview with Wilder here that we made a couple of weeks ago, enjoy.
In a video interview with Side-Line Magazine in Oslo backstage during the ElektroStat festival, Alan Wilder has announced plans for a live film of the recent "Strange Hour" tour. The material was shot in Budapest at the end of last year in super HD and if all goes as planned the material should hit the stores in early 2012.

Alan Wilder also recorded two covers (and not just one: read also Talk talk tribute album featuring Alan Wilder (Recoil)) of Talk talk for an upcoming Talk Talk tribute album which should come out in Spring 2012. The covers are "Dum Dum Girl" (1984) and "Inheritance" (1988), the latter was recorded together with the UK-based dub poet Linton Kwesi Johnson. More details on these two covers can be heard in the interview video here or below.

And the revelations didn't just stop there. During the interview Wilder also announced that he's also doing a remix for Alessandro Cortini, an Italian musician best known for touring and recording with Nine Inch Nails from 2004 to 2008. Currently, Cortini is also the frontman for the Los Angeles based electronic-alternative band Sonoio and that's the project Wilder made a remix for.

There is one more gig to come for Recoil at Sinner's Day in Belgium at the end of October.

More ElektroStat reporting will be published in the next few days with pictures, audio, interviews and so on. As a teaser, here's an impression of the Recoil set (or check below) and the excellent ambiance inside the venue, a lovely renovated factory in the center of Oslo.
Talk Talk's "It's my life"
Once in a lifetime experience of testing out gear of Alan Wilder before it disappears for good in a private collection!
Read our interview with Alan Wilder before the auction right here >>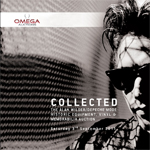 The official full-colour catalogue for COLLECTED – The Alan Wilder/Depeche Mode Collection is now complete, with plenty of photographs, a foreward by Alan, and all 414 lots described in detail, along with anything else you could possibly need to know.
This catalogue will also be available as a limited edition collectable printed book (from Omega), at the bargain price of only £5. Get your registrations and orders in soon as they will go fast!
In order to attend the event in Manchester you will need to be registered with Omega Auctions. Please visit: Omega for more information on registration. Theatre places at Zion Arts Centre are limited so please register early to avoid disappointment.
—-
Also, at eBay – more exclusive items ahead of the auction were added last Sunday. Be quick and get your bids in as these one-offs will only be there for a few more days! Everything posted at this eBay link is authentic & part of the full AW/DM collection.
Full auction details below :
Alan Wilder and Omega Auctions 'present'
COLLECTED – The Alan Wilder/Depeche Mode Collection
A Historic Equipment, Vinyl and Memorabilia Auction 
Auction date : Saturday 3rd September, 2011, 3.00pm
Venue : Zion Arts Centre
Address : 335 Stretford Rd, Hulme, Manchester M15 5ZA
Viewing : 10.00am to 8.00pm – Friday 2nd September, and 10.00am to 2.45pm – Saturday 3rd September 
For further details :
http://auction.recoil.co.uk
www.omegaauctions.co.uk
www.the-saleroom.com