The classic Nitzer Ebb album 'Industrial Complex' will be re-released feat Alan Wilder remix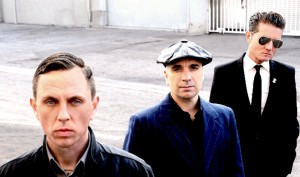 "Industrial Complex", Nitzer Ebb's 6th studio album to date and produced by Flood, will be re-released on vinyl in 4 different versions.
The re-release will include the "I am Undone" remix by Alan Wilder and new remixes of "Once you say" byApoptygma Berzerk, Vince Clark, NZ, MRDTC, Technomancer feat. Angst Pop, Neotek vs. Birmingham 6 and K-Bereit.
The editions are:
"Industrial Complex" featured guest vocals by Depeche Mode's songwriter Martin L. Gore on the song "Once You Say".

The track list for the double vinyl is as follows:
LP1:
SideA:
1 Promises 3:50
2 Once You Say Featuring [Uncredited] – Martin L. Gore 3:41
3 Never Known 3:58
4 Going Away 4:10
5 Hit You Back 4:19
6 Payroll 2:57
Side B:
7 Down On Your Knees 3:52
8 I Don't Know You 3:12
9 My Door Is Open 3:15
10 I Am Undone 3:51
11 Kiss Kiss Bang Bang 2:57
12 Traveling 3:13
LP 2:
Side A:
1 I Am Undone (Alan Wilder Remix) Remix – Alan Wilder 5:29
2 Once You Say Remix by Apoptygma Berzerk 4:16
3 Once You Say MRDTC Version 5:19
4 Once You Say PUREMIX by NZ 4:48
Side B:
5 Once You Say RAWMIX by NZ 3:47
6 Once You Say Neotek Remix 4:28
7 Once You Say Angst Pop feat. Technomancer Remix 4:43
8 Once You Say K-Bereit Remix 4:37
9 Once You Say Vince Clark Remix 5:51
Comments