Alan Wilder to rejoin Depeche Mode?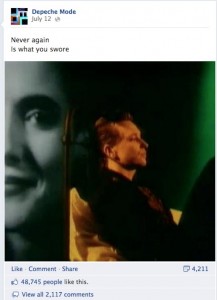 The post above on the official Facebook Depeche Mode fan page has puzzled the world – are the rumors true that Alan will yet again join DM on their upcoming new album?
A still taken from the "Policy of truth" video accompanied by the line: "Never again / Is what you swore". Many (ten thousands of fans actually) have interpreted this as a hint that Alan Wilder will indeed be rejoining Depeche Mode in order to work on the band's new upcoming album.
So far no comments has come from Alan after being approached and for the moment Alan Wilder has other things on his mind though as he is busy promoting his soon to be released Blu-ray "A Strange Hour in Budapest". The release is getting quite some feedback from fans, with a first limited edition even literally selling out in just a few hours.
"Following the departure of Vince Clarke, Depeche Mode placed an advertisement in the music magazine Melody Maker: "Keyboard player needed for established band – no timewasters." Even though the ad was looking for someone under 21 (Wilder was 22) he lied about his age to get the job, and got away with it. He joined Depeche Mode in January 1982, initially as a tour keyboardist, and soon thereafter as a full member of the recording band… On 1 June 1995 (his 36th birthday), Alan announced his departure from Depeche Mode: "Due to increasing dissatisfaction with the internal relations and working practices of the group, it is with some sadness that I have decided to part company from Depeche Mode. My decision to leave the group was not an easy one particularly as our last few albums were an indication of the full potential that Depeche Mode was realising."
For more info: facebook.com/depechemode
Comments