Talk Talk tribute album and book – new update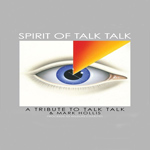 Following the recent news about the book, Fierce Panda have announced more details about the upcoming Talk Talk tribute album 'Spirit of Talk Talk'.
Here is a summary of the info released by the record company.
Well we've been keeping it under our furry hat but the truth will always out. And so it is that likes of Pitchfork have picked up on the factette that we have been working on in our top secret bunker – a compilation tribute album to those abstract wonders TALK TALK. It was 1982 when Mark Hollis and pals first soared into view with a slew of deceptively commercial hit singles. However by the time Talk Talk delivered the seminal 'The Colour Of Spring' album, which brilliantly merged pop instinct with experimental flair, they'd long since shed any hint of being mere also (Duran Du)rans.
After then – in a career shift eerily similar to that of future labelmates Radiohead – Hollis and co turned their backs on the mainstream and made three albums (two as Talk Talk, one solo) of breathtaking scope and mind-blowing minimalism before completely fading from view. The compilation album entitled 'Spirit Of Talk Talk' is a mighty affair which, in testament to Talk Talk's 30th anniversary, will feature artists, acts and personalities including King Creosote, Recoil, Jason Lytle, Zero 7, Linton Kwesi Johnson, White Belt Yellow Tag, Joan As Policewoman, Electric Soft Parade, Goldheart Assembly and many, many more guests from Bon Iver to Arcade Fire covering close to 30 Talk Talk tunes from 'Today' via 'Life's What You Make It' to 'After The Flood'.
The album is slated for release on May 28th on double CD and download and will be accompanied by a lavish book, also called 'Spirit Of Talk Talk', which features eulogies from, among others, the likes of Guy Garvey (Elbow), Richard Wright (Pink Floyd), Karl Hyde (Underworld), Wild Beasts and James Lavelle (UNKLE). The artwork for both artefacts is provided by original Talk Talk illustrator James Marsh and the book features all manner of Mark Hollis-related delights for music lovers old and new to swoon over, such as lost photos and handwritten lyric sheets. There is also a plan to feature a Roll Of Honour listing the names of fans who pre-order the book.
Alan Wilder (Recoil / ex-Depeche Mode) has been helping out as music supervisor and is currently involved in the compiling and mastering process.
He says: "It's already proving quite a complicated process collecting all the mixes and final masters from each artist, deciding (with Toby the organiser) which work best, and which can be elegantly edited and tweaked in order to fit so many exciting contributions on, whilst retaining a pleasurable and balanced overall album experience. We want to avoid just throwing out a mish-mash of different styles without considering the continuity from which any album should benefit. I hope this fine tuning, along with so many great versions, will help to ensure 'Spirit Of Talk Talk' becomes one of the very best tribute albums ever made."
More news will follow in the next few weeks.
Check out www.spiritoftalktalk.com to get a flavour for the project and sign up to register your interest
Comments