Shadow Bureau becomes more then a hobby to Bon Harris
The Shadow Bureau is a new project from Nitzer Ebb's Bon Harris and A Matter Gray's Jeehun Hwang. What at first started off as compositions for several indie films has since taken on a life of its own, featuring collaborations with the likes of Wolfgang Flür (Kraftwerk), Curt Smith (Tears For Fears) and Isabelle Erkendal (Peaches, West End Girls).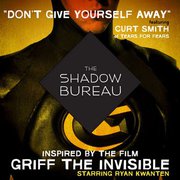 The band's 2-track single "Don't Give Yourself Away" is now available for listening on the band's Facebook page at www.facebook.com/theshadowbureau. The title track "Don't Give Yourself Away" features Tears For Fears' Curt Smith on vocals while the B-side "Axis Of Envy" features Wolfgang Flür (ex-Kraftwerk).
Enjoy
Comments