May 29, 2011 · Posted in
Uncategorized
·
Comments Off

on Nitzer Ebb & Die Krupps – Blood Money video
http://youtu.be/KfZDgARG9fI
New video with Nitzer Ebb and Die Krupps. Read our interview with Nitzer Ebb here, that we made some weeks back.
May 12, 2011 · Posted in
Uncategorized
·
Comments Off

on Bon Harris of Nitzer Ebb has a new project on the side – featuring ex-Kraftwerk member
Bon Harris of Nitzer Ebb (read our interview with
Nitzer Ebb
here) The Shadow Bureau. "Axis of Envy" is the debut single of this new project The Shadow Bureau. The track debuts together with Indomina Media in a video for the Asian movie "True Legend".The single features vocals by Wolfgang Für, a former member of Kraftwerk with backing vocals by Isabelle Erkendal, of the Swedish duo West End Girls. Check out the video and listen below. The Shadow Bureau is a new musical project by renowned composer, producer, singer/song writer and multi-instrumentalist Bon Harris, the founder of legendary EBM act Nitzer Ebb. It will feature various artists performing original songs inspired by Indomina Media's theatrical film releases.
May 5, 2011 · Posted in
Uncategorized
·
Comments Off

on Interview: Daniel Miller – Head Of Mute Records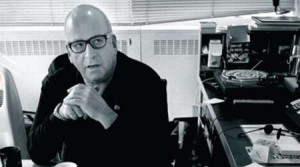 Over at Sonic State an interview with legendary boss of Mute Records can be found. Mute has several renowned bands on its listing such as Depeche Mode, Nitzer Ebb, Fad Gadget, Erasure to name but a few. Here is what Sonic State has to say about it:
Without Mute records and the acts they have nurtured in the 30+ years since they were formed by Daniel Miller in 1978 as a way to release his own tracks, a whole swathe of influential electronic pop music may never have made it to mainstream attention. Depeche Mode, Yazoo, Erasure, Moby, Goldfrapp and many others have benefitted from their unique, artist-centric focus and been able to flourish and have long term relevance in an industry which is so often driven by the flavour of the month.

With a two-day celebration of all things Mute at the Short Circuit event at the Roundhouse, London on May 13th and 14th looming, we caught up with the founder of Mute – Daniel Miller and talked synths, software and the relevence of todays record company.
April 29, 2011 · Posted in
Uncategorized
·
Comments Off

on Stereoklang talks to legendary EBM act Nitzer Ebb on music, gear and today´s synth scene
Nitzer Ebb needs no further introduction, but fact remains that Bon Harris and Douglas McCarthy with albums like, "That Total Age" and "Belief", in the late 1980s set the scene for EBM going forward, with their devotion to pounding bass rhythms. Having toured with Depeche Mode few doubt their impact on electronic music and after a break in the 1990s the band finally reunited and went on tour again in 2006. Last year the critically acclaimed album Industrial Complex came out and as of right now they are on a long European tour together with Die Krupps. As a special treat for fans both bands play jointly on stage and an exclusive mini album called Rhythm of the Machines can be obtained on site. Stereoklang met up with the band backstage and had a long chat about gear, the synth/EBM scene of today, the shift of label and how they still maintain a enthusiastic crowd everywhere they go.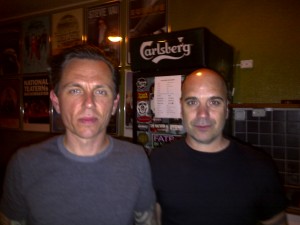 How has your new material been received and how did the collaboration with Die Krupps come about?
Well it is not technically all that much new material, but it has been laid out to fit our tour and the collaboration we have with Die Krupps. But we are of course pleased with the response we have received so far and our fans seems to like it. The idea of collaboration with die Krupps happened in November last year when we met each other in San Antonio, Texas. However we do have a long joint history together, so when Ralph contacted us in the studio with the idea of doing something jointly we were all for it.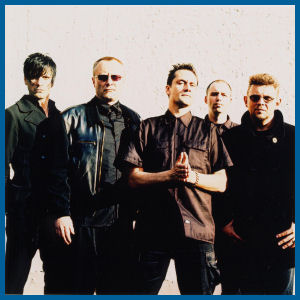 You are celebrating 30 years as a band next year, how do you work to continue excite existing and new fans?
The most important thing is honesty and be 100% true to what you do. We work hard to produce shows that match the expectations of our fans, but we are also very demanding on ourselves to deliver quality over quantity. You need to show on stage that – You mean it!
April 24, 2011 · Posted in
Uncategorized
·
Comments Off

on Easter video 2: Nitzer EBB and Die Krupps -The Machineries of Joy
N.Ebb And Die Krupps Video
March 9, 2011 · Posted in
Uncategorized
·
Comments Off

on Debukas – Join In The Chant (Nitzer Ebb)
Synth treat, just check the listing below:
Debukas plays Nitzer Ebb's "Join In The Chant". All live, apart from the choir.
Featuring Moog Prodigy, Roland SH-101/MC-202/TR-909/Jupiter 6/MSQ-700, Yamaha DX-7, Kawai XD-5, Akai MPC2000XL, WEM Copicat, Joemeek VC2, Drawmer 1960, API 512c/525, Zoom 1201, TC D-Two, Sennheiser 421
February 9, 2011 · Posted in
Uncategorized
·
Comments Off

on NITZER EBB, DIE KRUPPS and AUTO DA FEH live in Sweden and other places across Europe
Thursday, April 28 · 7:00pm – 11:00pm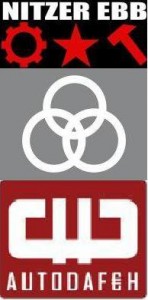 Join In The Rhythm Of Machines
Under the slogan "Join In The Rhythm Of Machines" are two of the largest EBM bands making a total of nine exclusive performances across Europe. In connection with the tour released an ep that is currently being recorded and the tapes promises more surprises during the evening.
In Malmo and Gothenburg veterans may also be joined by a relatively new rising star on EBM heaven, … namely Swedish Auto Da Feh.
Listen and read more about them at
http://www.myspace.com/autodafehmusic
Tickets for the Sweden event can be found here:
Join In The Rhythm Of Machines!
February 8, 2011 · Posted in
Uncategorized
·
Comments Off

on Get ready for the Mute synth event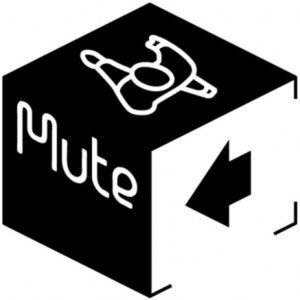 On 13-14 May, the British label Mute will host Short Circuit Electronic Music Festival at the Roundhouse in London. Performances and unique collaborations with the past as well as current and prospective Mute artists will be interspersed with discussions, workshops, screenings and installations to celebrate the Mutes successful and influential time as a label.
Program (more names will be added soon)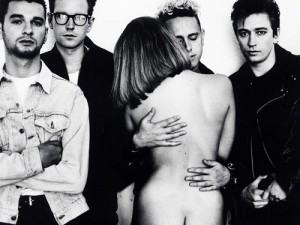 Friday, May 13
LIVE
RECOIL
Nitzer Ebb
RICHARD H. KIRK
CARTER TUTTI with Nik Void
NON
THE BALANESCU QUARTET
COIL
T. RAUMSCHMIERE
Thomas Fehlmann
THOMAS BRINKMANN
Komputer
DJs
DANIEL MILLER
___________________________________
Saturday, May 14
LIVE
Erasure AND SPECIAL GUEST
The Residents
Laibach
LIAR
Alison Moyet (SPECIAL GUEST)
S.C.U.M
POPPY AND THE Jezebel
SFT AND MIRA Calix
BIG DEAL
JAMES BROOKS
Peter Gregson
DJ
DANNY BRIOTTET
Irmina SCHMIDT AND Kumo play The Sound Of Can – CAN ARCHIVE SPECIAL
FILM
MARK STEWART 'ON / OFF' (2009)
AN EXCLUSIVE NICK CAVE & THE BAD SEEDS FILM BY Iain Forsyth and Jane Pollard
WITH MORE "To be announced
CALL
GARETH JONES ON Producing MUTE ARTISTS
STEFAN BETKE (AKA POLE) 'An Introduction
NTO THE SCIENCE OF MASTERING '
PLUS MORE "To be announced
INSTALLATIONS – 13 & May 14
SCHNEIDER BEURO
Flies, GUYS AND CHOIR
FELIX'S MACHINES
Mute founded by Daniel Miller in 1978 and has since signed now world-famous artists such as Depeche Mode, Nick Cave & The Bad Seeds, Goldfrapp, Erasure and Moby as well as new talents that Yeasayer and soon the album in question Josh T. Pearson.
Whilst maintaining a firmly eclectic roster, from the earliest days of The Normal, Fad Gadget and DAF through to the techno era with artists such as Plastikman / Richie Hawtin and Speedy J, and to the present day with hybrid electronic artists such as Yeasayer and S.C.U.M, the label has always been a champion of electronic music.
Mute also looks after a catalogue of seminal electronic artists such as Can, Throbbing Gristle, Cabaret Voltaire and Kraftwerk.
Short Circuit pays tribute to the key Pioneers of Electronic Music, recent festivals have hosted performances from artists such as the BBC Radiophonic Workshop, Holger Czukay, John Foxx, Jeff Mills and Gavin Bryars.
Tickets for the Mutes festival days in London are available here. www.roundhouse.org.uk
February 6, 2011 · Posted in
Uncategorized
·
Comments Off

on Die Krupps and Nitzer Ebb join forces on tour
We have all heard Die Krupps' and Nitzer Ebb's collaboration "Machineries of Joy" from 1989. Now, 22 years later the two legendary bands join forces on a nine-date "Join in the Rhythm of Machines" tour in April and May. They will play Paris, Dortmund, Antwerpen, Gothenburg, Stockholm, Malmö, Berlin, Bratislava and Budapest.
A special EP is being recorded as we speak, to be sold exclusively at the concerts. There will also be surprises on stage.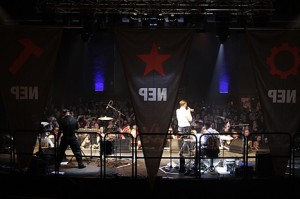 December 9, 2010 · Posted in
Uncategorized
·
Comments Off

on Time for Studio X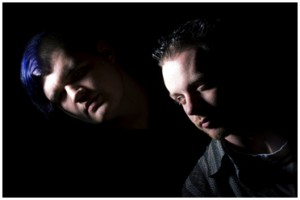 Alfa Matrix released a rather different album last week, namely that of the Australian Studio-X: "Neo-Futurism". The duo fuses elements of electro, industrial, house, techno, trance and hard trance into a series of very hard-hitting tracks. You could consider the band to be very unlike many other groups. Not surprisingly that Studio-X has earned itself a reputation for solid remix work. Below is the track "You'll Never Get This".
Studio-X – You'll Never Get This by alfa-matrix
The two-CD set that Alfa Matrix is launching now consists of the album "Neo-Futurism" and the "Studio-matriX" bonus disc, on which you'll find the remix work they did for such acts as Nitzer Ebb, Ayria, Leaether Strip, Implant ft. Angelspit, Unter Null, I:Scintilla, Helalyn Flowers and so on. You can order "Neo-Futurism" here.
Track listing: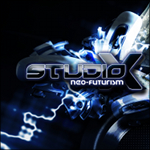 Tracklist – CD 1: "Neo Futurism"
YOU'LL NEVER GET THIS
BREAK-FREE
DECAPITATED
POISON IVY
WHO SAID THAT
ANTICHRIST
SEARCH & DESTROY
SPEED
KOKODA
THE DRILL
PARTY (FEAT. RACHEL HAYWIRE)
POISON IVY (DJ-X LAB-4 REMIX)
THE DRILL (PROTEUS 'FIRE WALK WITH ME' REMIX)
Tracklist – CD 2: "Studio Matrix"
NITZER EBB – ONCE YOU SAY (STUDIO-X ELECTRO REMIX)
IMPLANT – VIOLENCE (FEAT. ANGELSPIT) (STUDIO-X HARD DANCE REMIX)
AYRIA – BAD LIST (STUDIO-X ELECTRO REMIX)
LEAETHER STRIP – COMPASSION (STUDIO-X TRANCE REMIX)
HELALYN FLOWERS – YOUR KILLER TOY (STUDIO-X HARD DANCE REMIX)
I:SCINTILLA – PREY ON YOU (STUDIO-X HARD DANCE REMIX)
UNTER NULL – GODLESS (STUDIO-X HARD DANCE REMIX)
ACYLUM – RAISE YOUR FIST (STUDIO-X HARD DANCE REMIX)
PSY'AVIAH – NO EXCUSE (STUDIO-X HARD DANCE REMIX)
ESSENCE OF MIND – WICKED SMILE (STUDIO-X HARD DANCE REMIX)
NEIKKA-RPM – WARPED (STUDIO-X HARD DANCE REMIX)
FREAKANGEL – IT'S NOT A LOVE SONG (STUDIO-X HARD DANCE REMIX)
Tracklist japanese issue "Studio Remi-X" – Disc 2.
TERROLOKAUST – Just One Fix (STUDIO-X Hard Dance Remix) *
SUICIDAL ROMANCE – Make Me Blind (STUDIO-X Hard Dance Remix)
REAPER – Dirty Cash (STUDIO-X Hard Dance Remix) *
SOMAN – Skin Deep (STUDIO-X Hard Dance Remix)
BE MY ENEMY – Start The Revolution (STUDIO-X Electro Remix) *
TERRORKODE – Motherfuckers (STUDIO-X Hard Dance Remix) *
GRENDEL – Chemicals + Circuitry (STUDIO-X Hard Dance Remix)
UNTER NULL – Godless (STUDIO-X Hard Dance Remix)
ACYLUM – Raise Your Fist (STUDIO-X Hard Dance Remix)
XP8 – Out For Blood (STUDIO-X Electro Remix)
FREAKANGEL – It's Not A Love Song (STUDIO-X Hard Dance Remix)
SAM – Bull Fucking Shit (STUDIO-X Hard Dance Remix)