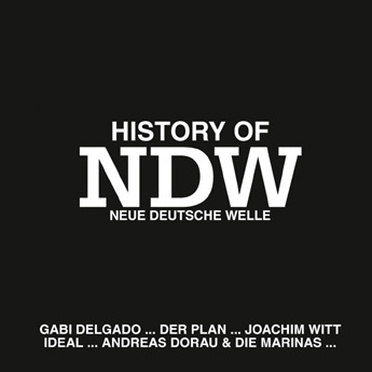 "History of Neue Deutsche Welle" is a brand new compilationalbum to be released on the German ZYX label. The compilation features 17 tracks including such artists as Die Krupps, DAF, Welle:Erdball, Pyrolator, Der Plan, Joachim Witt, Gabi Delgado, and many others. Ordering is possible here.
Tracklist:
Pyrolator – Die Haut der Frau
Andreas Dorau & die Marinas – Fred Vom Jupiter
Der Plan – Tanz Den Gummitwist
Malaria – Kaltes Klares Wasser
Gabi Delgado – Neosexi
Rheingold – Dreiklangdimensionen
Die Radierer – Angriff Aufs Schlaraffenland
Joachim Witt – Goldener Reiter
Ideal – Blaue Augen
Nichts – Radio
Welle: Erdball – Die Roboter
Die Krupps – Als Wären Wir Für Immer
Fehlfarben – Ein Jahr (Es Geht Voran)
D.A.F. – Der Räuber Und Der Prinz
Foyer Des Arts – Eine Königin Mit Rädern Untendran
Hans-A-Plast – 

Monopoly

The Wirtschaftswunder – Analphabet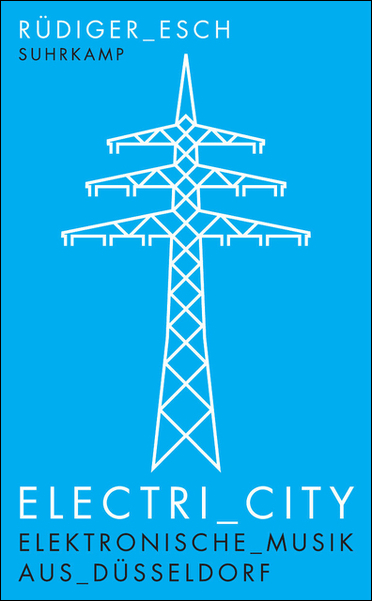 "Electri_City – Elektronische Musik aus Duesseldorf" is a brand new book that is being prepped for release on the 10th of March 2014 via Suhrkamp Verlag. Described by the publisher as 'Das definitive Buch zu Kraftwerk, Neu!, La Düsseldorf, DAF, Die Krupps, Der Plan, Liaisons Dangereuses, Rheingold, Propaganda' you can expect a detailed background on the Düsseldorf scene. That scene has since the 70s and 80s been considered as the electronic popmusic Mekka (let's hope Allah and co won't kill us for using this description).
The book is written by Düsseldorf resident and Die Krupps member Rüdiger Esch. In the book he covers the period from 1970 bis till the end of the 'analog phase' in 1986. Expect feedback in the book from Wolfgang Flür (Kraftwerk), Bodo Staiger (Rheingold), Gabi Delgado (DAF), Jürgen Engler (Die Krupps), Ralf Dörper (Propaganda), plus remarks from Giorgio Moroder, Ryuichi Sakamoto, Andy McCluskey (OMD), Martyn Ware (The Human League), Glenn Gregory (Heaven 17) and so on.
Still according to the publisher the book will also talk about reality versus myth regarding the scene.
You can order the book right here on Amazon: http://www.amazon.de/ElectriCity-Elektronische-D%C3%BCsseldorf-suhrkamp-taschenbuch/dp/3518464647/ref=sr_1_1?s=books&ie=UTF8&qid=1374060902&sr=1-1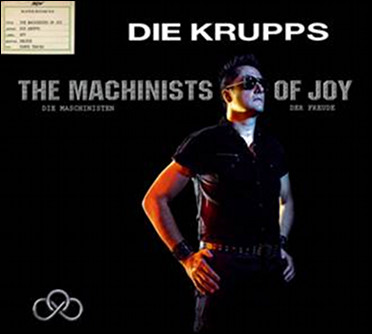 "The Machinists of Joy" is the first all-new album of the millennium for the german electro pioneers Die Krupps so Audioglobe informs us. The new 11-track album will be released on October 25 2013 in 4 formats: normal digipak CD, limited 2CD digipak, a fan box and as a limited LP/CD combo.
The limited edition 2CD will contain an exclusive bonus CD of which the final tracklist is not known yet but it will for sure include the tracks "Nazis on Speed" and the digital-only single "Industrie-Mädchen". According to the band several tracks will refer to the origins of Engler and Dörper who have both had been active in the Düsseldorf Punk scene long before the first Krupps release "Stahlwerksynfonie" (1980). Included will be also a collaboration with Punk-Pioneers Metal Urbain from France ("Panik"), and one track with ex-Kraftwerker Wolfgang Flür.
Tracklist:
Ein Blick zurück im Zorn
Schmutzfabrik
Risikofaktor
Robo Sapien
The Machinist of Joy
Essenbeck
Im falschen Land
Part of the Machine
Eiskalter Engel
Nocebo
Im Schatten der Ringe
http://youtu.be/KfZDgARG9fI
New video with Nitzer Ebb and Die Krupps. Read our interview with Nitzer Ebb here, that we made some weeks back.
Vancouver based, industrial music pioneers Front Line Assembly with special guests German metal group Die Krupps, Cyanotic (from the US) and DJ Acucrack, hit the roadways in North America this May to promote their latest 2010 release "Improvised. Electronic. Devices". It has been 4 years since Front Line Assembly toured North America. The tour kicks off at the Pyramid Club in Winnipeg, CAN and hits 25 cities across North America including a presence at Montreal's Kinetik Festival.
More news on tour dates and special VIP packages with Front Line Assembly can be found at www.frontlineassembly.com .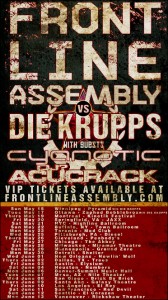 N.Ebb And Die Krupps Video
Thursday, April 28 · 7:00pm – 11:00pm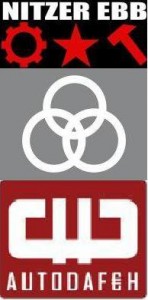 Join In The Rhythm Of Machines
Under the slogan "Join In The Rhythm Of Machines" are two of the largest EBM bands making a total of nine exclusive performances across Europe. In connection with the tour released an ep that is currently being recorded and the tapes promises more surprises during the evening.
In Malmo and Gothenburg veterans may also be joined by a relatively new rising star on EBM heaven, … namely Swedish Auto Da Feh.
Listen and read more about them at
http://www.myspace.com/autodafehmusic
Tickets for the Sweden event can be found here:
Join In The Rhythm Of Machines!
We have all heard Die Krupps' and Nitzer Ebb's collaboration "Machineries of Joy" from 1989. Now, 22 years later the two legendary bands join forces on a nine-date "Join in the Rhythm of Machines" tour in April and May. They will play Paris, Dortmund, Antwerpen, Gothenburg, Stockholm, Malmö, Berlin, Bratislava and Budapest.
A special EP is being recorded as we speak, to be sold exclusively at the concerts. There will also be surprises on stage.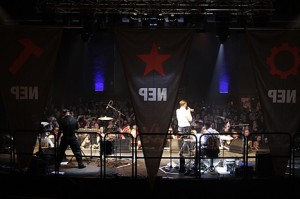 New release schedule of Synthetic Symphony. Included in the planning are new and long awaited releases from Die Krupps, Covenant, Funker Vogt and Skinny Puppy. First is Die Krupps with no less than 4 releases. Out on August 23 is the "Beyond" MCD which is their first all new material since their 1997 album "Paradise Now". Next is the yet untitled album which will be out on September 27. The release will be available in two different editions. Next is the re-release of the band's 1981 debut "Stahlwerksinfonie" holding a bonus CD. Also out on November 22 is the re-release of "The Final Option + The Final Remixes" 2CD (1993) including exclusive bonus-material.
Coming up on SPV (these release dates are not final):
WELLE:ERDBALL – Operation Zeitsturm DVD+CD out feb./march: Announced for ages – the movie by/featuring Welle:Erdball plus exclusive CD!
COVENANT – Modern Ruin CD/2CD out feb./march: 4 years after "Skyshaper" and 3 years after their last official release "In Transit", Covenant return with an all new full-length album. There will also be a limited 2CD edition.
DIE KRUPPS – New album CD/CDL out march/april: Legendary German electro-pioneers DIE KRUPPS announce an all new album for spring 2010. Available in two different editions.
SKINNY PUPPY – New album CD/CDL out march/april: Skinny Puppy return with their follow-up to "Mythmaker" towards march/april next year. Also their album should be available in two different editions.
FUNKER VOGT – New album CD/CDL out march/april: also Funker Vogt announce a new album, following their "Warzone" Live-double CD and double-DVD.

And there is some good news coming in from SPV. With Sony Music Entertainment Germany backing up the Hanover-based independent music company SPV, Sony Music had already started distributing a large part of SPV's repertoire on the latter's behalf starting October 1, 2009. They now also announced approximate release dates for several of their more famous electro signings. More details of these releases after the jump!
The extensive partnership with Sony will have a duration of several years and includes an option for Sony Music to buy SPV in the end. The partnership was the only way of maintaining the company's business operations up until the present day. SPV has been in business for 25 years. Up until its insolvency, it had over 80 employees and generated sales of more than €80 million ($113.7 million) a year.
In May 2009 the German label SPV had sent out a message to its business partners saying that they had to initiate insolvency proceedings.