NITZER EBB, DIE KRUPPS and AUTO DA FEH live in Sweden and other places across Europe
Thursday, April 28 · 7:00pm – 11:00pm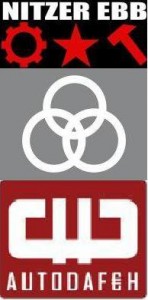 Join In The Rhythm Of Machines
Under the slogan "Join In The Rhythm Of Machines" are two of the largest EBM bands making a total of nine exclusive performances across Europe. In connection with the tour released an ep that is currently being recorded and the tapes promises more surprises during the evening.
In Malmo and Gothenburg veterans may also be joined by a relatively new rising star on EBM heaven, … namely Swedish Auto Da Feh.
Listen and read more about them at
http://www.myspace.com/autodafehmusic
Tickets for the Sweden event can be found here:
Join In The Rhythm Of Machines!
Comments