Sync Audio With Video
By Exit Bar
HQ Audio
Europe had it's 2 Days Of Mute and now New York City will have FGFt, a three-part project series in homage to Frank Tovey – founder of the 1970s/1980s British electronic group Fad Gadget. FGFt will mark the 10 year anniversary of the pioneer's death. Fad Gadget was Mute's first signing in 1979, and an enormous influence on a whole host of electronic artists. Summoning a diverse group of artists and musicians who have been both directly and indirectly influenced by Tovey, the series will take place from March 1st through to April 8th, 2012 featuring a group exhibition, live music performances, and a film screening. All events are free and open to the public.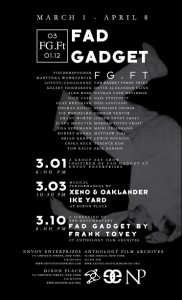 March 1st – Group Exhibition Opening – envoy enterprises
March 3rd – Live Performances – Dixon Place
March 10th – "Fad Gadget by Frank Tovey" film screening – Anthology Film Archives
FGFt was inspired in 2010 by the film "Fad Gadget by Frank Tovey", a documentary produced by the Frank Tovey Estate and Mute, and directed by Frank's son, Morgan Tovey Frost.
The group exhibition, on view at envoy enterprises from March 1st through April 8th, will feature new work inspired by Frank Tovey and specifically made for FGFt, including works by Olaf Breuning, Kelsey Henderson, Erika Keck, Robert Knoke, Terence Koh, Alex Rose, Desi Santiago, Matt Sims, Liz Wendelbo, Granth Worth, Una Szeemann, and Fischerspooner.
The opening reception is on March 1st from 6-8pm. On March 3 at 10:30pm, Xeno & Oaklander and Ike Yard will each give live performances at Dixon Place as part of the music program. Additionally, "Fad Gadget by Frank Tovey" will make it's US premiere at Anthology Film Archives on March 10th at 8:00pm, alongside short films from artists in the exhibition.
Here's the complete list of participating artist: Matthew Sims, Martynka Wawrzyniak, Erik Hanson, Slava Mogutin, Una Szeemann, Olaf Breuning, Stephanie Snider, David Flinn, Kelsey Henderson, Grant Worth, Nathan Cash Davidson, Alex Rose, Liz Wendelbo, Brian Kenny, Terence Koh, Nick Cash, Gail Stoicheff, Desi Santiago, Robert Knoke, Erika Keck, Micky Pellerano, Thomas Dozol, Conrad Ventur, Edwin Pouncey, Lovett/Codagnone, Fischerspooner, Morgan Tovey Frost, Xeno & Oaklander, Ike Yard.
Mute was founded by Daniel Miller in 1978, and since then has signed and developed some of the world's most influential recording artists – including Nick Cave & The Bad Seeds, Depeche Mode, Yazoo, Goldfrapp and Erasure – and become home to a crop of emerging talent and recent signings including Beth Jeans Houghton & The Hooves Of Destiny, Apparat and S.C.U.M. Whilst maintaining a firmly eclectic roster, from the earliest days of The Normal, Fad Gadget and DAF through to the techno era with artists such as Plastikman / Richie Hawtin and Speedy J, and to the present day artists such as Yeasayer, Josh T. Pearson and Liars. Mute also looks after a catalogue of artists such as Can, Cabaret Voltaire, and The Residents.
Fad Gadget – Collapsing New People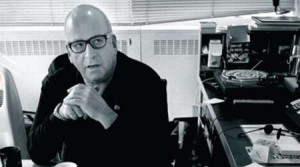 Over at Sonic State an interview with legendary boss of Mute Records can be found. Mute has several renowned bands on its listing such as Depeche Mode, Nitzer Ebb, Fad Gadget, Erasure to name but a few. Here is what Sonic State has to say about it:
Without Mute records and the acts they have nurtured in the 30+ years since they were formed by Daniel Miller in 1978 as a way to release his own tracks, a whole swathe of influential electronic pop music may never have made it to mainstream attention. Depeche Mode, Yazoo, Erasure, Moby, Goldfrapp and many others have benefitted from their unique, artist-centric focus and been able to flourish and have long term relevance in an industry which is so often driven by the flavour of the month.

With a two-day celebration of all things Mute at the Short Circuit event at the Roundhouse, London on May 13th and 14th looming, we caught up with the founder of Mute – Daniel Miller and talked synths, software and the relevence of todays record company.
Electronic singer/song writer Firefox AK has a new video out, check it out
The featured scare crow kind of reminds me of Fad Gadget

1st single from Firefox AK's new album "Color The Trees" Directed by Robinovich.
Boom Boom Boom – Available February 4th 2011.
Operation: Fad Gadget Drum Machine
The sound board was harvested from a Conn Prelude Organ.
John Fryer (Depeche Mode, Nine Inch Nails, Fad Gadget) has once again been sitting in the producer's chair when the electropop duo Ashbury Heights records. The second album "Take Cair Paramour", with what Ashbury Heights calls "new wave 2.0", will be released one month from now by Out of Line in Berlin. The first pressing comes with a nine track bonus disc.
Ashbury Heights 2010 is Anders H, new member Kari Berg and on stage, also live keyboardist Johan Andersson.
Well I know this is a music blogg, BUT I must comment on the horrible collapse of the Swedish National Soccer Team in the European Championships, it was a disaster and I didn't think the Swedish should fall to such a low level in quality and loose with o-2 to Russia (of all teams) – it's a shame

Team of failures in the Swedish team (guys that need to go, in that order):
1. Johan Elmander
2. Fredrik Ljungberg
3. Henrik Larsson
4. Lagerbäck (coach)
5. Stoor
I made me associate to an old Fad Gadget fav of mine – Collapsing New People – which logically will be this week's weekend treat, enjoy!
[youtube=http://youtube.com/watch?v=xGXBjwifubI]
I sure hope to see some major changes well in advance before the world cup in 2009. Well now it's time to get ready for midsummer holidays here in Sweden, have a great weekend.
Ciao
…of a great synth pop pioneer
[youtube=http://www.youtube.com/watch?v=TA_8nNNZqD4]
Have a great weekend