New Wave
1982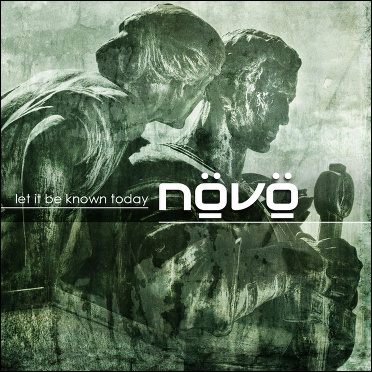 "Let it be known today" is the brand new EP from Belgo-French outfit Növö aka Laurent Boudic. The track is taken from Boudic's recent 4th studio full length CD entitled "Zeitgeist". "Let It Be Known Today" is already the second EP released from this album. Says the label: "It again drops you in the old classic EBM / New Wave era with vintage analogue synth sequences, electronic bleeps, pulsing bass lines and prominent vocals with that little French accent and melancholic cold touch clearly evoking the cult 80's act Trisomie 21."

"Let It Be Known Today" comes in 4 new versions, a 7 inch and a reconstructed one by the band itself plus an extended Kraftwerkian rework with vocoder and floating synth layers by Belgian label-mates of Metroland as well as a darkish remix by Flood Veyor.

You can download this EP straight from Bandcamp, be sure to use the 50% discount amsummermadness! You can alsodownload it from iTunes, or stream it below on Spotify.
Steelberry Clones had the great opportunity to talk to Steve Jansen during his recent visit to Sweden. Steve Jansen was former percussionist in the legendary 1980's new romantic act Japan (also featuring David Sylvian, Richard Barbieri and Mick Karn). After the band decided to quit in 1982 Steve has embarked on a long and successful journey, some times in collaboration with his brother David Sylvian on his solo albums, sometimes in more unknown appearances together with Japanese artists like Yukohiro Takahashi (YMO), but also driving more pop orientated endeavors with the Dolphin Brothers, which he started together with Richard Barbieri. Steve Jansen has at many occasions been dubbed as one of the most important percussionist of his time, and the characteristic sound that gave way for their all time selling album Tin Drum, has provided him with the opportunity to play with most of the leading artists since then. I wanted to know more on what has happened since then, his views on today's music scene and the evolution of electronic music, as well as discovering his more recent works in the border lands between pop, ambient, arts and experimental music.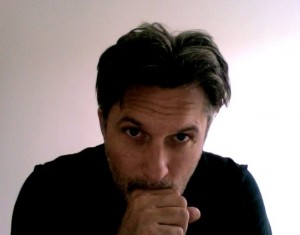 Today's music scene
Steve Jansen is a highly productive musician, if it is not something on his own doing you will certainly find Steve in collaborations with David Sylvian, John Foxx, or as part of the band on tour with Ryuichi Sakamoto in Japan. So I asked Steve to give me an update on what he is up to right now and his collaboration with Sugizo.
Most recently Steve has been involved in finalizing Mick Karn's new Dalis Car album, partly to keep his spirit alive, but also as a fund raising initiative for his relatives. Steve has therefore been active both as a mixer and performer of the new album and engaged in the process of reworking some of the new tracks. The yet untitled album is due out in the October – November time frame. As most of you know Mick Karn died recently and one of things that Mick Karn was doing at the time was to produce a new Dalis Car album. Dalis Car's first album "The Walking Hour" released in 1984 was an interesting album where the borders between various musical styles were mixed to create a very unique album at the time. With Sugizo Steve recently contributed a rhythm track to a new recording, a track also featuring Mick Karn on bass.
With some thirty years as a musician, working across most prominent genres – as a new romantic pop star as part of Japan, to exploring the fields of ambient electronics and jazz fusion, to bridging the gap between modern art visuals and experimental music, it is highly relevant to ask Steve's view on today's music scene. Steve says that today's scene is of course in many ways very different from back when he started his career. The power of the record companies put a lot of constraints and pressure on the bands to deliver on time, but also to make music in line with what they and the fans were requesting – "pleasing the record label almost became a means to an end", Steve says. Today you have much more freedom to explore and the artists does not work under the same pressure. So although it is harder to make a living you are the one in control. With modern music technology you almost have endless possibilities to manipulate sounds and craft your own ideas – inside your head.
Back to Japan
You really cannot write about Steve without touching on the subject of Japan, both as a band and as the country where both David and Steve over the years has continued to find inspiration, collaborations and a solid fan base. When Japan ended as a band in 1982, (doing their last tour in Japan, followed by a live album), the band members ended up doing several projects on their own or in collaborations with each other.
I wanted to know how this fascination with Japan as a country came to shape their music going forward. Steve tells me that it has probably been more that they have all individually made their own subjective interpretations of the music. And although it was a strong influence on the Tin Drum album, Steve says that more recently it has been more important for him to embrace modern rhythms and electronic sounds, although that he has in his collaboration with Sugizo been working to incorporate the sounds of traditional Japanese Taiko drums.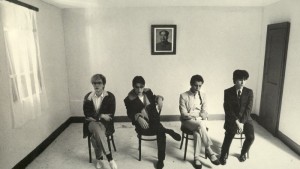 Steve and David Sylvian have over the years done several highly acclaimed albums where they have been exploring the boundaries of ambient, electronic and jazz. As a listener you can easily picture late night improvisations where Steve and David together with other musicians like Harold Budd and Robert Fripp, would jam together beautiful ambient landscapes. I wanted to know if this was an accurate image of the music production process and how the songs took their shape.
Legendary Canadian pioneering new wave/synthpop band Rational Youth will be releasing a series of new remix EPs on their original own 'YUL' label. Rational Youth existed from 1981-1986, reunited for a synth-pop festival in Sweden in 1997 and were officially revived by founding member Tracy Howe in 1998. The first MCD is "Dancing on the Berlin Wall" which will be released on August 1st. The title comes from their 1982 album "Cold war night life" of which "Dancing…" was one of the stand-out tracks.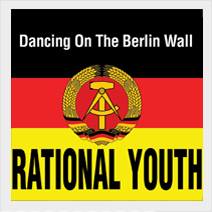 This EP features brand new recordings of the classic song (never before issued as a single), sung in English and in German, in 'Pure' and 'Euro Dance' versions – whatever that means. Also included is an 80's style New Wave extended dance mix. Added to that you'll get the original version to round out the 6 track package.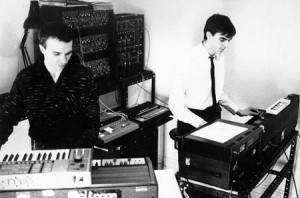 The EP was produced by Tracy Howe and Bill Vorn, the original 1981 duo and mixed & mastered by Montreal producer, Jean Pierre Isaac.
Tracks:
Dancing on the Berlin Wall [Pure Extended Mix] 6:58
Dancing on the Berlin Wall [Jeep Euro Remix] 4:00
Dancing on the Berlin Wall [Pure Edit] 3:43
Wir tanzen auf der Berliner Mauer [Jeep German Euro Remix] 4:00
Wir tanzen auf der Berliner Mauer [Pure German Edit] 3:43
Dancing on the Berlin Wall [1982 Original Mix] 4:35
Indians in Moscow are synthwave pioneers, originally formed in Hull (UK) in 1981. They had a No.1 indie hit in 1983 with "Naughty Miranda", followed by "Jack Pelter and his Sex-Change Chicken" and the "Big Wheel e.p.". The original band split just as their first self titled album was released.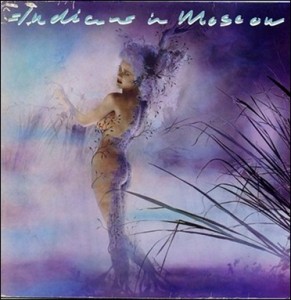 Expanded version of Indians in Moscow 1984 masterpiece will be available for the very first time on CD with large bonus section via Other Voices Records.
Catchy, Quirky and Unique. Absolutely not to miss!!!
Tracklisting:
1.Big Wheel
2.Meeting Place
3.Witches & Heroes
4.Howard's at Lunch
5.Jack Pelter and His Sex -Change Chicken
6.Puppet Dance
7.Square Dance in the Sepulchre
8.Love Song
9.I Wish I Had
10.Singing to French
11.Naughty Miranda
12.Underneath the Tree
13. Slide
14. Dies Irae
15.Naughty Miranda (Extended Mix)
16. I Wish I Had (Extended Mix)
17.Jack Pelter (Extended Mix)
18.Naughty Miranda (7″ Single Mix)
Indians In Moscow :
Adele Nozedar
Pete Riches
Richard Hornby
Stuart Walton
Their first release was a contribution to the various artists compilation "Your Secret's Safe With Us" in 1982. They came to fame on the cult 1980s Channel 4 music TV show The Tube as part of the show's Hull music special, and had three hits on the UK Indie Chart with "Naughty Miranda", "I Wish I Had" and "Jack Pelter & His Sex Change Chicken". After a fourth single, the "Big Wheel" EP, the band's only (self-titled) album was released in 1984. The band split up shortly afterwards, with Nozedar forming a new band, The Fever Tree, who released one single, "The Pixie Shop" late in 1985. Riches and Walton reformed the band in 1998 with singer Chris Guard and moved into techno / house territory.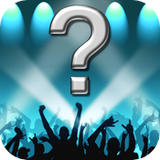 Time for a new challenge in guess the song. Last time we featured the mini EP "Snake Charmer" by The Edge from U2, Jah Wobble and Holger Czukay. Conny Olivetti knew the correct answer :-). Below is the cover from that rare album: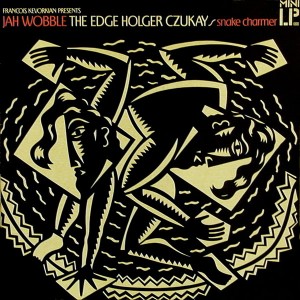 This week you are up for a slightly different challenge, the song is a collaboration between two continents – Europe and Asia. The song sample comes from a maxi-single dating back to the new wave era. Your job is to mention the two featured artists who made this song, the name of the song AND as a bonus you need to mention in which two bands are these to guys most famous of being part of.
Leave your replys in the comments section, and the answer will soon be revealed


Secret song 2 by Stereoklang Produktion
Stereoklang got an exclusive interview with the legend in Swedish new wave, glam rock, and synth pop – Mr. Johan Kinde. The frontman behind the cult band Lustans Lakejer (in English it would be something like "the lackeys of lust"). LL has been around since the early 1980's and their music has always dealt with the passions in life, at least from a male perspective; women, champagne, love, dreams, passion, forbidden fruit, but at the same time with a glimpse in the eye and you can sometime sense that there is a backside to the life of a playboy. Johan and LL has made a long list of classical songs over the years and even had collaborations with some of the members in the UK cult band Japan (Mick Karn and Richard Barbieri). Stereoklang wanted to catch up with Johan now that LL has a new album out and they are ready to hit the road again.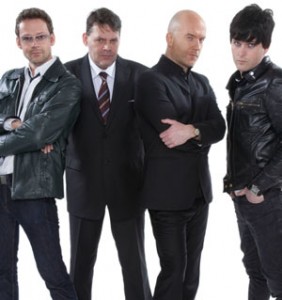 How has the new record been received and are you happy yourself with the result?
"Absolutely!!! The record has been receiving great reviews and has actually climbed to the highest position in the album charts relative to all previous LL albums. Now we are so eager to tour with the new album all across Sweden."
The album for those of you have not heard it yet, is to us an album that takes LL back to its roots, with the synthesizers more in the front, a more electronic touch, but still flirting with sounds found on more recent works like Åkersberga for example.
"In a sense you can say that we really had this ambition from the start, to write more hip songs that are more immediate and perhaps shorter, kind of more fit to be synthesizer based. We wanted them to be more up-tempo songs with more bass sounds. We even had a version of the album that was even more "synthish" – kind of like LL meets Depeche Mode. The Swedish synth pop act SYSTEM even made a remix of the song "Eld och vatten", it was almost as if Vince Clarke had been involved." More over having Jenny Silver singing a duet with Johan almost gives it kind of a "Fade to grey" – kind of feeling.
"As I see it the synthesizers actually won the war over the rockers. Just listen to today´s music scene where synths are more important then ever – Lady Gaga just to name one, even though the traditional "synth music" became more of a niche scene. I think this partly because they just became carbon copies of bands like Depeche Mode – for that reason I found it more interesting when the electro wave came about."
So what synthesizers can we find on the new album?
"It is a combination of hardware and software synths." Johan let us know that he is not very much of a synthesizer guy at all, even though he sometimes gets the lust of acquiring some of them. On the new album, however, you will find the KORG Polysix on almost all of the songs (played live in the recording sessions), coupled with some vintage modular synths kindly supplied by P. Levin from System. The fact that Johan plays most of the instruments himself on the album (not being a true keyboard guy), synthesizers and guitars, gives the album a more natural feeling and not too perfect, a live feeling kind of.
The lyrics has always been a central piece in the works of LL, so we asked Johan for the real story behind the lyrics
The life of a romantic – is probably the best description you can give to the works of Johan and LL, but are they true stories or just dreams? "Most of it is actually self-experienced. Often people say that in the early days it was dreams, but now it is self-experienced, but the truth is more that in the early days I did experience the things I was writing in my lyrics, but PERHAPS I dressed it in words that made it sound better than it was ☺.
New wave/industrial artist Gary Numan has announced "The Pleasure Principle" 2010 U.S. tour, beginning October 17 in Orlando. Numan has scheduled 15 stops between late October and early November. Supporting acts include Emilie Autumn in two cities and Recoil (Alan Wilder of Depeche Mode) in Chicago. Stay posted to ReGen Magazine and the official Gary Numan web site for further details.

Propaganda will release a deluxe edition of their "A Secret Wish" album on August 2nd to mark the 25th anniversary of the original release. The new 2CD edition, to be released via ZTT, will feature the original album alongside various remixes that were formerly only available on cassette and vinyl. The second disc will hold bonus material including the complete 20-minute cassette mix of "Duel", Trevor Horn's previously unreleased "Dr. Mabuse (Thousand Eyes…)" remix, a work-in-progress version of "The Chase" and ten-minute 12′ mixes of "Frozen Faces" and "p:Machinery".
Propaganda is a German synthpop group, formed in 1982 by Ralf Doerper (a member of the German industrial band Die Krupps) soon joined by Andreas Thein and vocalist Susanne Freytag. They were one of the initial roster of acts signed to Trevor Horn's ZTT label, between 1984 and 1986, during which they released the critically acclaimed album "A Secret Wish".
John Fryer (Depeche Mode, Nine Inch Nails, Fad Gadget) has once again been sitting in the producer's chair when the electropop duo Ashbury Heights records. The second album "Take Cair Paramour", with what Ashbury Heights calls "new wave 2.0", will be released one month from now by Out of Line in Berlin. The first pressing comes with a nine track bonus disc.
Ashbury Heights 2010 is Anders H, new member Kari Berg and on stage, also live keyboardist Johan Andersson.