November 21, 2011 · Posted in
Uncategorized
·
Comments Off

on Monday morning music – Julian & Marina "Moon And The Stars"
Julian Brandt & Marina Schiptjenko Directed By: Erik Artur 2011.
Julian Brandt (Bobby, The Paper Faces, Lustans Lakejer) have worked intensively with Marina Schiptjenko (BWO, Vacuum, Page) this summer and autumn with a forthcoming album. The project is called "Julian & Marina".
Marina Schiptjenko is normally also a part of the Swedish synth pop act PAGE:
Find out more about PAGE here >>
February 15, 2011 · Posted in
Uncategorized
·
Comments Off

on Diamonds are forever – Interview with Johan Kinde, Lustans Lakejer
Stereoklang got an exclusive interview with the legend in Swedish new wave, glam rock, and synth pop – Mr. Johan Kinde. The frontman behind the cult band Lustans Lakejer (in English it would be something like "the lackeys of lust"). LL has been around since the early 1980's and their music has always dealt with the passions in life, at least from a male perspective; women, champagne, love, dreams, passion, forbidden fruit, but at the same time with a glimpse in the eye and you can sometime sense that there is a backside to the life of a playboy. Johan and LL has made a long list of classical songs over the years and even had collaborations with some of the members in the UK cult band Japan (Mick Karn and Richard Barbieri). Stereoklang wanted to catch up with Johan now that LL has a new album out and they are ready to hit the road again.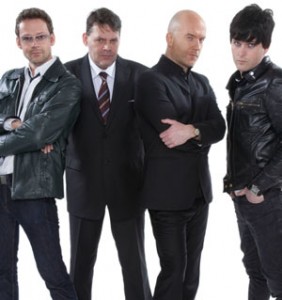 How has the new record been received and are you happy yourself with the result?
"Absolutely!!! The record has been receiving great reviews and has actually climbed to the highest position in the album charts relative to all previous LL albums. Now we are so eager to tour with the new album all across Sweden."
The album for those of you have not heard it yet, is to us an album that takes LL back to its roots, with the synthesizers more in the front, a more electronic touch, but still flirting with sounds found on more recent works like Åkersberga for example.
"In a sense you can say that we really had this ambition from the start, to write more hip songs that are more immediate and perhaps shorter, kind of more fit to be synthesizer based. We wanted them to be more up-tempo songs with more bass sounds. We even had a version of the album that was even more "synthish" – kind of like LL meets Depeche Mode. The Swedish synth pop act SYSTEM even made a remix of the song "Eld och vatten", it was almost as if Vince Clarke had been involved." More over having Jenny Silver singing a duet with Johan almost gives it kind of a "Fade to grey" – kind of feeling.
"As I see it the synthesizers actually won the war over the rockers. Just listen to today´s music scene where synths are more important then ever – Lady Gaga just to name one, even though the traditional "synth music" became more of a niche scene. I think this partly because they just became carbon copies of bands like Depeche Mode – for that reason I found it more interesting when the electro wave came about."
So what synthesizers can we find on the new album?
"It is a combination of hardware and software synths." Johan let us know that he is not very much of a synthesizer guy at all, even though he sometimes gets the lust of acquiring some of them. On the new album, however, you will find the KORG Polysix on almost all of the songs (played live in the recording sessions), coupled with some vintage modular synths kindly supplied by P. Levin from System. The fact that Johan plays most of the instruments himself on the album (not being a true keyboard guy), synthesizers and guitars, gives the album a more natural feeling and not too perfect, a live feeling kind of.
The lyrics has always been a central piece in the works of LL, so we asked Johan for the real story behind the lyrics
The life of a romantic – is probably the best description you can give to the works of Johan and LL, but are they true stories or just dreams? "Most of it is actually self-experienced. Often people say that in the early days it was dreams, but now it is self-experienced, but the truth is more that in the early days I did experience the things I was writing in my lyrics, but PERHAPS I dressed it in words that made it sound better than it was ☺.