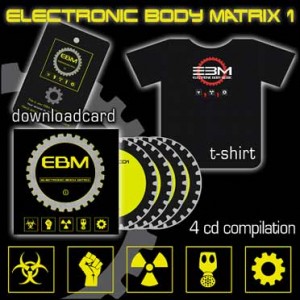 The Belgian label Alfa Matrix has announced what seems to be a real "who is who in the current EBM scene" boxset uniting no less than 112 artists bringing rare are exclusive tracks. The full tracklist can be viewed at www.alfa-matrix.com/ebm1 . Expect material Front 242, Nitzer Ebb, portion Control, Covenant, Pouppee Fabrikk, Funker Vogt and so on and so on.
Titled "Electronic Body Matrix 1" this new compilation series runs across 4 CD's plus an exclusive download card giving you access to another 40 additional bands for a total music play more than 500 minutes. Promised are over 70% rare or previously unreleased tracks.
"Electronic Body Matrix 1" also marks Alfa Matrix's 10 years of existence. Says Seba Dolimont: "Through this set we are revisiting the roots of the old school 'Electronic Body Music' movement and bridging them together with the current electronic sound. The sampler pays homage to the various branches of the electronic music genre throughout the last decades, gathering pioneers, leading figures of today's scene, rising new talents and artists who deserve to be discovered. This is NOT simply a re-release of new wave EBM classics, but fresh new music!"
Via SL
A DIY MFOS modular – the Modulator – playing Isn't it funny how your body works by Nitzer Ebb. The 16-step sequencer's gate outputs trigs two ADSRs for bass drum. Clock out is sent to slave 10-step sequencer and to two ARs controlling filter cutoff and VCA. 16 step seq CV out gets patched to both VCOs. The stereo auto panner is used during the last few seconds.

Black Rain will release an exclusive 12″ picture vinyl edition of the new Nitzer Ebb album "Industrial Complex". This vinyl, strictly limited to 500 numbered copies, will be released on 28th May. As a special bonus, this LP will contain an exclusive Feindflug-remix of the Nitzer Ebb-song "Once You Say" making the track the most remixed Nitzer Ebb song of all time. This release will continue the very successful vinyl-series, which already had some famous releases like Welle Erdball, Feindflug, Die Perlen or the "EBM-Collection Vol.1"
[youtube=http://www.youtube.com/watch?v=DYY2LY2pR_E&feature=player_embedded]
Swedish singer, multi-instrumentalist and composer Jonna Lee has recorded her own version of Violent Playground. The video features nude photos from Brighton photographer Greg Allum of model Sadie Lamb. Jonna Lee's cover of Violent Playground is featured on the compilation album There's a Razzia going on Volume 2. Release date October 7th, 2009.
Thanks to Nitzer Ebb for sharing this

Btw, here is the original version:
[youtube=http://www.youtube.com/watch?v=ZZc2wUilmDQ]
A really good feature story, enjoy
Bon Harris is mostly known as a founding member of legendary UK electronic act Nitzer Ebb, but he has also worked with artists such as Billy Corgan, Marilyn Manson, his own band Maven, and many more.
Bon is back in the studio working on the new Nitzer Ebb album and we met with him to talk about how he is using Reason in his work. Check the full story for a detailed explanation of how to fatten a bass sound using Reason's BV-512 vocoder (with a Harris-crafted example patch to download) and even a little sneak listen to a new Nitzer Ebb track.
And of course a bonus Nitzer ebb video, one of my favorites:
[youtube=http://www.youtube.com/watch?v=3w3A72L3rj4]

The new Fixmer/McCarthy album will come out in may 2008 and called Into The Night. The Label will be Citizen Records, the french label of artist Vitalic! More info soon.
FM are confirmed for this year's Einhoven based Extrema Outdoor Festival. That Festival will take place on July 19th, 2008.
And this is most likely one of the songs on the new album

[youtube=http://www.youtube.com/watch?v=1ZCe0xrF4cM]
Fixmer/McCarthy is an electronic music collaboration between the French techno producer Terence Fixmer, and British EBM vocalist Douglas McCarthy (of Nitzer Ebb).
The partnership released an album entitled Between the Devil… and toured during 2005, with a notable live performance at the Infest festival during August of that year.
Also used by Nitzer Ebb this VST really does the job
EGOkILLER uses a double-dose Phase Distortion Oscillator in place of the standard oscillator/filter set-up. It is a very powerful form of synthesis first seen in Casio's CZ synths in the '80's. The PD Oscillators have a very full sound that gives this synth great character. It is designed for EBM/Industrial music but is versatile enough to be used anywhere.
EGOkILLERversion2 is the first of the Version 2 synths. Like the original it is based on a single Phase Distortion Oscillator. The new version features a dual High Pass – Low Pass filter set-up with resonance, as well as graphical envelopes for both modulation and VCA. The LFO is new and extra flexibility has been added to modulation routings. It also includes really fat Unison and an enhanced overdrive.
And make sure to look out for the new one, scheduled to be released soon

GODkILLERversion2 is a versatile V/A synth, laid out in a similar manner to EGOkILLERv2. It improves on the original with two oscillators with sync and Hard Sync. The mixable Low-pass and Band Reject Filters are carried over from the original. It also has two graphical ADSR envelopes and a comprehensive LFO featuring 16 different waveforms. Overdrive and LFO destinations can be controlled by a Modulation Wheel on a MIDI keyboard controller.
More on EGOkILLER and FREE download >>
After 12 years of silence they are back – our good old EBM buddies Nitzer Ebb. According to sources they are recoding a new studio album as we speak and the good news you can here what it is gonna sound like already today. Follow the link and you can here a sample of their new song Payroll.
And it is pretty clear that they haven´t forgotten their roots either, sweet

http://www.artistsaddiction.com/Saw4Soundtrack.htm
From Soundtrack.net…
"When we were choosing songs for the 'Saw IV' soundtrack, we asked ourselves, 'What kind of music would the 'Saw' characters Jigsaw and Amanda listen to?'" reveals Jonathan Scott Miller, principal of Artists' Addiction Records, which will issue Saw IV Original Soundtrack on CD and as a digital release October 23, 2007; an extended digital release will follow in November. Miller served as soundtrack producer alongside Artists' Addiction principals Jonathan Platt and Jonathan McHugh ("Saw IV" producers Oren Koules and Mark Burg are executive soundtrack producers).
The answer to this pivotal question, as any fan of the hit "Saw" film series would guess, are the dangerous, dramatic strains of hard rock, metal and industrial music. These sounds are represented on Saw IV Original Soundtrack by giants of those genres – Nitzer Ebb, who unveil highly anticipated new material with the hard-hitting "Payroll (JohnO Mix)," Ministry ("Life Is Good"), Skinny Puppy ("Spasmolytic [Deftones Remix (Habitual Mix)])," "Saw" composer/Nine Inch Nails alum Charlie Clouser ("Just Begun") and Sixx: A.M., fronted by Mötley Crüe bassist/songwriter Nikki Sixx ("Tomorrow") – as well as established bands who've been influenced by them, including Drowning Pool ("Shame") and Avenged Sevenfold ("Eternal Rest"), and up-and-comers forging a similarly creative path like From Autumn to Ashes ("On the Offensive") and Submersed ("Better Think Again").
From the good old days:
[youtube=http://www.youtube.com/watch?v=1Fylf4kBRVE]
Apart from the cover this could be an interesting DVD to purchase, some really good acts are presented in this fifth edition of the Into the Darkness series, to be honest I haven´t purchased any of the previous, but I did no they were available out there, LOL. This 100 minute video holds eight live clips, nine promo videos, artist greetings – and interviews with Front Line Assembly and Melotron.
Input from Magazine: The live clips are: Nitzer Ebb: "Murderous" (Hamburg 2006), Front Line Assembly: "Maniacal" (Hamburg 2007), Sono: "Open the Door" (Hamburg 2006), Frozen Plasma: "Irony" (Hamburg 2006), Skinny Puppy: "Testure" (Hildesheim 2005), Grendel: "Soilbleed" (Hamburg 2005), Covenant: "The Men" (Hamburg 2006), Combichrist: "Today I Woke the Rain of Blood" (Hildesheim 2005).
The videos are: And One: "So Klingt Liebe", Eisbrecher: "Vergissmeinnicht", Client: "Lights Go out", Vive La Fete: "Noir Desir", IAMX: "President", Ladytron: "Destroy Everything You Touch", Purwien mit Witt: "Alle Fehler", Formula Redux: "Stormy Grace", Deathstars: "Blitzkrieg".