AndOne has decided to give away some free stuff – their new single "Shice guy EP"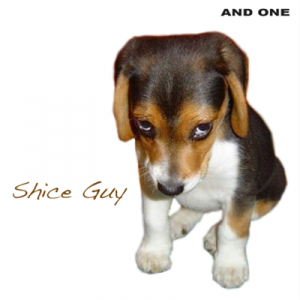 Tracklist:
1) Shice Guy
2) Perfect Life
3) Für Zwei
4) Pleasure & Pain (Demo)
5) Wasted (Demo)
6) S.R.Y.
You van download it right here >>
New, maybe is saying too much, but still
And One have announced the release of Bodypop 1½, available on Out of Line January 30, 2009. The disc will feature nine live versions of 80's synthpop tracks, new And One tracks "Und Wenn," "Paddy Is My DJ" and "Love Is A Drug Abuser," and new and unreleased versions of additional tracks. Follow the links for more information.
[youtube=http://www.youtube.com/watch?v=x-rMpu2uzGk&eurl=http://www.andone.de/&feature=player_embedded]
Steve Naghavi couldn't help but noticing that large parts of today's club crowds had no more knowledge of the ground breaking Synth Pop Hits of the Eighties – which awakened a missionary instinct in And One's restless front man. Thus, the guys thoroughly naghavigated an illustrious collection of genre classics, from "Blue Monday" and "Big In Japan" to "The Sun Always Shines On TV." A big tour through Germany's biggest concert halls followed and now we can reap the fruits of this labour on CD, as well: "Bodypop 1 ½" features nine of the biggest classics of electronic Pop music in And One's patented SuperDuperCoverLoverSound, with a whole lot of live flavour mingled in. But, don't fret, the guys were also generous with material of their own and have included the new songs "Und Wenn", "Paddy Is My DJ" and "Love Is A Drug Abuser" plus old and previously unreleased versions of "Love You To The End" (the song is now about Depeche Mode!) and "So klingt Liebe" (a six minute long version sporting a totally different mood!) "Bodypop 1 ½" – music education turned into a silver disc! Come join us in Naghavi-land – because life I.S.T. too short for bad music!
Normally these attempts are horrible, LOL
"Bodypop 1 1/2" is the newest release from And One featuring a string of covers. According to singer Steve Naghavi the choice for this EP was made when he noticed that today's scene youth has no idea of the essential anthems from "our good, old musical heroes". As a result the band covered classics by Depeche Mode ("Never Let Me Down Again"), Front 242 ("Operating Tracks"), D.A.F ("Der Mussolini"), Nitzer Ebb ("I Give to You") and The Cure ("Kyoto Song"). The band also added two more live cover versions on top next to a bonus video clip for "Steine sind Steine". Released on Out Of Line and available from December 14th, 2007 on. Recommended! Tracklist:
Never let me Down Again
Operating Tracks
Der Mussolini
I Give To You
Kyoto Song
The Walk (live)
Fools (live)
CD –Rom Track �Steine Sind Steine" Video
And of course as usual an AndOne video to enjoy – spice up your day
[youtube=http://www.youtube.com/watch?v=z7hhVWXAPjY]
Apart from the cover this could be an interesting DVD to purchase, some really good acts are presented in this fifth edition of the Into the Darkness series, to be honest I haven´t purchased any of the previous, but I did no they were available out there, LOL. This 100 minute video holds eight live clips, nine promo videos, artist greetings – and interviews with Front Line Assembly and Melotron.
Input from Magazine: The live clips are: Nitzer Ebb: "Murderous" (Hamburg 2006), Front Line Assembly: "Maniacal" (Hamburg 2007), Sono: "Open the Door" (Hamburg 2006), Frozen Plasma: "Irony" (Hamburg 2006), Skinny Puppy: "Testure" (Hildesheim 2005), Grendel: "Soilbleed" (Hamburg 2005), Covenant: "The Men" (Hamburg 2006), Combichrist: "Today I Woke the Rain of Blood" (Hildesheim 2005).
The videos are: And One: "So Klingt Liebe", Eisbrecher: "Vergissmeinnicht", Client: "Lights Go out", Vive La Fete: "Noir Desir", IAMX: "President", Ladytron: "Destroy Everything You Touch", Purwien mit Witt: "Alle Fehler", Formula Redux: "Stormy Grace", Deathstars: "Blitzkrieg".
[youtube=http://www.youtube.com/watch?v=6mZ7aEm_Ex8]
or as Welle used to say:
Nur tote frauen sind schön!! LOL
Btw another Reason 4 tutorial: http://www.sonicstate.com/news/shownews.cfm?newsid=5334