Young Guns go for it – The Story of Soft Cell (20-Sep-2000)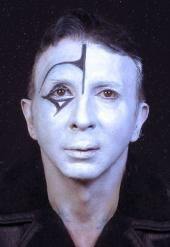 The Danish city Århus hosts the Recession Festival again on October 8-9. The program 2010 includes Marc Almond, Front Line Assembly, Portion Control, Rummelsnuff featuring Claus Larsen, Necro Facility, Kite, Andreas Tilliander and Familjen. More acts will be announced shortly.

"Varieté" is Marc Almond's first complete album of self-written songs since "Open All Night", launched over a decade ago. The first 3000 copies of the album will be released in a limited edition digipak with an exclusive 7-tracks bonus acoustic CD featuring additional unreleased tracks and a 16 pages booklet, while the regular editon includes CD1 only. 2010 being Almond's 30th year in business as a recording artist, the album "Varieté" revisits the eras of his personal and musical life providing an insight into what defines him as a performer.
[youtube=http://www.youtube.com/watch?v=yZkgmFSX2nk]
September saw the release of a six-track Marc Almond EP, Brel Extras, which includes three new studio recordings, plus two remastered live recordings of "The Devil (Okay)" and "If You Go Away." The limited edition disc also includes the 1984 fan club flexi version of "My Death."
In October, fans can expect a DVD/CD package, Marc Almond in Bluegate Fields — Live at Wilton's Music Hall. The DVD features a show recorded earlier this year along with bonus songs. The audio-only CD will include guest appearances by Little Annie and Baby Dee.
Almond has also confirmed new live dates for the UK, Serbia, Lithuania and Russia. Please follow the links for more information.