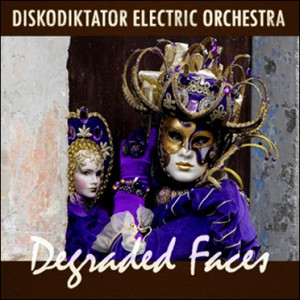 Diskodiktator's Johan Billing has returned from the silent part of the world with a new musical project. Johan Billing did a full cover of the debut album from S.P.O.C.K last year. This summer it's all about the first album by Elegant Machinery.
Billings vehicle for this project is again Diskodiktator Electric Orchestra with whom he is currently working on "Degraded Faces" bringing you 10 tracks of Elegant Machinery covers as you've never heard them before.
Listen to it here:
The members of the legendary synthpop act Elegant Machinery part ways.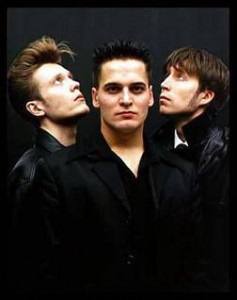 Steven Dornbusch, the bands manager, announced today in a press release that the band are cancelling their show at the upcoming SGA Festival in Stockholm in June. This because the band members will part ways and can't find any solution to continue.
Last year, the band announced that they were working on a new studio album, scheduled for late 2011.
The crew of the SGA Festival are very sorry for this and will try to compensate all guests who attend the festival and wanted to see Elegant Machinery. The band who will replace Elegant Machinery will be announced very soon.
Rumors:
Rumors has it that the band has been troubled by the fact that a member in the band has been politically active in a way that is not in line with the values of the rest of the band members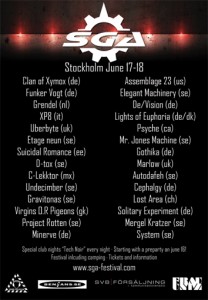 The new outdoor synthpop, EBM and goth festival Stockholm Goes Alternative (June 17-18) has hired all live acts (but one which will be picked from a contest in February). The line-up looks like this:
Lights of Euphoria, Psyche, De/Vision, Gravitonas, Grendel, Funker Vogt, Assemblage 23, Clan of Xymox, Solitary Experiments, XP8, Autodafeh, Elegant Machinery, Uberbyte, Etage Neun, C-Lekktor, Undecimber, Virgins or Pigeons, Project Rotten, Minerve, Mr Jones Machine, Gothika, Marlow, Cephalgy, Lost Area, Mergel Kratzer, Suicidal Romance, D-Tox, and System.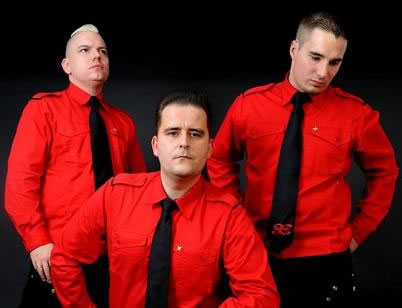 Solitary Experiments.
In June, I gave you the news about Stockholm Goes Alternative, an outdoor festival for EBM, industrial, goth and synthpop in Vallentuna close to Stockholm on June 17-18, 2011.
Now, the SGA organizers tell us the first 10 (out of 27) live acts are: Assemblage 23, Funker Vogt, Solitary Experiments, Elegant Machinery, Autodafeh, C-lekktor, Lost Area, Cephalgy, XP8 and Marlow. At this early stage we have not received confirmation from the artists or their agents.
SGA says tickets will be on sale for the reduced price SEK 575 plus administrive fees on September 3 (regular price 775).
I don´t buy very many albums these days, I used to though, but this album I would really like to recommend for those into synthpop music. After 12 years they are back with a brand new album, so make sure to check it out. I have blogged about their first single from the upcoming album, so logically I will also post the second one, enjoy.
The new elegant MACHINERY album "A Soft Exchange" is set for release on November 28th on the German label Out Of Line Music.
The new elegant MACHINERY album "A Soft Exchange" is set for release on November 28th
The album will contain the following ten tracks:
01. With Grace
02. Move
03. Do You Know
04. A Soft Exchange
05. Feel the Silence
06. Path of Angle (Instrumental)
07. Bleeding Words
08. Hold On
09. Firm
10. Is This the Way
» For preorders, please follow this link.
[youtube=http://www.youtube.com/watch?v=ccxtSGmU2xA]
…a real summer synthpop hit

Listen and enjoy – and make sure to purchase it, when released, so that we encourage these pioneers to continue delivering good music.
[youtube=http://www.youtube.com/watch?v=1nzktzZtWPc]
elegant MACHINERY returns with the hit single "Feel the Silence"
Available at Out Of Line Mailorder:
www.outoflineshop.de
OUT OF LINE Music
Friedrichstr. 200 , 10117 Berlin, Germany
Tel:
+49-30-5655353-0

Fax: +49-30-5655353-10
C=iao
New elegant MACHINERY single
The new elegant MACHINERY single is finally taking form.
The single, which is recorded and produced by elegant MACHINERY, will be mixed by Jouni Ollila (Mr Jones Machine and Pouppé Fabrikk).
The single track, "Feel the silence", is already finished, and the bonus track, "Beautiful world", will be mixed later this month.
Release date to be announced, but rumours has it that it will be in january.
[youtube=http://www.youtube.com/watch?v=U1LvdQI8CU8]