Kraftwerk on the road again
Still remember when I saw Kraftwerk live for the first time (ages ago) – today I would probably go see them again, although one might debate if it really is Kraftwerk you are watching since it is only one of the four original members in the current/today´s line up. Anyhow below are the details: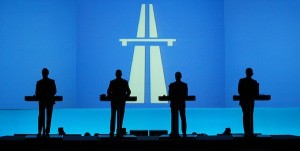 Kraftwerk will give a series of eight performances, each devoted to one of its albums, as part of a Museum of Modern Art retrospective of the electronic music pioneers in April, museum officials said. The performances during "Kraftwerk-Retrospective 1 2 3 4 5 6 7 8," on consecutive evenings starting April 10, will not only feature tracks from one of Kraftwerk's albums, but also other original compositions intended to showcase the group's influence on contemporary culture. Projected images, including 3-D ones, will accompany the music. The albums will be performed in chronological order, one each night, starting with "Autobahn" from 1974 and working up through "Tour de France" from 2003.
For more info: kraftwerk.com
http://youtu.be/6M5ZNETaNrk
Kraftwerk Autobahn rare original video
Comments