The "Never Enough" single is available NOW via Bandcamp! https://metropolisrecords.bandcamp.co…
Pre-order the re-release of "Blood Spills Not Far From the Wound" which ships on October 16th, 2015!
http://www.metropolis-mailorder.com/p…
I sweep across the land in vain,
Like locust swarming in the breeze,
I want for nothing yet I keep,
Exercising futility.
Success is ashes on my tongue,
Remain unhappy though I'm loved,
I know I'm foolish and I'm young,
But can't you see it's not enough?
I'm not satisfied,
It's all or nothing,
There's no peace of mind for me,
And even though I try,
My greedy heart is hungry,
I'm not satisfied,
You see?
I've seen much more than most could hope,
Accomplished dreams and traveled roads,
Through all my lovers I have grown,
Just not enough to make a home,
There's no religion there's no god,
Who'll fill this emptiness I've got,
What good's belief when it is wrong?
Just gimme more because I'm not!
I'm not satisfied,
It's all or nothing,
There's no peace of mind for me,
And even though I try,
My greedy heart is hungry,
I'm not satisfied,
You see?
I'm not satisfied,
I'm lost and empty,
There's no reason why,
You see?
And I could live a thousand lives,
And I know I won't be happy,
I'm not satisfied with me.
Filmed at Club Complex in Glendale, CA
Camera: Ron Dembowski, Armik Davalokhanian and Sam Pfannkuche
Editing: Daniel Graves
Post production: Sam Pfannkuche and Clint Carney
Design and sets: Daniel Graves, Armik Davalokhanian and Ron Dembowski
Lighting: Dan McKeaney
Special thanks to: Stefanie Volland and Meghan Mayhem
Aesthetic Perfection goes acoustic
Big Bad Wolf ft. Tim Skold
Recorded August 31, 2013 at Complex in Glendale, CA
Taken from the "Imperfect" Live CD / DVD
Out May 12, 2015 on Metropolis Records
Pre-Order Now!
http://www.metropolis-mailorder.com/p…
Filmed by:
Armik Davalokhanian
Ron Demowski
Edited by:
Daniel Graves
Post production:
Sam Pfannkuche
Clint Carney
On August 31, 2013 we performed acoustic renditions of songs spanning my entire discography at Club Complex in Glendale, CA. On May 12, that show will be released for everyone to hear.
http://www.metropolis-mailorder.com/p…
The 3rd single from our upcoming 4th album.
Available digitally October 22 via Metropolis Records in North America and Europe.
Pre-order NOW! http://www.metropolis-mailorder.com/d…
Directed by Mitch Massie
Taken from the album "Calls From Space". Video directed by J. Tochtenhagen, edited by F. Sapart. Model: Sabine Tonn. (c) & (p) ECHOZONE MUSIC.
Official video for "The Dark Half"
Direction and principal videography by Ronald Dembowksi
Assistant direction and videography by Sam Pfannkuche and Armik Davalokhanian
Concept, costumes, and cinemetography by:
Daniel Graves
Ronald Dembowski
Sam Pfannkuche

ElectriXmas is an annual event focusing on electronic music, within electronic pop, EBM, electro etc. As with previous years five bands will perform live on stage and this years line up promises a full powered event, here's is what the ElectriXmas crew has to say about it:
Well, it's been a tough choice to select the final artist for this years electriXmas. We've had weeks of discussions, negotiations and a lot of stress, but finally we're pleased to be able to bring a long awaited band to the stage…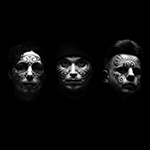 We give you… [:SITD:] !!
So now, the complete lineup is:
ICON OF COIL (no)
[:SITD:] (de)
AESTHETIC PERFECTION (us)
JÄGER 90 (de)
HENRIC DE LA COUR (se)
+ surprise guests ELECTRONICALLY YOURS  (se)
From a < S T E E L B E R R Y   C L O N E S > perspective we recommend you to keep a close eye on the surprise act going forward

Electronically Yours
Eddie Bengtsson (Page, S.P.O.C.K, Sista Mannen På Jorden) oiled a wooden deck and had a vision. He invited friends and acquaintances from among the ranks of Swedens synth artists to help him realize it. By taking the best tunes from the 70′s to the present day and redefining them electronically they hope to make our small planet a better place … Do not miss Electronically Yours Live at electriXmas!
Don't forget to Check out the Artists page for more info on the artists. Tickets can be bought directly from the website, but hurry, electriXmas has been completely sold out the last 3 years in a row, so don't wait too long!
We'll be back in the next few days with info regarding the schedule and dj's for the night. As usual, keep up to date here or on any of the following:
– Facebook group: www.facebook.com/groups/electrixmas
– Facebook page: www.facebook.com/electriXmasfestival
– Twitter: twitter.com/electriXmas
Aesthetic Perfection – A Nice Place to Visit
Taken from the album "All Beauty Destroyed" now available from Metropolis Records in North America and Out of Line in Europe
Buy it here: http://www.aestheticperfection.carbonnine.com/abd-2cd-only/
Filmed on location in Evansville, ID
Produced, directed, shot and edited by Mitch Massie
A few weeks ago Aesthetic Perfection shot the "Inhuman" video in a former mental asylum somewhere on the outskirts of Berlin. The video has now been released.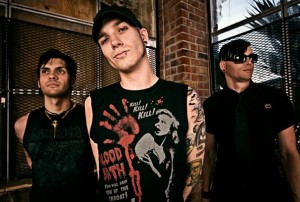 "Inhuman" is the second single taken from "All Beauty Destroyed" out next Monday, November 7 via Out Of Line. The band will be hitting the UK shores for a run of 7 headline shows, dates are as follows:
19. November 2011 Crawdaddy – Dublin, IE
22. November 2011 Legends – Newcastle, UK
23. November 2011 The Classic Grand – Glasgow, UK
24. November 2011 Tunnels – Bristol, UK
25. November 2011 Moho – Manchester, UK
26. November 2011 Elektrowerkz – London, UK
27. November 2011 Talking Heads – Southampton, UK
Aesthetic Perfection US Tour with Faderhead starts today
Aesthetic Perfection US Tour 2011
Today, Danel Graves (aka Aesthetic Perfection) kicks off the US Tour together with Faderhead and Everything Goes Cold.
Starting tonight at the legendary Das Bunker in Los Angeles before crossing the United States and end in Philadelphia on May 7th.
See the complete schedule below.
04.22.11 Los Angeles, CA @ Das Bunker (at The Catch One)*
04.23.11 Phoenix, AZ @ Joe's Grotto
04.25.11 San Antonio, TX @ Korova
04.26.11 Austin, TX @ Elysium
04.27.11 Dallas, TX @ Curtain Club
04.28.11 Baton Rouge, LA @ L-Bar
04.29.11 Atlanta, GA @ Das Bunker (at Shelter)
04.30.11 Cincinnati, OH @ Quorum (at The 20th Century Theater)
05.01.11 Pittsburgh, PA @ 31st Street Pub
05.02.11 Columbus, OH @ Skully's Diner
05.03.11 Rochester, NY @ Water Street Music Hall
05.04.11 Richmond, VA @ Fallout
05.05.11 Springfield, VA @ Jaxx
05.06.11 New York, NY @ Cybertron (at Rebel)
05.07.11 Philadelphia, PA @ I Love Industrial (at The Starlight Ballroom)
* Aesthetic Perfection & Faderhead only