Men Without Hats announce first European Tour in 20 years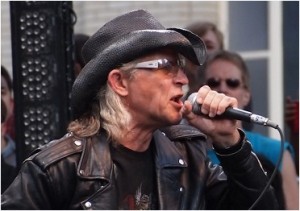 30 years ago, Men Without Hats told the world "You can dance if you want to". The world listened. Since then, the Canadian electronic rock new wave group has continued to create pop music. In February, they embark on their first European tour in over 20 years, performing all their classic hits including "The Safety Dance", "I Got The Message", "Pop Goes The World", "I Like", "Living In China", plus songs from their new studio album "Love In The Age Of War".
The European tour starts Friday 1st February at the London's Islington o2 Academy (only UK show), followed by dates across Germany, Austria, Denmark, and Sweden. Led by front man, lead singer and songwriter Ivan Doroschuk, in 2011, MWH performed a breakout show at SXSW, followed by an extensive 2012 North American tour alongside the B52s and Human League.
Produced by Dave 'Rave' Ogilvie (Skinny Puppy, Marilyn Manson), "Love In The Age of War" marks MWH's their first studio album in 10 years, and includes ten original songs. Since forming in the late 70's, the band has released six studio albums. (Via SL)
Comments