Kraftwerk on stage at Tate Modern UK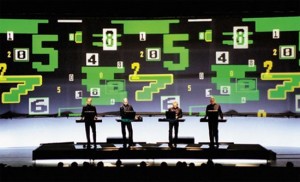 Following on from Laibach's incredible Retro Monumental Avant-Garde performance in the Tate Modern Turbine Hall earlier this year, we are thrilled and excited to announce that Kraftwerk are to play the venue between February 4th and 16th 2013. The band will be performing an album every night as part of the KRAFTWERK – THE CATALOGUE 1 2 3 4 5 6 7 8 series, previously seen in New York and Dusseldorf.
Chris Dercon, director of the Tate Modern, said: "As a former power station, Tate Modern's Turbine Hall is an ideal venue for Kraftwerk's explorations of technology, energy and rhythm. Bringing together music, video and performance, these events will be true gesamtkunstwerk – a total work of art."
Tickets – priced at £60 per show – go on sale next Wednesday, December 12 at 7:30 am. You will be able to buy them exclusively here.
FEBRUARY 2013
Wed 6 – Autobahn (1974)
Thu 7 – Radio-Activity (1975)
Fri 8 – Trans Europe Express (1977)
Sat 9 – The Man-Machine (1978)
Mon 11 – Computer World (1981)
Tue 12 – Techno Pop (1986)
Wed 13 – The Mix (1991)
Thu 14 – Tour de France (2003)
Comments