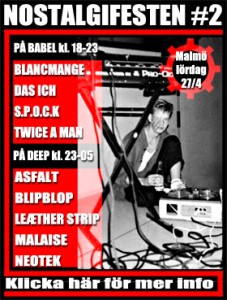 If you by any chance are in Malmö, Sweden this weekend don't miss the opportunity to see all these nice synthpop / new wave / EBM acts live at Neostalgia's birthday party on Saturday April 27th
@ BABEL:
————-
18:30 S.P.O.C.K
19:30 DAS ICH
20:40 TWICE A MAN
21:40 BLANCMANGE
@ DEEP:
————
23:30 MALAISE
00:30 LEAETHERSTRIP
01:30 NEOTEK
02:20 ASFALT
03:10 BLIPBLOP
Tickets can be purchased here:
https://secure.tickster.com/Intro.aspx?ERC=H93LCZ3LUZ46013
And for more information check out their Facebook page for all the details (most of it in Swedish unfortunately, but you may use Google translate to get all the details)
https://www.facebook.com/events/354812351298887/

German darkwave act Das Ich will release a new album, Koma, September 3 on band co-founder Bruno Kramm's own label, Danse Macabre Records. Inspired by anime, manga and Asian culture, Koma will be available in both a standard edition and a limited edition boxed set, which will be packaged with a T-shirt, comic book, button and sticker. Koma is the band's first all-new studio album since Kaskade in 2006. Also due for an early September release, again on Danse Macabre Records, is a reissue of Das Ich's 2002 album, Antichrist, which will feature three additional remixes.

Out on Danse Macabre in the next few weeks is the first new album from Das Ich since "Cabaret" (2006). It will be the first all new material since the limited "Kannibale" EP from 2008. "Koma" comes in a 'Manga'-styled concept, combining cultural influences from the Far East with Das Ich's mixture of classic- and electronic sounds.
"Koma" will also be released as a collector's edition boxset (strictly limited to 500 copies only) which has undergone a Manga styled design as well. The boxset contains an extensive MangaComic-book, the CD, an exclusive T-Shirt, button and sticker.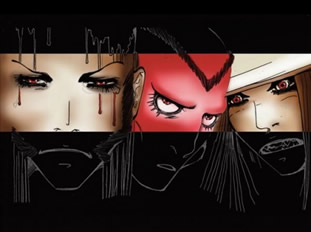 A new Das Ich album called "Koma" will see the light of day on Danse Macabre Records in mid May. Those who visited Leipzig's book fair got a first glimpse of the Das Ich manga book, which will be published with the new CD in a special box.
http://www.youtube.com/watch?v=hY3TWGP8Yfg