Monochromies is a musical and visual meditation on the notion of color, composed for Virus TI, details below:
The idea of monochrome is very often associated to a single color considered in itself as the substance of a painting, since Yves Klein invented his famous blue and used it constantly in reference to cosmos and alchemy. But this conception is not aware that a genuine monochrome is far more than a unique tone and Yves Klein who was initiated to the secrets of color as well as alchemy perfectly knew it. Behind the visible radiance of a his symbolical atmospheric blue, all the dimensions of the spectrum are gathered in a composition of their different values, forming the specific vibration of the cosmic substance this artist invented. Such a strange phenomenon is not only poetry or the sign of an ancient belief conveyed into a kind of painter's mysticism, but also a physical reality. Every color radiates through the others and produces the specific aura of each of them. As an alchemist wrote about the philosophical stone " It has every color, white, red, yellow, blue sky, green", is also true in the filed of music since colors and sounds are two expressions of the same basic reality. In this piece, I try to explore it by a combination of music and visual events, divided into four moments, each one corresponding to an element, but also according to a process in three dimensions plus one (space and time, sides of the triangle and their blossom in a final fourth absolute form in which the distinct lines and angles finally unite. These different moments are also successive enters into the core of the universe mystery through musical and visual doors (this is why I used the noise of a genuine door in the third enter, in association with the sounds of the Virus TI, from 6:27 to 7:52). Each door leads to a deeper vision until the piece reaches its end in the suspension of the enigma, close to its revelation, but a few steps before it since we can just go on the border but never cross it. The only knowledge we are allowed to reach being the intuition of the other side through our journey of impossible discovery.
Film and music by Marc-Henri Arfeux
Ben Adams and Jez Webb took the time walking us through the Instrument Setups at the Hamburg Stadium before the Depeche Mode Gig on June 17th, 2013. Ben explained the use of the Virus Polar by Andy Fletcher and the Virus TI by Peter Gordeno. Jez showed us Martin Gore's guitar Setup.
Radikal Technologies Spectralis 2, Virus TI Polar, Korg Radias ambient electro demo
The Spectralis 2 hybrid synth, fueled by the latest DSP- and true analog technology, delivers maximum tonal capabilities and leads you into a radical new world of sounds full of life and animation. The Spectralis 2 oscillator section takes sound design to new extremes. The 4 oscillators offer continuously variable waveshapes plus time linearity modulation, FM, PM, oscillator synchronisation, bit reduction and independent pitch and volume envelopes. The self resonating filters, a 4 pole lowpass and a 2 pole multimode filter with LP, HP, BP and notch outputs, use two highly improved true analog circuit designs to overcome the restrictions of modelling based synths.
The way players can interact with the destinc-tive user interface makes the Spectralis 2 hybrid synthesizer a killer live instrument with unbeatable richness and stunning flexibility. The synthesis engine takes advantage of a sophisticated step sequencing system – 32 independent parameter control lines with up to 192 steps let you explore an universe of previously unheard rhythmic effects and atmospheric textures. Punchy high resolution envelopes, are the cutting edge of todays synthesizer technology. They are the perfect weapon for the creation of floor pounding kicks, state of the art sequencer staccatos and numerous percussion effects.
This track is a live improvisation using 2 sequences programmed on Korg Radias, one sequence on Mopho, the drum line fron Electribe ESX-1, the pad from Nord Lead 3 and the fulte from Vrius Ti2.
All sounds are created by Alba Ecstasy and if you like them, you can visit the store:
http://www.albaecstasy.ro/blog/store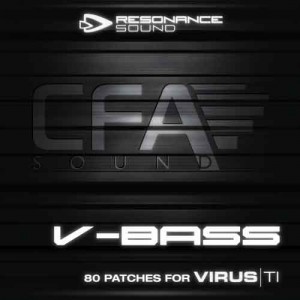 Resonance Sound has announced the release of CFA-Sound V-Bass , which they describe as "a huge bass soundset for the Virus TI synthesizer that delivers some serious weapons for mass destruction: aggressive dirty electro sounds, percussive and massive bassline tools completed with wild sequences and thrilling guitar sounds."
Features:
80 patches
macro controls allocated
modwheel allocated
Requirements: Access Virus TI OS 4.5 or higher.
Pricing and Availability:
20.00 Euros
More information:
"All sequences recorded by myself.
KORG R3, Omnisphere, Virus TI sounds used for this one"
Featured gear: Omnisphere is designed with a unique user interface containing progressive layers of 'zooming' to accommodate the complete range of users – from musicians who just want to be inspired by the sounds and customize them in an easy way, to expert synthesists and the most advanced sound designers. Users can go deeper and deeper into the software and progress in their synthesis knowledge by simply exploring additional levels of sound manipulation options. To make sure that all users get the most out of the new capabilities, Omnisphere includes an extensive set of video tutorials and synthesis lessons taught by the renown Spectrasonics sound design team.
Omnisphere offers a host of hybrid synthesis and new control capabilities including Variable Waveshaping DSP synthesis, Granular synthesis, Timbre Shifting, FM, polyphonic Ring Modulation, high-resolution streaming Sample Playback, Harmonia™, Dual Multimode Filter structure, Chaos Envelopes™, an advanced Unison mode, and the innovative Flex-Mod™ modulation routing system – to name a few.
The huge core library of Omnisphere is filled with years of creative sampling experiments and thousands of inspiring patches. Spectrasonics has pioneered several brand-new types of sampling for the core library of this instrument, including unique "Psychoacoustic" sounds and soundsources created with a new Composite Morphing Technique (CMT) – which morphs the harmonic characteristics of one instrument to another. As a bonus, a section of the core library is also devoted to representing the best of Spectrasonics award-winning sample libraries. When all of these organic core library soundsources are combined with the synthesis power of the STEAM engine, the sounds become "alive" in a truly dynamic and expressive way.
This episode is all about modulations and in particular the modulation matrix of the Virus TI.
"We show you how to create pulsing pads beyond the omni present pumping pad effect."
This is the configuration of Synapse Kinect hack Ableton
The right hand Y (LFO) and Z (Tune) Bass Virus TI patch Raw and the left hand stutter iZotope plug combined with the right hand ..
Visuals by Quartz Composer synapse hack ..
Synapse is an app for Mac and Windows that allows you to easily use your Kinect to control Ableton Live, Quartz Composer, Max/MSP/Jitter, and any other application that can receive OSC events. It sends joint positions and hit events via OSC, and also sends the depth image into Quartz Composer. In a way, this allows you to use your whole body as an instrument.
Check out this video for an explanation of how this is done: http://www.youtube.com/watch?v=teHCHsjxI00
This is an example performance of what you can make with the Synapse for Kinect tools combined with Ableton Live and Quartz Composer. You can have this running on your computer within minutes! Head to http://synapsekinect.tumblr.com to download.
This is a little preview to one of the new things we will present at the NAMM show in 2011.
We will show you a preview version of the forth coming OS 4.5 for the entire Virus TI series.
Dark Star, the Virus TI Polar WhiteOut Special Edition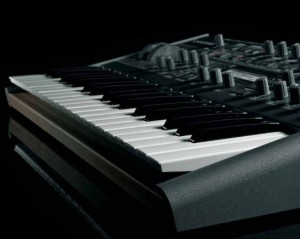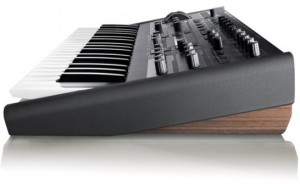 Specifications:
Oscillators Three main oscillators and one sub oscillator per voice. A main oscillator can comprise of various oscillator types including the classic virtual analog oscillators (saw,variable pulse, sine, triangle, 62 spectral waves with several FM modes) and hypersaw (a multi saw-tooth oscillator with up to 9 stacked oscillators, 9 sub oscillators and sync oscillator at the same time). Wavetable oscillators with 100 multi-index wavetables, feature variable resolution and optional pulse-width mo-dulation. Graintable oscillators apply granular synthesis techniques for independent control of pitch and formants to warp a waveform beyond recognition. Formant oscillators sound like running a signal through a massive, modulatable filterbank with hundreds of resonant bands being morphed by the wavetable index.
Filters Two fully independent filters (lowpass, highpass, bandpass, bandstop) with an optional saturation module located in between both filter blocks. The saturation module can add one of several distortions and lo-fi effects or an additional low/-high-pass filter. Optional self- resonating MoogTM cascade filter simulation with circuit overload and 1-4 poles.
Modulation Two-dimensional modulation matrix with six slots (1 source and 3 modulation targets each). Every feasible parameter can be modulated in realtime. Three LFOs with additional hardwired destinations along with one user-definable slot. Two lightning-fast, multi-stage envelopes (ADSTR) – LFOs can be used as ramp generators as well.
Effects The FX section has independent delay and reverb per patch (even in multi mode), along with multiple distortion/lo-fi algorithms, phaser, chorus/flanger, character control, ring modulator/shifter, EQ plus a global vocoder. There is no difference be-tween single and multi modes – patches sound exactly the same.
Arpeggiator Each patch contains it's own arpeggiator pattern feat. 32 programmable steps (length and velocity can be adjusted per step) along with a global control for swing/shuffle timing and one for note lengths. Pretty much every parameter including the pattern itself, the amount of octaves and many more can be controlled using the modulation matrix. I/O 6 balanced outputs (@ +4dB), backed by 192 Khz/24bit D/A converters, with soft-limiting. Two inputs with 24-bit A/D. Dedicated headphone out. MIDI in, out, and thru. S/PDIF digital audio (44.1/48 kHz) inputs & outputs. USB is used for MIDI and audio transmission (adding 3 additional stereo audio outputs) and works at 12Mb/s.
Enclosure Great synth-action keyboard with 37 keys, velocity response and aftertouch. Hold and Control pedal inputs. Black finish, aluminium and wooden side panels, red LEDs and white display, wood rail beneath the keyboard.
Surround sound output Every part can be panned dynamically between two stereo outputs for quadraphonic effects.
Hardware controls 32 knobs, 43 buttons, 73 LEDs and Pitch/-Modulation wheel if applicable.
Polyphony Between 25 to 110 voices, depending on the complexity of the patch. Estimates are based on single mode performance results may vary in multi mode.
Multi Mode Multi programs can have fully-independent embedded singles, without the links to single banks required by most synths. This provides freedom from breaking other programs.
Memory 1024 RAM and 3328 ROM sounds, 16 em-bedded multi patches along with 112 conventional multi slots, 16 parts in multi mode.
Remote Templates Turn the Virus into a MIDI remote, the sound engine will still work independently. 32 user programmable templates to reassign most panel knobs control- ling control third party plug-ins and MIDI synthesizers.
Smooth parameter changes Adaptive control-smoothing provides parameter changes with no zippering artifacts. With knob quantize, a clock ratio is selected and parameter changes are updated at specified intervals only. The result is sample-and-hold parameter movements, evocative of step sequencer sounds.
Atomizer The unique DJ style audio slicer turns the Virus TI into an powerful realtime FX for DJ applications.
Total Integration
Total Integration seamlessly links any Virus TI model and a computer to create a unified system consisting of a powerful hardware synth and a virtual instrument plug-in, which not only controls the Virus TI but also receives audio from it, in order to allow post-processing right inside your computer.
This way you get the best of both worlds: Your Virus TI will calculate all the voices and effects and therefore makes the CPU of your computer available for other tasks. Since it is driven by the Virus Control plug-in, the timing (unlike normal MIDI and USB-MIDI timing) will be sample-accurate, and all sound data will be saved within the song or project. Virus Control also offers editing capabilities, along with an easy-to-use librarian page to keep track of all your Virus TI patches.
The Virus TI's analogue input and outputs can double as an audio interface, the MIDI sockets can double as a MIDI interface.
Virus Control is an VST/AU/RTAS compatible plug-in. Total Integration is certified for the following hosts: Apple Logic 9, Steinberg Cubase 5, Ableton Live 8, Digi-design Pro Tools 9, Cakewalk Sonar 8.5, ImageLine FL Studio 9.