Dark Star, the Virus TI Polar WhiteOut Special Edition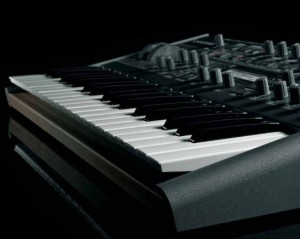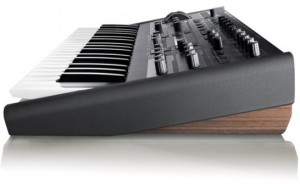 Specifications:
Oscillators Three main oscillators and one sub oscillator per voice. A main oscillator can comprise of various oscillator types including the classic virtual analog oscillators (saw,variable pulse, sine, triangle, 62 spectral waves with several FM modes) and hypersaw (a multi saw-tooth oscillator with up to 9 stacked oscillators, 9 sub oscillators and sync oscillator at the same time). Wavetable oscillators with 100 multi-index wavetables, feature variable resolution and optional pulse-width mo-dulation. Graintable oscillators apply granular synthesis techniques for independent control of pitch and formants to warp a waveform beyond recognition. Formant oscillators sound like running a signal through a massive, modulatable filterbank with hundreds of resonant bands being morphed by the wavetable index.
Filters Two fully independent filters (lowpass, highpass, bandpass, bandstop) with an optional saturation module located in between both filter blocks. The saturation module can add one of several distortions and lo-fi effects or an additional low/-high-pass filter. Optional self- resonating MoogTM cascade filter simulation with circuit overload and 1-4 poles.
Modulation Two-dimensional modulation matrix with six slots (1 source and 3 modulation targets each). Every feasible parameter can be modulated in realtime. Three LFOs with additional hardwired destinations along with one user-definable slot. Two lightning-fast, multi-stage envelopes (ADSTR) – LFOs can be used as ramp generators as well.
Effects The FX section has independent delay and reverb per patch (even in multi mode), along with multiple distortion/lo-fi algorithms, phaser, chorus/flanger, character control, ring modulator/shifter, EQ plus a global vocoder. There is no difference be-tween single and multi modes – patches sound exactly the same.
Arpeggiator Each patch contains it's own arpeggiator pattern feat. 32 programmable steps (length and velocity can be adjusted per step) along with a global control for swing/shuffle timing and one for note lengths. Pretty much every parameter including the pattern itself, the amount of octaves and many more can be controlled using the modulation matrix. I/O 6 balanced outputs (@ +4dB), backed by 192 Khz/24bit D/A converters, with soft-limiting. Two inputs with 24-bit A/D. Dedicated headphone out. MIDI in, out, and thru. S/PDIF digital audio (44.1/48 kHz) inputs & outputs. USB is used for MIDI and audio transmission (adding 3 additional stereo audio outputs) and works at 12Mb/s.
Enclosure Great synth-action keyboard with 37 keys, velocity response and aftertouch. Hold and Control pedal inputs. Black finish, aluminium and wooden side panels, red LEDs and white display, wood rail beneath the keyboard.
Surround sound output Every part can be panned dynamically between two stereo outputs for quadraphonic effects.
Hardware controls 32 knobs, 43 buttons, 73 LEDs and Pitch/-Modulation wheel if applicable.
Polyphony Between 25 to 110 voices, depending on the complexity of the patch. Estimates are based on single mode performance results may vary in multi mode.
Multi Mode Multi programs can have fully-independent embedded singles, without the links to single banks required by most synths. This provides freedom from breaking other programs.
Memory 1024 RAM and 3328 ROM sounds, 16 em-bedded multi patches along with 112 conventional multi slots, 16 parts in multi mode.
Remote Templates Turn the Virus into a MIDI remote, the sound engine will still work independently. 32 user programmable templates to reassign most panel knobs control- ling control third party plug-ins and MIDI synthesizers.
Smooth parameter changes Adaptive control-smoothing provides parameter changes with no zippering artifacts. With knob quantize, a clock ratio is selected and parameter changes are updated at specified intervals only. The result is sample-and-hold parameter movements, evocative of step sequencer sounds.
Atomizer The unique DJ style audio slicer turns the Virus TI into an powerful realtime FX for DJ applications.
Total Integration
Total Integration seamlessly links any Virus TI model and a computer to create a unified system consisting of a powerful hardware synth and a virtual instrument plug-in, which not only controls the Virus TI but also receives audio from it, in order to allow post-processing right inside your computer.
This way you get the best of both worlds: Your Virus TI will calculate all the voices and effects and therefore makes the CPU of your computer available for other tasks. Since it is driven by the Virus Control plug-in, the timing (unlike normal MIDI and USB-MIDI timing) will be sample-accurate, and all sound data will be saved within the song or project. Virus Control also offers editing capabilities, along with an easy-to-use librarian page to keep track of all your Virus TI patches.
The Virus TI's analogue input and outputs can double as an audio interface, the MIDI sockets can double as a MIDI interface.
Virus Control is an VST/AU/RTAS compatible plug-in. Total Integration is certified for the following hosts: Apple Logic 9, Steinberg Cubase 5, Ableton Live 8, Digi-design Pro Tools 9, Cakewalk Sonar 8.5, ImageLine FL Studio 9.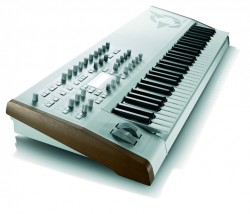 Access Music has a nice freebie for Virus TI owners – the Ben Crosland Signature Sound Set 2011:
In creating this soundset, UK based artist Ben Crosland has used his intricate knowledge of the Virus to provide you with a new, go-to library of dazzling variety – the generous serving of phat basses, classic chip-tune blips, lush digital soundscapes, synapse-tickling leads and grinding arpeggiator grooves, is sure to push your musical creativity into overdrive!
Throughout the set, extensive use is made of the all features that came with TI OS4, so be sure to install the latest OS update to experience this soundset as intended.
The Ben Crosland Signature Sound Set is a free download for registered users.
This is a sneak preview of a future soundset by UK based sound designer Ben Crosland. The patch collection focuses on contemporary electro, minimal and electronica sounds.
German synthesizer company Access Music released a free signature sound set by sound design wizard Ben Crosland. The Virus TI sound set focuses on contemporary electronic sounds from Electro to Dubstep and Commodore Sid to Ambient. Registered Virus TI owners can download the set free of charge from the Access Music website.
audibleobsession has shared this fun video featuring a classic game being taken over by a Virus
felt nostalgic tonight and loaded up my favorite game of all time: DOOM. Except, my Access Virus TI was plugged in as my audio interface and it had overridden the default Windows MIDI. Since my Moog was plugged into the MIDI Out of the Virus, guess what started playing as the game booted up? That's right, MOOG DOOM!"
Simon Stokes treats with some nice live techno during these dark mornings, featuring a Virus TI2
**PLEASE WATCH IN 720p HD!**
**The sound quality is still ravaged (especially the subs), but it is marginally better..**
Thanks for checking this out!
I can't believe it's actually been 10 months since I lasted posted a video of me making some live techno – thanks to anyone who has forgiven me and is still watching.. :]
All sorts of great things have happened this year – I have been playing more around the UK and internationally, putting out some tracks with some really nice labels and generally just enjoying myself.
This track is inspired by a recent visit to the Warehouse Project to see an epic set by Ricardo Villalobos & Raresh – he tore the place a new one and I think this track captures how it felt for me. This time round it's a thudding techno track – very stripped, but chunky as well. The Virus is creating all the sounds in realtime as I play it, and Ableton is providing the percussion, controlled by my UC-33e.
I love making music, but I really get my kicks when other people enjoy listening to it. Please leave a comment or any feedback that you have for me, it will be warmly appreciated.
If you have any questions, I'm always happy to answer them so post a comment or send me a message.
Cheers,
Simon
http://www.facebook.com/mrsimonstokes
http://www.beatport.com/artist/simon%…
http://www.soundcloud.com/simonstokes
Viral Outbreak Released! + Demo Refill and Demo Plugin Downloads
----------------------------------------------------------------
Viral Outbreak is a new soundware product based on the sounds of the
Virus TI hardware synthesizer. Using the power of extensive 96khz
multisampling, manual looping and professional preset design, Nucleus
SoundLab brings this powerful electronica sound to your productions!
Viral Outbreak is available both as a VSTi plugin, and a Reason 4.0
Refill.

Viral Outbreak contains all manner of TI-based sounds. Classic
wavetables, raw saw and pulse waveforms (sampled at multiple
pulsewidths), unison dance leads, breathtaking pads, bizarre formant
effects, massive supersaws and even punchy synth drumkits. Details:

 * No sampler required! Viral Outbreak is powered by a full copy of
the amazing WusikEngine V4 by Wusik.com. You can even use this engine
to load our other Wusikstation libraries!
 * Nearly 3.5GB of multisamples comprising 180+ soundsets.
 * Sampled at 32-bit 96khz quality! For resource efficiency, then
carefully downsampled to 24-bit 48khz.
 * Comes loaded with nearly 950 presets by the best preset designers
out there: Pro-Sounds, Teksonik, Tim Conrardy, Jeremy Janzen, rsmus7
and more!
 * An amazing, TI-inspired skin by Vera Kinter.

The Refill details:

 * Nearly 2GB compressed in Refill format! (contains the exact same
samples as the VSTi)
 * 235 unique Reason Combinators included by a variety of talented
Reason sound designers included Adam Fielding, Tom Pritchard, Nick
Hutton, and Shaun Wallace.
 * Large variety of additional individual patches for Reason's
modules.
 * Programmed for Reason 4, and as such makes good use of Thor and
RPG-8.

Listen to what Viral Outbreak offers by downloading the MP3 demos at
http://www.viraloutbreak.net
For a taste, here are some direct links - *many* more are available
on the product page (clear your browser cache if you can't see any
new mp3s)

Refill:
http://www.nucleus-soundlab.com/mp3s/vo/Infekted.mp3
http://www.nucleus-soundlab.com/mp3s/vo/Contagion.mp3
http://www.nucleus-soundlab.com/mp3s/vo/Atmospheric.mp3
http://www.nucleus-soundlab.com/mp3s/vo/Dazzled.mp3

VSTi:
http://www.nucleus-soundlab.com/mp3s/vo/Whispers%20and%20Shouts.mp3
http://www.nucleus-soundlab.com/mp3s/vo1/Virulent%20Strain.mp3
http://www.nucleus-soundlab.com/mp3s/vo1/Im%20ever%20so%20sorry.mp3
http://www.nucleus-soundlab.com/mp3s/vo/Paradisiac.mp3