January 2, 2014 · Posted in
Uncategorized
·
Comments Off

on Soundcells refill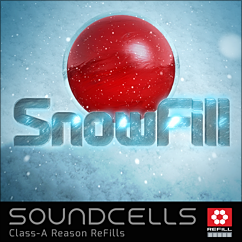 Soundcell offers a new years gift for Reason users.
SnowFill Contents:
• 12 combinator patches.
• 24 device patches (Thor, Malström, Subtractor & NNXT) containing the basic patches which were used to build the combinators.
• 190 MB samples, 44 khz / 24bit.
September 23, 2011 · Posted in
Uncategorized
·
Comments Off

on New Boost from Soundcells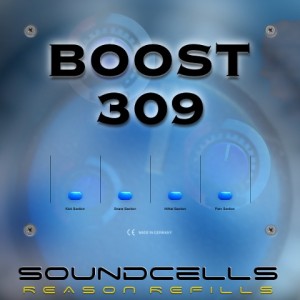 "
Boost 309 v3
"
 is based on the complete sample set of the vintage, lo-fi but charmingly sounding machine Rave-o-lution 309 by a company named Quasimidi. Soundcells have created 90 brand new combinator drum machines for you with these samples. It all ranges from the old original 309 thing to amazing and unique patches that could have never been created within the 309 itself. Besides cool beats and complex, crazy rhythms Boost 309 will offer you even more! 
Version 3 is a huge update which adds 10 new combinator patches, 20+ 'Bitrman' flavoured rex loops making use of the original Rave-o-lution groovebox recorded thru an Alesis Bitrman fx unit, as well as 15 awesome Kong kits making use of Kong´s synthesis methods…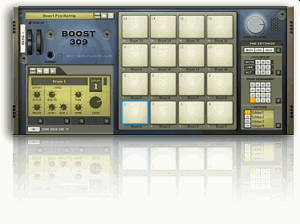 Boost 309 v3 Contents:
• 120 combinator patches containing deep basses, great playable keys, surprising leads and awesome pads.
• 90 combinator drum machines: 45 basic setups with their 45 shuffled counter parts. 
• 109 NNXT patches, 15 Kong kits, 22 Redrum kits and over 300 origianl 309 samples.

• 63 rex loops making use of the "Boost 309" drum machines as also the original machine (23 new ones since version 3).
A web address to link to for more info and "Boost 309" only MP3s:
Offering price is
24.90
,- EUR until October, 15
 (normally 29.90,- EUR).
February 5, 2011 · Posted in
Uncategorized
·
Comments Off

on The Fairlight CMI Legacy MK II+ ReFill
Introduced friday, February 4th and free to all previous Fairlight MKII customers, the brand new refill contains new patches, new signature patches and a completely new structure, where everything is divided into virtual 'machines', like AIRBASS bass module, THE ORCH orchestral sounds and much, much more. Information will be posted on the site shortly. Entire Fairlight IIx library included, as well as a truckload of other things – everything outer-worldly skillfully programmed and edited. Completely new graphics on the Combinators and much much more. Compatible with Reason 4 and Reason 5.
http://www.youtube.com/watch?v=0DRL1XIj8lM
A quick tutorial on how I use the BitleyTM 'Fairlight CMI Legacy MKII+' ReFill when creating music in Propellerhead Reason. All improvised!
The BitleyTM 'Fairlight CMI Legacy MKII+' sample library is the world's largest collection of Fairlight recordings and is available in Propellerhead ReFill format and Kontakt format.
For more information on the library, please visit http://bitley.laconicsounds.net
December 3, 2010 · Posted in
Uncategorized
·
Comments Off

on Peff goes KONG
Peff is back with a nice Refill for Reason 5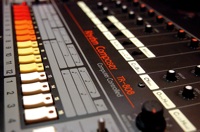 here's what he has to say about it:
I thought this would be easy… Sample the Roland TR-808, load the files into the Reason 5 Kong Drum Designer… Bam… done! Nope, that definitely is not how things went down.

The primary goal was to create a set of Kong patches that effectively simulate the classic 808. This involved selectively sampling variations of each sound. For example, sampling the bass drum requires variations with different decay and tone settings. The result was 6 different tone settings, with a normal hit and accent hit at seven or eight different decay settings. This is probably overkill, but I'm approaching this from an archival perspective and wanted a lot of detail. The initial sampling resulted in over 500 individual audio files. The actual sampling part was pretty easy. I used my standard signal path for sampling: ADL D.I./Neve/UA-2192, from a Roland TR-808 bestowed to me from composer, Stuart Diamond

To address the switching between normal and accent drum hits, each combination of the drum tones required velocity switching where the normal and accent hits could be easily accessed. Initially, the switching threshold was set to a 125 velocity level. According to some testers (Thank you Ph WTF Crew!), this was too high for effective playback on pad controllers, so a second set of patches was created with more moderate velocity switching levels at 101. In the end, this required that all the patches originally programmed with velocity switching zones at 125 needed to be duplicated and modified with lower switching thresholds.

Analog Variations

The TR-808 is an analog device, and one of the characteristics of the analog charm are the inconsistencies. Certain tones like the Bass Drum and Toms/Conga are fairly consistent, but snares and other percussion tones have subtle, sometimes very noticeable variations. To emulate this characteristic, a set of Kong drum patches with alternating sample zones was created. Each time these drums are triggered, one of three or four different samples is randomly selected for playback. For example, the patch "808 Hi Hat Alternating.drum" has four closed hi-hat samples and four accented closed hi-hat samples. Each time the drum channel is triggered, the sample changes. When a string of hi-hats is sequenced to this drum channel, the variations resemble the analog nature of the device.

While most productions probably do not require the detail of this type of sound, a few Kong Kits were created around this programming method. The patch, "Classic 808 v3.kong", has several alternating kong drum patches for the snares, hi-hats, claps, and percussion.

To further enhance this experience, several ReGroove templates are included which are extracted from programmed 808 patterns. These quantization templates render slight timing inconsistencies and when combined with the alternating drum tones, the experience of the 808 comes to life.

Hit Types

Programming sampled instruments in the Kong Drum Designer is time consuming, especially with so many details to address like the HIT TYPE feature. The NN-Nano sampler allows you to program four different sounds in the drum patch, and each sound can be accessed by selecting the HIT TYPE parameter on Kong. You will find that some patches only have one type programmed, however, many have multiple types programmed. While there are only 180 kong drum patches, some of these patches contain one to four different Hit Types.

There are certain areas where the sounds are a little rough around the edges, so some tweaking might be necessary to make the sounds fit in your productions. Provided it's available, first try a different hit type.

At the suggestion of ph user, dioxide, the patch, "Classic Pallete 808.kong" uses the hit type feature to switch between percussion tones in the same manner as they are established on the TR-808. For example, the Toms and Conga sounds are switched, so the Low Tom and Low Conga cannot be triggered at the same time. This applies for other tones like the Hand Clap and Maracas.

Mapping

The Kong Kits are mapped to a general MIDI keyboard layout, meaning that the drum channels are designed to be triggered from a MIDI keyboard from C1 through D#2, and the upper register keys. If you prefer the pad controller layout, bring the Kong device into focus, then from the edit menu or right click contextual menu, select the item "Convert GM Mapping to Pad Mapping".

If you prefer these mappings, it's recommended that you save the patches into your kong patch library.

Refill Contents

The following is a description of the file organization structure of the refill:

Example Sessions – a few example files in Record 1.5 and Reason 5 file format

Kong Drum Patches – Various Kong Drum Sound patches of the standard 808 set and variations.

Kong Drum Patches (v100) – Duplicates of the 181 Kong Drum Patches with Velocity Switching Accents at 101. Velocity to amp scaling patches are straight duplicates

Kong Patches – 33 Complete Kong Kits based on the TR-808 sample set.

Kong Patches (v100) – The Kong Kits with velocity switching accents at 101. Velocity to amp scaling drum channels are straight duplicates.

NN-XT Patches – a couple of sampler patches based on granular 808 bass drums

Redrum Patches (.drp) – a few Redrum sets from the TR-808 samples

ReGroove Patches – Groove templates extracted from TR-808 ReCycle loops

REX Loops – several ReCycle Loops of TR-808 patterns

Samples – The sample archive of the straight TR-808 samples, and some processed samples including DSP, Bitcrushed, granular, and distorted 808s. Over 800 samples.

Download

Ok, I've bored you enough with the details… Get it now for only $8.08!!! While supplies last – limit one per household. kidding of course, this is a free download.

Download the Peff- 036 Kong 808 ReFill 146Mb zip archive

As if it needs mentioning… This refill requires Propellerhead Reason 5.0.1 or the Reason + Record 1.5.1 duo
October 15, 2010 · Posted in
Uncategorized
·
Comments Off

on Propellerhead: Record Drum Takes volumes 1, 2 and 3
Propellerhead Software have announced the immediate availability of Record Drum Takes volumes 1, 2 and 3, which they describe as big league rock and pop multitrack drums played by skilled session drummers for Propellerhead's brand new recording software Record. Here's what they have to say…
Record Drum Takes builds a steady foundation for any rock or pop creation.
Each Drum Take ReFill arrives in Record song format with two separate three minute backing tracks of live drumming, organized in classic song form with intro, verse, chorus, bridge and breakdown, fills and variations. Alt Rock comes with hard-hitting, American drums with lots of attitude inspired by alternative and college rock, Folk Rock brings a large, warm sound, with plenty of room, while Dry Indie provides two classic, laidback, dry and distinct indie pop drum tracks.
The differently styled tracks in the Record Drum Takes ReFills all come as multitrack recordings, allowing users to freely shape the drum sound by adjusting the levels of the independent kick, snare, hihat, room, ambient and other microphones. Cut across all eight drum tracks to arrange and rearrange once the drum sound has been mixed to perfection. Play along to the RDT drum arrangements, or paste them into an existing song. The entire drum mix will follow right along, and utilizing Record's automatic time-stretch, Drum Takes instantly adapts to the song's tempo.
Included with the ReFill are also multisampled versions of the kits, for adding that extra snare or crash cymbal right where it is needed.
Although recorded using state of the art technology in a professional recording facility and performed by an experienced drummer with an unmistakable feel for music–the playing in these ReFills is sparse and to the point: a perfect foundation for any alternative, pop or rock production.
Pricing and Availability:
The three Record Drum Takes ReFills Alt Rock, Folk Rock and Dry Indie are available exclusively for download through Propellerhead's web shop today, at EUR €29 / USD $29 each.
More information:
September 29, 2010 · Posted in
Uncategorized
·
Comments Off

on NanoSequencies released for Reason 5
Nucleus SoundLab presents both its first loop-based product and its first Reason 5 exclusive ReFill – NanoSequences. NanoSequences is a fresh set of RX2 format loops recorded from wavesequences, electronic basslines, arpeggios and melodies. But NanoSequences is more than just great sound content – its also about the innovative way in which this content is played back.
Nucleus SoundLab isn't content to create just another loop library and maintain the industry status quo. NanoSequences is the first in our series of MultiLoop ReFills. What MultiLoop means is that each loop is sampled at eight rootnotes and is playable from a MIDI keyboard. These eight loops are then loaded into the customized NanoSequences Combinator which utilizes the new Kong sampler. Depending on which key is played, the appropriate matching loop is triggered – free of any ugly transposition artifacts. MultiLoop ReFills are thus playable with high quality over an extremely large range of octaves and BPMs. All this adds up to make MultiLoop the the most flexible loop technology ever released for software or hardware! Regardless of what BPM or key your production is based on, you'll find NanoSequences fits in perfectly.
The loop content in NanoSequences comes from direct from our Viral Outbreak VST instrument. Viral Outbreak is capable of some amazingly varied wavesequences that simply aren't possible in the Reason environment. Additionally some of the content is sampled from Viral Outbreak add-ons such as VS Resurrection and SoundCell. All of these sounds together give NanoSequences a very diverse range of wavesequences. By harnessing these sequences using MultiLoop technology, you can bring their unique sound to your Reason productions.
50 Loopsets comprised of 400 RX2 files.
530mb+ of loop content
Video documentation included.
Extremely high-quality loops using MultiLoop technology.
Requires Reason 5+ either standalone or together with Record.
NanoSequences is available now. It is priced at $29 USD in downloadable format, or $34 for a Multi-Format download (includes all RX2 files separately).
August 31, 2010 · Posted in
Uncategorized
·
Comments Off

on Perhaps the first free refill for Reason 5
Josh Mobley wrote in to let us know that his ReFill Hybrid Aggression is now available as a free download, to help celebrate the release of Reason 5.
These are rex files that were originally created during the scoring sessions for the television show "Wanted" on TNT Networks. They make full use of the new Dr. Octa Rex in both Reason 5 and Record 1.5

It was originally sold through bandmateloops.com. Here is the original descrpition:

Hybrid Aggression is an epic and dramatic blend of positively skull crushing, hand-crafted beats full of distorted electro-attitude. Tension works on a subtle level throughout, but never at the expense of the groove. Hybrid Aggression utilizes cutting-edge production techniques in one very inspiring electro-oriented theme. This collection is equally suitable for rock, hip-hop or dance applications, though the possibilities are endless. (Produced by: Josh Mobley in conjunction with BandmateLoops.com).
Hybrid Aggression is available to download from Josh's Facebook page.
More information: Josh Mobley / Hybrid Aggression
July 26, 2010 · Posted in
Uncategorized
·
Comments Off

on GoldBaby's birthday
Goldbaby Productions is offering a 20% discount on any products until the end of July.
Hugo writes:
It's my birthday this month!
Goldbaby has a tradition of giving a discount on such an auspicious occasion.

So here you go:

Coupon code: hugosbirthday2010
Goldbaby has also announced there will not be any ReFills for The Fat Juno-6 or Fatso Synth Vol 1, as the limitations of NNXT have made the job of looping complex stereo samples nigh impossible.
Furthermore, the MS20 project is postponed due to synth repair, but another project is underway:
It's based on a famous analog drum machine. It will be Round Robin – 96 or 44.1 khz samples! Lots of analog processing. Sounds amazing so far! Stay tuned.
More information: Goldbaby Productions
April 6, 2010 · Posted in
Uncategorized
·
Comments Off

on Free stuff from Nucleus
Ambient Space I now 100% Free Download
As a thank all of you for your feedback and support these last 4 years, we've released Ambient Space I for completely free download! This product previously sold for $25. To find out more about what the package includes, click the link above or the logo to the right.
The free release includes all available formats – Reason Refill, Wusikstation/Viral Outbreak, Soundfont and SFZ!
November 18, 2009 · Posted in
Electronic Music
·
Comments Off

on New fat refill from Soundcells
"Analog Signature" Version 2:
"Analog Signature V2" carries the wits and powers of three vintage beasts into this new era. Moog Source, Korg MS20 and the Waldorf Microwave have been accurately sampled (every single note three times) in such a way that their charming inaccuracies are still there in this perfect Reason environment in which we took our chance to add polyphony and velocity. You'll get 460 combinator patches containing beautiful analog sounds from the past as well as some mouth watering rex loops covering the old analog drum boxes. You decide how retro or contemporary the sounds of this refill will sound in your music. It all matches almost perfectly with almost everything. Version 2 adds new samples from the Waldorf Microwave 1, 40 new combinator patches, great new backdrops and some minor tweaks.
"Analog Signature" Contents:
– Classic synths: Moog Source, Korg MS20 and the Waldorf Microwave 1.
– 460 combinator patches to keep you busy for quite some time – 40 new ones since version 2.
– Lots of analog drumbox rexfiles and loads of NNXT patches.
– Extra high realism due to alternate sample switching, mostly three samples per note!
– 10 songfiles showing you lots of tricks and ideas.
A web address to link to for more info and "Analog Signature" only MP3s: