Peff is back with a nice Refill for Reason 5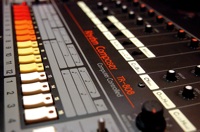 here's what he has to say about it:
I thought this would be easy… Sample the Roland TR-808, load the files into the Reason 5 Kong Drum Designer… Bam… done! Nope, that definitely is not how things went down.

The primary goal was to create a set of Kong patches that effectively simulate the classic 808. This involved selectively sampling variations of each sound. For example, sampling the bass drum requires variations with different decay and tone settings. The result was 6 different tone settings, with a normal hit and accent hit at seven or eight different decay settings. This is probably overkill, but I'm approaching this from an archival perspective and wanted a lot of detail. The initial sampling resulted in over 500 individual audio files. The actual sampling part was pretty easy. I used my standard signal path for sampling: ADL D.I./Neve/UA-2192, from a Roland TR-808 bestowed to me from composer, Stuart Diamond

To address the switching between normal and accent drum hits, each combination of the drum tones required velocity switching where the normal and accent hits could be easily accessed. Initially, the switching threshold was set to a 125 velocity level. According to some testers (Thank you Ph WTF Crew!), this was too high for effective playback on pad controllers, so a second set of patches was created with more moderate velocity switching levels at 101. In the end, this required that all the patches originally programmed with velocity switching zones at 125 needed to be duplicated and modified with lower switching thresholds.

Analog Variations

The TR-808 is an analog device, and one of the characteristics of the analog charm are the inconsistencies. Certain tones like the Bass Drum and Toms/Conga are fairly consistent, but snares and other percussion tones have subtle, sometimes very noticeable variations. To emulate this characteristic, a set of Kong drum patches with alternating sample zones was created. Each time these drums are triggered, one of three or four different samples is randomly selected for playback. For example, the patch "808 Hi Hat Alternating.drum" has four closed hi-hat samples and four accented closed hi-hat samples. Each time the drum channel is triggered, the sample changes. When a string of hi-hats is sequenced to this drum channel, the variations resemble the analog nature of the device.

While most productions probably do not require the detail of this type of sound, a few Kong Kits were created around this programming method. The patch, "Classic 808 v3.kong", has several alternating kong drum patches for the snares, hi-hats, claps, and percussion.

To further enhance this experience, several ReGroove templates are included which are extracted from programmed 808 patterns. These quantization templates render slight timing inconsistencies and when combined with the alternating drum tones, the experience of the 808 comes to life.

Hit Types

Programming sampled instruments in the Kong Drum Designer is time consuming, especially with so many details to address like the HIT TYPE feature. The NN-Nano sampler allows you to program four different sounds in the drum patch, and each sound can be accessed by selecting the HIT TYPE parameter on Kong. You will find that some patches only have one type programmed, however, many have multiple types programmed. While there are only 180 kong drum patches, some of these patches contain one to four different Hit Types.

There are certain areas where the sounds are a little rough around the edges, so some tweaking might be necessary to make the sounds fit in your productions. Provided it's available, first try a different hit type.

At the suggestion of ph user, dioxide, the patch, "Classic Pallete 808.kong" uses the hit type feature to switch between percussion tones in the same manner as they are established on the TR-808. For example, the Toms and Conga sounds are switched, so the Low Tom and Low Conga cannot be triggered at the same time. This applies for other tones like the Hand Clap and Maracas.

Mapping

The Kong Kits are mapped to a general MIDI keyboard layout, meaning that the drum channels are designed to be triggered from a MIDI keyboard from C1 through D#2, and the upper register keys. If you prefer the pad controller layout, bring the Kong device into focus, then from the edit menu or right click contextual menu, select the item "Convert GM Mapping to Pad Mapping".

If you prefer these mappings, it's recommended that you save the patches into your kong patch library.

Refill Contents

The following is a description of the file organization structure of the refill:

Example Sessions – a few example files in Record 1.5 and Reason 5 file format

Kong Drum Patches – Various Kong Drum Sound patches of the standard 808 set and variations.

Kong Drum Patches (v100) – Duplicates of the 181 Kong Drum Patches with Velocity Switching Accents at 101. Velocity to amp scaling patches are straight duplicates

Kong Patches – 33 Complete Kong Kits based on the TR-808 sample set.

Kong Patches (v100) – The Kong Kits with velocity switching accents at 101. Velocity to amp scaling drum channels are straight duplicates.

NN-XT Patches – a couple of sampler patches based on granular 808 bass drums

Redrum Patches (.drp) – a few Redrum sets from the TR-808 samples

ReGroove Patches – Groove templates extracted from TR-808 ReCycle loops

REX Loops – several ReCycle Loops of TR-808 patterns

Samples – The sample archive of the straight TR-808 samples, and some processed samples including DSP, Bitcrushed, granular, and distorted 808s. Over 800 samples.

Download

Ok, I've bored you enough with the details… Get it now for only $8.08!!! While supplies last – limit one per household. kidding of course, this is a free download.

Download the Peff- 036 Kong 808 ReFill 146Mb zip archive

As if it needs mentioning… This refill requires Propellerhead Reason 5.0.1 or the Reason + Record 1.5.1 duo
Reason 5 has started to make an impression several good demos and tutorials are popping up and people seem especially keen on the KONG, not surprised though

It's a non-linear world, people! Media has become non-linear, reading via the internet has become non-linear, and thanks to Kong's Nurse Rex module now your loop library has become non-linear. If you loved REX loops back in Reason versions 1.0 – 4.0, you're going to love what we've done with the Nurse Rex Loop Player module inside Kong. No longer will you be playing loops from start to finish… instead cut 'em up, split 'em in to slices, assign them to pads, and freak them.
Propellerheads continues to deliver nice demos for Reason 5, here's the KONG
Has music just not sounded the same to you since Miami Vice went off the air? Then you're in luck! The synth drums in Kong bring analog drum sounds back to your music. Most analog sounds these days are sampled, meaning the sound you load is the sound you've got. In this micro tutorial you'll see how easy it is to make wonderfully tweakable analog synth drums and assign them to your pads