Viral for the Mirrors B-side 'Broken By Silence', directed by Harriet Macdonald.
http://www.canisterstudio.co.uk/
Buy this track from iTunes: http://bit.ly/Mirrors_WTAE
http://www.facebook.com/theworldofmir…
http://www.skintentertainment.com/art…
Enjoy
'Between These Walls' and 'Hourglass' are available digitally from http://mirrorsofficial.bandcamp.com/
The special 2CD edition of 'Lights & Offerings' released by Undo Records featuring all the magnificent songs from their first phase including their B-sides is now available from TEC's online shop.
www.facebook.com/theworldofmirrors
www.theworldofmirrors.blogspot.com
www.theworldofmirrors.com
Although they are now one man short. After several EP's and singles released in 2009 and 2010, which was then followed by the debut album "Lights and Offerings" early in the spring, the UK band Mirrors are now back with the first two snippets from their recent work in the studio. Here's their official statement:
"Dear all,
Sorry for our brief hiatus but a lot has changed in the Mirrors camp over the last few months. Firstly we say farewell to Ally Young. Ally has been an integral part of Mirrors since it's foundations and has brought his ideas and enthusiasm to every part of our world.
We are all very sad to see him leave and wish him all the luck in the world in his future endeavours. We remain the closest of friends. As for the rest of us, we couldn't be more excited about our future in Mirrors. We're back in the studio now and the songs are coming thick and fast!"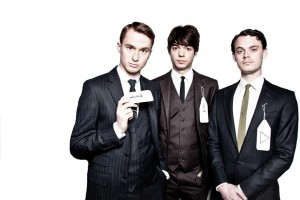 Shooting Stars by theworldofmirrors
Make sure to check out the interview we did with Mirrors this spring, right here >>
A second album is under production and will reportedly be released early next year.
Short preview of Channel 4 '4Play' documentary on Brighton, pop synth band, MIRRORS.
And don´t forget our interview with the band >>
Broadcasting on Channel 4, Thursday June 9th, 00:35am
Producer / Director / Camera
Yemi Bamiro
Editor:
Tom Watson
Assistant Producer:
Alex Walters
Production Company
Lemonade Money
Well I must say that 2011 seems to be a very promising year from a synthpop and electronic music perspective, I almost feel tempted to opening my wallet

Here are a couple of must haves:
Covenant – Modern Ruin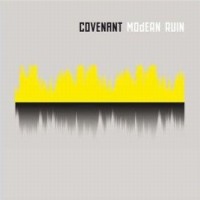 Mirrors – Lights and Offerings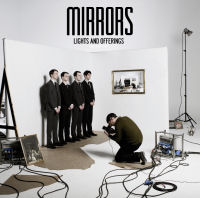 OMD – History of Modern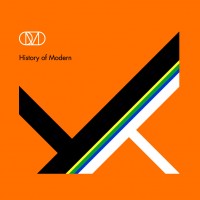 System – Circle of Infinite Radius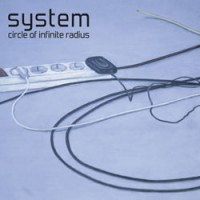 Daft Punk – Tron Legacy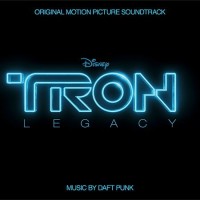 And there's more coming your way; Mr Jones Machine, Depeche Mode remix album…..so stay tuned
Read the full interview with Mirrors here:
http://stereoklang.se/blog/?page_id=2723
The official video for the forthcoming single from Mirrors, 'Into The Heart' [album mix], out 14th February '11 on Skint Records.

Single taken from the forthcoming debut album 'Lights And Offerings', out 28th February '11.

Video produced by US Design.

http://www.theworldofmirrors.com/
http://www.myspace.com/mirrorsmirrors…

http://www.usdesignstudio.co.uk/

The video is now unofficial. We love it though!
We got an exclusive interview with the probably most hyped synthpop act in Europe right now – Mirrors. Mirrors has recently finished their European tour together with OMD and Stereoklang caught up with the frontman in the band in their studio chatting about their music, gear, influences and their work on the new album. Below is one of their latest video releases.
You have been touring with OMD during the fall, how was it?
It was of course a very special thing for us, we have always been big fans of OMD and it was even more fun to discover that they were also fans of us. The fact that we now come to play in front of an audience made up entirely of people devoted to electronic music is a tremendous experience.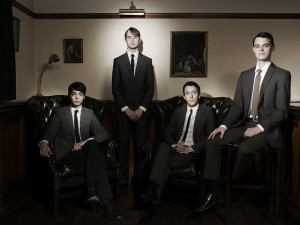 Mirrors lets me know that they also felt that the two bands really complemented each other on stage, rather then just that Mirrors were there to warm up the crowd. Mirrors adding perhaps a more saturated, heavy and modern sound to the equation.
You have received very positive reviews, what is the secret behind the success?
Apart from being happy by this for me obvious fact they gave me this explanation: For Mirrors it is all about combining great and cold electronic sounds, with a heart. If your soul is not present there will not be any great songs, a cliché perhaps, but you need to follow your heart. A lot of bands are "just" making futuristic music, Mirrors wants it to be warm as well – just like Kraftwerk. Of course the songs need to be well structured. Almost everything we do emanates from a traditional piano exercise, then you can get carried away when you do remixes
Your stage line up resembles another quartet based out of Germany, is that a coincidence?
– Not really ☺, although I need to say that the dress code is a coincidence. Kraftwerk is certainly a massive influence. However, in a sense Mirrors is more kind of a revolt to the massive indie-scene we have in the UK – and we are the anti-thesis of that.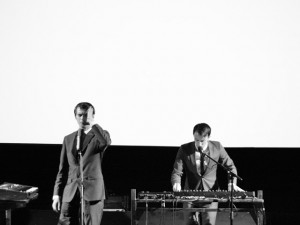 Can you tell me what synths you are using on stage, are you a pure hardware band or are there software synths hidden in your studio?
To begin with James is writing most of the material and what is being used differs, but in general you will always find a Juno 60, Moog Phatty (although they are dreaming of a Moog Voyager) and a Prophet in the mix. The Juno is used for pads and chords, the Moog for basses, and then we have some samplers like the MPC in there as well.
We asked them if the Linn drum sounds were genuine or samples, and although they could have lied to us, they said that they were samples. In general Mirrors rely very little on backing tracks. – If we can´t play it we loop it. We want to do everything live on stage. So if you spot an Apple on stage it will only be used for the visuals.
Read the full interview here >>
Cool video with the Mirrors

– Not really hard to hear their influences – is it….
The video for Mirrors new single 'Ways To An End', released 23rd August via Skint
Filmed in Brighton's The Duke of Yorks, directed by Simon Pollard
www.myspace.com/mirrorsmirrorsmirrors