Stereoklang interview with UK synthpop act Mirrors, who toured with OMD this fall
We got an exclusive interview with the probably most hyped synthpop act in Europe right now – Mirrors. Mirrors has recently finished their European tour together with OMD and Stereoklang caught up with the frontman in the band in their studio chatting about their music, gear, influences and their work on the new album. Below is one of their latest video releases.
You have been touring with OMD during the fall, how was it?
It was of course a very special thing for us, we have always been big fans of OMD and it was even more fun to discover that they were also fans of us. The fact that we now come to play in front of an audience made up entirely of people devoted to electronic music is a tremendous experience.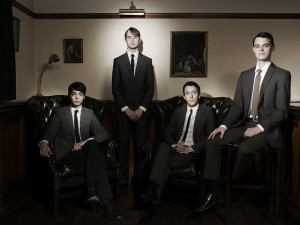 Mirrors lets me know that they also felt that the two bands really complemented each other on stage, rather then just that Mirrors were there to warm up the crowd. Mirrors adding perhaps a more saturated, heavy and modern sound to the equation.
You have received very positive reviews, what is the secret behind the success?
Apart from being happy by this for me obvious fact they gave me this explanation: For Mirrors it is all about combining great and cold electronic sounds, with a heart. If your soul is not present there will not be any great songs, a cliché perhaps, but you need to follow your heart. A lot of bands are "just" making futuristic music, Mirrors wants it to be warm as well – just like Kraftwerk. Of course the songs need to be well structured. Almost everything we do emanates from a traditional piano exercise, then you can get carried away when you do remixes
Your stage line up resembles another quartet based out of Germany, is that a coincidence?
– Not really ☺, although I need to say that the dress code is a coincidence. Kraftwerk is certainly a massive influence. However, in a sense Mirrors is more kind of a revolt to the massive indie-scene we have in the UK – and we are the anti-thesis of that.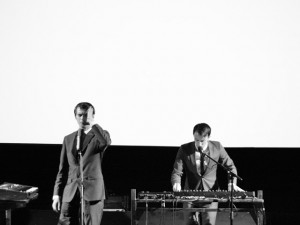 Can you tell me what synths you are using on stage, are you a pure hardware band or are there software synths hidden in your studio?
To begin with James is writing most of the material and what is being used differs, but in general you will always find a Juno 60, Moog Phatty (although they are dreaming of a Moog Voyager) and a Prophet in the mix. The Juno is used for pads and chords, the Moog for basses, and then we have some samplers like the MPC in there as well.
We asked them if the Linn drum sounds were genuine or samples, and although they could have lied to us, they said that they were samples. In general Mirrors rely very little on backing tracks. – If we can´t play it we loop it. We want to do everything live on stage. So if you spot an Apple on stage it will only be used for the visuals.
Read the full interview here >>
Comments