Retro synthpop act Mr Jones Machine returns
On March 30th, Swedish Synthpop trio Mr Jones Machine will release their long-awaited third studio album "Monokrom". Jouni Ollila, Jarmo Ollila and Magnus Lindström have worked on the album for almost four years and once again the trio will stick to swedish lyrics. The new album is said to be more mature then ever and a much stronger side of the band.
Before this, on March 16th, the band will release – together with a very impressive video – a limited 7 inch vinyl of the track "De Månblekta Tingen", which is a duet between Jouni and the famous 80′s icon Susie Päivirinta from the cult duo Lili & Susie, known from the 80′s with hits like "Oh Mama!".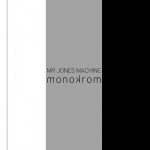 This track will be accompanied with the exclusive b-side "Elektricitet".
Comments