DEVO goes dog hunting in the presidential elections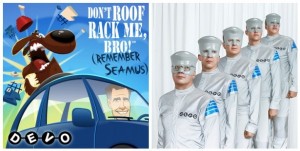 DEVO is taking a swipe at Mitt Romney with a track titled, "Don't Roof Rack, Me Bro! (Remember Seamus)". If you're dodgy on the reference, the forthcoming political anthem revolves around a 1983 incident involving Romney's family dog, a kennel crate, and the roof of their family station wagon.
The track spearheads a new campaign led by Devo founder Gerald V. Casale called Remember Seamus, whose main cause is to "make 2012 the year where animals like Seamus are valued and honesty is praised." It's no surprise then the band's also fully supporting Dogs Against Romney, and is also behind a forthcoming mobile app/game titled, The Crate Escape: Seamus Unleashed. Actually, that last part just has to be surprising.
Fans can look for the track on August 25th via The Orchard. However, the following day, National Dog Day, will see the release of the aforementioned game.
Devo's Jerry Casale wants it to be known that their newest song, "Don't Roof Rack Me, Bro," isn't meant as a partisan statement – even though it viciously mocks Mitt Romney for strapping his Irish Setter, Seamus, to the roof of his car for a 1983 family vacation.

"This isn't a red-state thing or Devo stumping for Obama," he says. "But I think any animal lover that hears the story will learn so much about the character flaw of Romney. It's just a deal-breaker about the man. My God, the world is a scary place with seven billion people. What you want in a leader is a guy with some humanity at his core. I just don't feel that Mitt does."
Comments