Sculptor / programmer / interactive interface designer, Chas Llewellyn, explores the form and function of a large-scale light sculpture he designed using Moog Music's Animoog app as the control source. From his former Wedge Studios workspace in Asheville's River Arts District, Chas details the multiple electronic communication protocols that he integrated into the final working installation.
Animoog is doing pad duty, sequenced by iPad / Genome MIDI.
Various inversions of Dm, Fadd6, FM7sus2, Gadd2, Fadd2
Boomstar is doing bass, CV controlled from the A4.
A4 = leads, Machinedrum = kick,snare,hat
Some quick examples using an iConnectMIDI4+ to run digital audio from Animoog directly into Ableton Live. The great audio quality of Animoog (coupled with the digital audio pipe that iConnect provides) makes for some great sound design when combined with effects like those in Ableton.
Learn more at www.experimentalsynth.com
Arturia Beatstep controlling .Moog Animoog
Moog Music today introduced the Minimoog Model D Expansion Pack for Animoog, their software synthesizer for iOS.
"Taking timbres from a Minimoog and placing them in Animoog creates very distinctive sounds that are advanced and invigorating," said Moog Chief Engineer Cyril Lance. "This isn't an emulation of a Minimoog. It is actually a new way to experience it."
The expansion pack includes 69 Timbres extracted from a vintage Minimoog Model D analog synthesizer, and 213 presets designed for Animoog's Anisotropic Synthesis Engine.
Features:
68 Timbres extracted exclusively from the Minimoog Model D
213 Presets
38 Presets designed by Dom Kane
41 Presets designed by Sascha Dikiciyan
50 Presets designed by Kevin Lamb
41 Presets designed by Drew Neumann
43 Presets designed by Adam Holzman
The Minimoog Model D Expansion Pack is available now as an In-App-Purchase within Animoog for iPhone & iPad for $6.99.
Arpeggionome for iPhone: A New Musical Instrument for Controlling Arpeggios with the Touch of a Finger. Only $0.99 through May 31:http://itunes.com/apps/arpeggionomefo…
Arpeggionome for iPhone transforms your iPhone into a new and expressive musical instrument. Design intricate patterns of musical notes, then trigger those patterns at different pitches and speeds with an x-y matrix. Tilt the iPhone for accelerometer-controlled pitchbend and volume, and with the MIDI Upgrade in-app purchase, control other iOS MIDI apps, external MIDI gear, and computer software like never before.
MORE INFO: http://www.alexandernaut.com/arpeggio…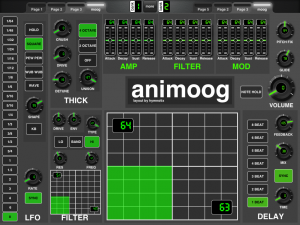 This is not the final version, but in honor of the new 1.5.1 release, here is MIDIDESIGNER's Animoog page, for running Animoog on two iPads so you can play the keys on one hand and adjust knobs with the other hand.
Here is the layout. It should open right in your iPad

http://mididesigner.com/qa/?qa=blob&qa_blobid=15252773772362233623

but you might have to long-press the download link to choose the correct app.

One of these days I'll get to making a video demo… maybe.
In this tutorial Ryan Hemeon goes over some of the basic features of Auria and some of it's limitations. Setting Tempo, Transport options, Audio Paste, etc.. Then he shows how to record audio into Auria using Audiobus. He starts off recording Animoog and then add to it by using Guitarism as a midi controller for iGrand. He is using an iPad 3rd gen.
"I also take 3 seconds to explain how to pronounce "Animoog" not that I listen to my own advice.

I hope this tutorial was helpful, look forward to upcoming Auria tutorials for more advanced techniques."
As reported on yesterday Moog is bringing Animoog to BlackBerry 10, here's a video run through:
Next up on our BlackBerry Live 2013 stage is Moog. they're bringing a high-quality synthesizer app to BlackBerry 10 geared towards professional and avid amateur musicians alike. The vast majority of the music jargon was well over my head, so let's let the official app feature list do the talking.
Anisotropic Synth Engine (ASE) – An exciting new Moog technology that allows the user to move dynamically through an X/Y space of unique timbres to create an expressive and constantly evolving soundscape.
Timbre page – Assemble unique sounds in the X/Y space from timbres of a wide variety of vintage and modern Moog synthesizers and pedals Note: this is NOT simple sample playback.
Polyphonic Modulation – Simply slide your fingers to control multiple modulation parameters in Animoog right from the keys.
Polyphonic Pitch Shifting – Easily manipulate the exact pitch of each note in a chord by rotating or sliding your fingers.
Delay Module – A classic analog style ping pong delay.
Thick Module – From bit crushing to unison voice detuning and drive, this module adds depth, edge and character to Animoog's already massive sound palette.
Moog Filter – The classic four-pole Moog ladder filter with High Pass, Low Pass and Band Pass modes.
Record Module – Record your performance and overdub new layers, or play along live. Transfer recordings between Animoog and any other apps that support Copy/Paste
Path Module – Direct ASE through Animoog's X/Y space to create new expressive and shifting sounds that will blow your mind!
Orbit Module – Control the rate of orbit in the X/Y space around the path you created for subtle to insane voice manipulation.
Flexible Modulation Matrix – Amp, Filter and Mod Envelopes, LFO with infinitely variable wave shapes and sync, and four super flexible and assignable modulation slots.
MIDI in/out – Use your Little Phatty or any other MIDI controller to control Animoog.
When Animoog launches in the next couple of weeks, it will be available for $0.99 for a limited time, then get bumped up to a $9.99 regular price. This is pretty awesome, considering an actual dedicated device that does this kind of synthesizer costs more than a BlackBerry Z10 would
Animoog is the first creative tool for the BB10 platform from Moog Music, the legendary electronic musical instrument company founded by Bob Moog in Asheville, NC.
Powered by Moog's Anisotropic Synthesis Engine, Animoog allows you to move dynamically through an X/Y space of unique timbres. This creates a constantly evolving and expressive soundscape that is unlike any other musical instrument.
Download Animoog for BlackBerry at:
http://appworld.blackberry.com/websto…
All sounds in this video (excluding drums) created using Animoog.
NOTE: This version of Animoog is only approved for use with the BlackBerry Z10 handheld device.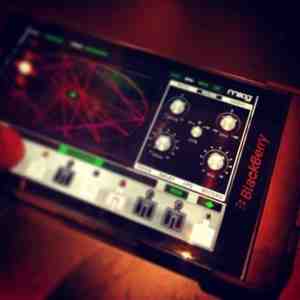 Blackberry has announced that Moog is now official on the BB10 platform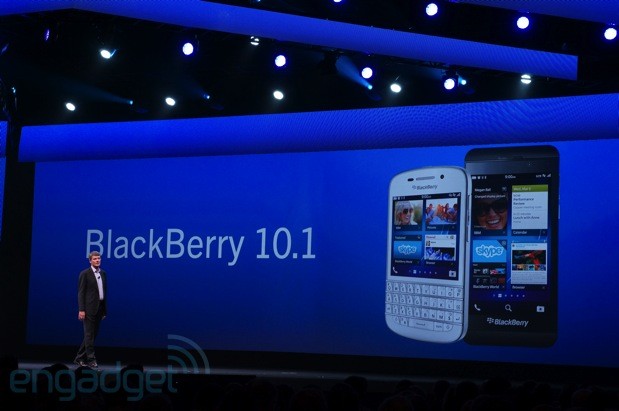 Amongst the flurry of announcements this morning at BlackBerry Live in Orlando, CEO Thorsten Heins finally made good on an app promise from this past January. Yes, Skype is now available on the Z10. Users that want to make VoIP calls will have to upgrade to the latest iteration of the platform, BB10.1, in order to download the preview from BB World. Additionally, Heins also told attendees that Moog will be bringing its synthesizer app Animoog, previously exclusive to iOS, to the BB10 platform starting today. So, slowly, but steadily BlackBerry's following through on its vision to make BB10 a robust developer-friendly OS.