How about all your Animoog settings on one page?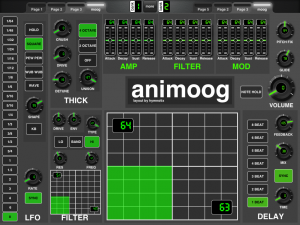 This is not the final version, but in honor of the new 1.5.1 release, here is MIDIDESIGNER's Animoog page, for running Animoog on two iPads so you can play the keys on one hand and adjust knobs with the other hand.
Here is the layout. It should open right in your iPad

http://mididesigner.com/qa/?qa=blob&qa_blobid=15252773772362233623

but you might have to long-press the download link to choose the correct app.

One of these days I'll get to making a video demo… maybe.
Comments