Vintage sampler demo by RetroSound
The Emax from the year 1986 is the follower of the Emulator II. A 12 bit sampler with analog filters (SSM 2047). The sound is vintage, organic and really cool. The next generation the Emax II has unfortunately digital filters and the sound is very different to the Emax. Depeche Mode used the Emax in the studio and at the 101 tour.
more info: http://www.retrosound.de
Created in the wake of the Emulator sampler-synths, E-mu unleashed the Drumulator sample-based drum-machines. The Drumulator was E-mu's attempt at creating a rhythm machine like the Linn LM-1 that was better and cheaper. What they made wound up becoming a huge hit for E-mu. The Drumulator had eight drum sounds on a ROM microchip which were gritty, lo-fi 12-bit samples of basic drum sounds…but they were some classic sounds! The Drumulator II added sampling so you could bring in your own sounds. Samples could be truncated, looped, etc.
The Drumulator was primarily a drum machine, however, and offered sequencing that could be accomplished in real-time for a live feel. Or it could be meticulously programmed via step entry and edit modes. Up to 36 sequenced patterns can be stored, chained and mixed to create up to 8 songs. Your sequences and sample data can be stored to floppy diskettes. The Drumulator can be connected to an old computer (like an Apple II) for better visual sequencing and editing too. The Drumulator II went on to become the even better SP-12 drum machine.
All you can eat vintage synths on this nice Sunday morning, featured gear listed below:
MOOG Minimoog / ARP Odyssey / KORG MS-20 / E-MU Modular System / MOOG System 55 / Sequential Circuits prophet-5 / Oberheim SEM / Oberheim OB-1 / RML ElectroComp 100 / Roland-SH-2 / KORG 800DV / EMS Synthi AKS / YAMAHA CS10
Don't know what to get in terms of modular synths, then here's a nice starter
David Baron goes through vintage analog modular synthesizers one by one. Moog Modular, EMS Putney, Emu Modular, Roland System 700, Arp 2500, Serge, Fenix, Roland 100m, Arp 2600. www.edisonmusiccorp.com
A famous disk – reportedly E-mu sampled the radio for the reggae loop and trumpet.
So what is the EMU EMAX?
The Emax is a classic sampler workstation from E-mu. It is sort of a next generation Emulator II, it's not as good as an Emulator III but it's more powerful than previous EII's. The Emax can be found in several forms: the Emax, the Emax Rack, the Emax HD (built-in 20MB hard disk, pictured above), the Emax HD Rack (pictured below) and the Emax SE (Synthesis Enhanced) with a built-in synthesizer section. The Emax's editing system will be familiar to users of E-mu's excellent ESI series.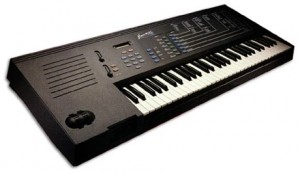 The Emax has an extensive library collection of samples that can be loaded via the built-in 3.5″ hard drive. Or you can sample your own sounds. The Sampler is powerful, but lo-fi. It samples at 12-bit resolution with variable sample-rates up to 42kHz. The built-in memory is 512K which only gives you a few good seconds really. Sampling and editing is easy, complete and intuitive with auto sample placement, auto-looping, truncating, reversing, velocity cross-fade, etc. The Emax also features individual channel outputs and stereo outputs and extensive MIDI implementation.
In this video:
One of the last videos shot in this studio. I am moving to a temporary one while building the definitive (say goodbye to the flower power sofa and curtains…).
I added a Simmons SDS 8 module for drum effects. The only original pad I have is too weared, so I used two standar pads for triggering the unit.
Upper Keyboard: Emu EMAX II HD
Lower: Emu Emax.
All sounds were synthesized by me, sampling them into the emaxes. Sources were JP8000 DW8000 Poly 800, and my Emax library.
Composed by Martin L. Gore.
Electronic music production tutorial by Brian Trifon of Trifonic for NextStepAudio.com
This time, Brian demonstrates some of Trifonic's techniques for creating filthy bass and lead sounds using Logic's EXS24 in combination with the old-school hardware sampler, EMu E6400.
Using the Emu to recreate a DM classic
http://www.youtube.com/watch?v=JVLGompOEFk&feature=player_embedded
Emu Emulator II Sampler re-creating parts of Blasphemous Rumours by Depeche Mode. Two voices key-split in one soundbank.
Audio recorded via DAW to improve quality but means it doesn't match up exactly to the video…
Keeping it quite faithful I must say, thanks to DX5 for sharing

Emax power today.
Gear:
Upper and Mid: Emu Emax
Lower: Emu EMAX II HD
Right (out of screen) : Yamaha DX7 II FD.
* Sound is overcompressed due to an overloaded output from the mixer into camera preamp (it uses to compress a lot even in normal levels). Hope it doesn't disturb too much. And yes, there is a mistake at one of the last notes

Don´t really know what the Mercedez mark has to do with anything, but there sure is plenty of synths around
dr.squ 1995:
– Atari 1040STE
– C-Lab/Emagic Notator SL
– C-Lab Unitor 2
– Emagic Export
– Boss BX-16
– Yamaha FX900
– E-mu Esi32
– Korg Wavestation SR
– Roland Juno-106
– Yamaha TG500
– Casio VL-Tone
– Yamaha PSS-110