In the studio with DX5, EMU and various Poly 800 sources – DM cover
So what is the EMU EMAX?
The Emax is a classic sampler workstation from E-mu. It is sort of a next generation Emulator II, it's not as good as an Emulator III but it's more powerful than previous EII's. The Emax can be found in several forms: the Emax, the Emax Rack, the Emax HD (built-in 20MB hard disk, pictured above), the Emax HD Rack (pictured below) and the Emax SE (Synthesis Enhanced) with a built-in synthesizer section. The Emax's editing system will be familiar to users of E-mu's excellent ESI series.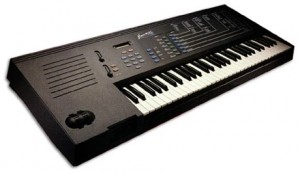 The Emax has an extensive library collection of samples that can be loaded via the built-in 3.5″ hard drive. Or you can sample your own sounds. The Sampler is powerful, but lo-fi. It samples at 12-bit resolution with variable sample-rates up to 42kHz. The built-in memory is 512K which only gives you a few good seconds really. Sampling and editing is easy, complete and intuitive with auto sample placement, auto-looping, truncating, reversing, velocity cross-fade, etc. The Emax also features individual channel outputs and stereo outputs and extensive MIDI implementation.
In this video:
One of the last videos shot in this studio. I am moving to a temporary one while building the definitive (say goodbye to the flower power sofa and curtains…).
I added a Simmons SDS 8 module for drum effects. The only original pad I have is too weared, so I used two standar pads for triggering the unit.
Upper Keyboard: Emu EMAX II HD
Lower: Emu Emax.
All sounds were synthesized by me, sampling them into the emaxes. Sources were JP8000 DW8000 Poly 800, and my Emax library.
Composed by Martin L. Gore.
Comments