Here is a tutorial on how to get started with mSequencer (MIDI Pattern Sequencer). In this video I use mSequencer to control all 8 channels of Korg's iPolySix via virtual midi. This video doesn't even begin to touch what a great app this is. If there is interest in it, I will definitely be making more videos on some of the more advanced procedures you can use as well as a lot of other options I couldn't get to in this video.
I highly recommend using an external midi controller with this app to build your sequences.
Conclusion: This is an excellent app for anyone wanting to program midi sequences and send them to apps via virtual midi. It gives you a larger range of control then any other sequencer app I have ever used. This app does not support Audiobus but it definitely should. Well worth it's price.
Grab this app on the AppStore: https://itunes.apple.com/ca/app/midi-…
And be sure to visit http://www.iosmars.com for more great demos, reviews, and tutorial videos.
Covering the basic creation of a new pattern using the Quicksilver 303 CPU upgrade for the TB-303. Notice that the pattern can be programmed while the sequencer is running, which wasn't possible on the original 303.
Koushion is a MIDI Step Sequencer iPad app that allows you to easily program drum patterns, melodies and more using your existing hardware synthesizers, softsynths, samples and other electronic music gear. Works great with Ableton Live and other DAWs. Look for Koushion in the iPad app store.
Try it out for yourself! Download the Project files for this Pro-tip here:
http://files.elektron.se/pro-tip/PROTIP7.zip
By taking advantage of the flexible audio engine of the Octatrack, sounds can be radically reshaped. This is demonstrated in this video. The same single cycle waveform sample has been used as the basis for all the sounds of the pattern.
seqSQUARED is a programmable voltage controlled switch used to generate complex patterns with multiple analog step sequencers. It is designed to be used in a modular synthesizer and will be available in Eurorack kit and assembled form, as well as many other DIY formats.
For more information, and to preorder, check out the project funding page at Indiegogo:
http://igg.me/p/89405?a=227451
http://youtu.be/wsOf7JyaI80
See how quickly you can modify a drum loop using Sequential's effect matrix. More about Sequential AudioUnit plugin: http://www.sinevibes.com/sequential/
Sinevibes has announced a major update for Sequential, an AudioUnit plugin for creating rhythmic effect patterns. They tell us that new features make it an even more capable and fun tool for re-processing beat loops, creating complex motion textures, and spicing up tracks with unique transitions, breaks and glitches.
Sequential 1.3.0 brings the following improvements:
New effects: phase modulation sine oscillator, glitch triangle oscillator and shot noise generator.
Re-calibrated input envelope follower parameters for faster reaction time and smoother shape.
Alternating color shades in effect matrix.
New preset patches.
Pricing and Availability:
Sequential 1.3.0 is immediately available for $29 as a 32/64-bit AudioUnit plugin for OS X. The update is free to all existing users. New customers can also purchase it as part of the Sinevibes Complete AudioUnit pack with a 50% discount.
More information:
Shows Numerology's updated Launchpad mapping with realtime pattern recording into the DrumSeq, PolyNote and MonoNote sequencers. The laptop is running Ableton Live with three instances of the Numerology VST, as well as Camel Audio Alchemy for synth lead and NI Massive on pads. The drum sounds are from Numerology's DrumKit module with a patch designed by Jason Wolf of Tripl3Tone.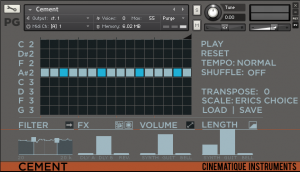 Cinematique Instruments has released Cement, a pattern generator instrument for Native Instruments Kontakt.
Cement is a sequencer based pattern generator which is well suitable to enrich your music production and lend it a specific character. As the name suggests you can easily create cementing textures, crawling patterns or a fundament for your musical idea.

Cement comes up with three layered instruments which can create numerous sound colors. The instruments are: a sinus synth, a banjo combined with guitar harmonics and a music box. For changing the entire sound character, Cement provides plenty of options to modify the sound to your very own requirements: lowpass- and highpass filter (with a random high pass modulator), distortion- and speaker switches, an alternate sinus sci-fi sound, separate length settings and separate slider to set the amount of two delays and a reverb.

Cement runs in stand alone mode as well as in-sync to your host application. Just easily click on the 16th note of your choice to play the sound – a second click increases the velocity level – a third click removes the note, then click on the note symbol to change its pitch. That´s it! Beside that Cement provides 4 different kinds of scales, transposing functions, shuffle- and tempo modes and finally load/ save switches to save/recall your entire setting of Cement
Cement (requires Kontakt 4 or higher full version) is available to purchase for €19 EUR.
2D's first tutorial on 'Playing with Patterns' on the new Korg iELECTRIBE Gorillaz Edition app for iPad.
Gorillaz has teamed up with Korg – the legendary electronic musical instrument developers – to create a new dedicated beatbox for the iPad: The iELECTRIBE Gorillaz Edition. Featuring the iELECTRIBE original beat-making characteristics, this special Gorillaz Edition has been customized to generate sounds from the band latest album The Fall.
Get iELECTRIBE Gorillaz Edition: http://itunes.apple.com/app/korg-ielectribe-gorillaz-edition/id430288460
More details here : http://gorillaz.com/KORG-iELECTRIBE-Gorillaz-Edition
Native Instruments has introduced a new series of Maschine Expansions, download libraries for its groove production system.
All expansions provide new drum kits and instruments as well as pre-programmed patterns.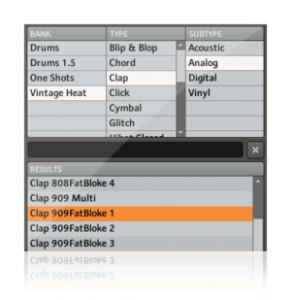 The series debuts with Vintage Heat and Transistor Punch, created by Goldbaby and Surround SFX.
Vintage Heat was created by sampling artist Goldbaby, and specializes on warm, saturated sounds with vintage grit. The library includes 50 kits with analog, digital and acoustic origins, complemented with 50 synthesizer sounds ranging from bass and leads to brass, pads and strings. All sounds in Vintage Heat have been sampled from vintage drum machines and analog synths, and have been processed with Goldbaby's array of classic compressors, effect units and valve tape machines. Inventive sampling techniques, including the mapping of successive tape delay repeats to different velocity layers, further contribute to the character of the library.
Transistor Punch takes its inspiration from contemporary European club music, and provides sounds for a wide range of electronic styles. Created by sound designer Denis Gögdak of Surround SFX, the library contains 30 drum kits, as well as 50 bass and lead sounds that integrate with the factory library of Maschine. All sounds have been sampled from analog drum machines and synthesizers. Transistor Punch adds 20 multi-effect chains that provide additional sonic treatments, as well as a large collection of patterns by producer Martin Buttrich.
Vintage Heat and Transistor Punch are available for download purchase in the NI Online Shop for $59 / 49 EUR each.