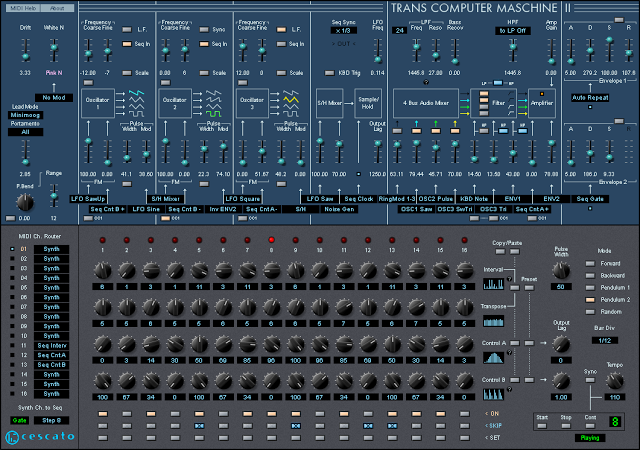 Trans Computer Maschine is a semi-modular Vintage Lead Synthesizer + Pattern Sequencer. Modeled after two legendary mono synths and a custom analog sequencer from Germany.
3 Multi-Oscillators with Sawtooth, Triangle, Sawtooth-Triangle and variable Pulse shapes.
Color adjustable Noise Generator.
3 mode Ring Modulator.
Advanced Sample/Hold.
Selectable 2/4-pole resonant LP Filter with auto-oscillation.
HP Filter with bus selection.
2 exponential Envelope Generators offering 3 operation modes.
Unique Sequencer features like 'skip' and 'set' can be played live from MIDI keyboard.
Inter-patch Sequencer pattern 'Copy/Paste' feature.
Fully MIDI controllable.
Fully VST automatable.
– Added 'Drift' control for subtle analogue detuning adjustment.
– Added 'Noise Colour' modulation from multiple sources.
– Added routing to use 'S/H Mixer' as OSC3 'Minimoog modulator'.
– Extended Envelopes 'Attack' range to 200µs.
– Fixed/added Oscillators self-modulation via 'S/H Mixer'.
– Improved Amplifier featuring light distortion with clipping indicator.
– Remodelled Low Pass Filter feat. 3 modes with resonance 'Bass Recover'.
– Remodelled Oscillators feat. accurate upper harmonics and isolated phase.
– Remodelled Ring Modulator featuring true Odyssey behaviour.
http://cescato.net/T-C-M-II.htm
drum pattern on the ARP 2500.
"Had Stephan in yesterday working on a new Natural Habitats track. We set up the ARP2500 and made some drum sounds. It really is an amazing instrument the 2500. Here is a live tweak I did a bit later messing with a snare drum type sound. There is absolutely no reverb added to this, it is all done with the envelope generator and various filters and white noise. The rest of the loop is done with cross-mod vcos and the sequencers. Listen on headphones"
see http://myblogitsfullofstars.blogspot…. for more
More info: http://blog.dubspot.com/logic-trap-3/
Matt Shadetek returns with another episode of Secret Knowledge, our video tutorial series of production tips, techniques and advice for Logic users. In this concluding chapter tutorial on trap drum programming, Shadetek explains how to put all the ingredients together in a mapped MIDI instrument so you can easily trigger kick, snare, hi-hats, and snare rolls. In case you missed the previous tutorials within this series, check out parts one and two.
Here is a tutorial on how to get started with mSequencer (MIDI Pattern Sequencer). In this video I use mSequencer to control all 8 channels of Korg's iPolySix via virtual midi. This video doesn't even begin to touch what a great app this is. If there is interest in it, I will definitely be making more videos on some of the more advanced procedures you can use as well as a lot of other options I couldn't get to in this video.
I highly recommend using an external midi controller with this app to build your sequences.
Conclusion: This is an excellent app for anyone wanting to program midi sequences and send them to apps via virtual midi. It gives you a larger range of control then any other sequencer app I have ever used. This app does not support Audiobus but it definitely should. Well worth it's price.
Grab this app on the AppStore: https://itunes.apple.com/ca/app/midi-…
And be sure to visit http://www.iosmars.com for more great demos, reviews, and tutorial videos.
Covering the basic creation of a new pattern using the Quicksilver 303 CPU upgrade for the TB-303. Notice that the pattern can be programmed while the sequencer is running, which wasn't possible on the original 303.
Koushion is a MIDI Step Sequencer iPad app that allows you to easily program drum patterns, melodies and more using your existing hardware synthesizers, softsynths, samples and other electronic music gear. Works great with Ableton Live and other DAWs. Look for Koushion in the iPad app store.
Try it out for yourself! Download the Project files for this Pro-tip here:
http://files.elektron.se/pro-tip/PROTIP7.zip
By taking advantage of the flexible audio engine of the Octatrack, sounds can be radically reshaped. This is demonstrated in this video. The same single cycle waveform sample has been used as the basis for all the sounds of the pattern.
seqSQUARED is a programmable voltage controlled switch used to generate complex patterns with multiple analog step sequencers. It is designed to be used in a modular synthesizer and will be available in Eurorack kit and assembled form, as well as many other DIY formats.
For more information, and to preorder, check out the project funding page at Indiegogo:
http://igg.me/p/89405?a=227451
http://youtu.be/wsOf7JyaI80
See how quickly you can modify a drum loop using Sequential's effect matrix. More about Sequential AudioUnit plugin: http://www.sinevibes.com/sequential/
Sinevibes has announced a major update for Sequential, an AudioUnit plugin for creating rhythmic effect patterns. They tell us that new features make it an even more capable and fun tool for re-processing beat loops, creating complex motion textures, and spicing up tracks with unique transitions, breaks and glitches.
Sequential 1.3.0 brings the following improvements:
New effects: phase modulation sine oscillator, glitch triangle oscillator and shot noise generator.
Re-calibrated input envelope follower parameters for faster reaction time and smoother shape.
Alternating color shades in effect matrix.
New preset patches.
Pricing and Availability:
Sequential 1.3.0 is immediately available for $29 as a 32/64-bit AudioUnit plugin for OS X. The update is free to all existing users. New customers can also purchase it as part of the Sinevibes Complete AudioUnit pack with a 50% discount.
More information:
Shows Numerology's updated Launchpad mapping with realtime pattern recording into the DrumSeq, PolyNote and MonoNote sequencers. The laptop is running Ableton Live with three instances of the Numerology VST, as well as Camel Audio Alchemy for synth lead and NI Massive on pads. The drum sounds are from Numerology's DrumKit module with a patch designed by Jason Wolf of Tripl3Tone.