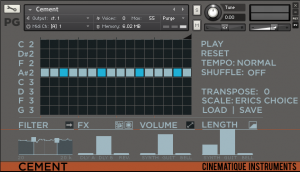 Cinematique Instruments has released Cement, a pattern generator instrument for Native Instruments Kontakt.
Cement is a sequencer based pattern generator which is well suitable to enrich your music production and lend it a specific character. As the name suggests you can easily create cementing textures, crawling patterns or a fundament for your musical idea.

Cement comes up with three layered instruments which can create numerous sound colors. The instruments are: a sinus synth, a banjo combined with guitar harmonics and a music box. For changing the entire sound character, Cement provides plenty of options to modify the sound to your very own requirements: lowpass- and highpass filter (with a random high pass modulator), distortion- and speaker switches, an alternate sinus sci-fi sound, separate length settings and separate slider to set the amount of two delays and a reverb.

Cement runs in stand alone mode as well as in-sync to your host application. Just easily click on the 16th note of your choice to play the sound – a second click increases the velocity level – a third click removes the note, then click on the note symbol to change its pitch. That´s it! Beside that Cement provides 4 different kinds of scales, transposing functions, shuffle- and tempo modes and finally load/ save switches to save/recall your entire setting of Cement
Cement (requires Kontakt 4 or higher full version) is available to purchase for €19 EUR.
2D's first tutorial on 'Playing with Patterns' on the new Korg iELECTRIBE Gorillaz Edition app for iPad.
Gorillaz has teamed up with Korg – the legendary electronic musical instrument developers – to create a new dedicated beatbox for the iPad: The iELECTRIBE Gorillaz Edition. Featuring the iELECTRIBE original beat-making characteristics, this special Gorillaz Edition has been customized to generate sounds from the band latest album The Fall.
Get iELECTRIBE Gorillaz Edition: http://itunes.apple.com/app/korg-ielectribe-gorillaz-edition/id430288460
More details here : http://gorillaz.com/KORG-iELECTRIBE-Gorillaz-Edition
Native Instruments has introduced a new series of Maschine Expansions, download libraries for its groove production system.
All expansions provide new drum kits and instruments as well as pre-programmed patterns.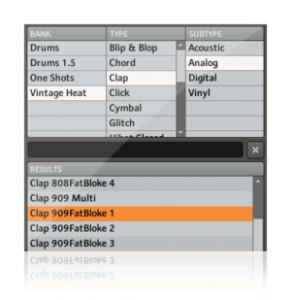 The series debuts with Vintage Heat and Transistor Punch, created by Goldbaby and Surround SFX.
Vintage Heat was created by sampling artist Goldbaby, and specializes on warm, saturated sounds with vintage grit. The library includes 50 kits with analog, digital and acoustic origins, complemented with 50 synthesizer sounds ranging from bass and leads to brass, pads and strings. All sounds in Vintage Heat have been sampled from vintage drum machines and analog synths, and have been processed with Goldbaby's array of classic compressors, effect units and valve tape machines. Inventive sampling techniques, including the mapping of successive tape delay repeats to different velocity layers, further contribute to the character of the library.
Transistor Punch takes its inspiration from contemporary European club music, and provides sounds for a wide range of electronic styles. Created by sound designer Denis Gögdak of Surround SFX, the library contains 30 drum kits, as well as 50 bass and lead sounds that integrate with the factory library of Maschine. All sounds have been sampled from analog drum machines and synthesizers. Transistor Punch adds 20 multi-effect chains that provide additional sonic treatments, as well as a large collection of patterns by producer Martin Buttrich.
Vintage Heat and Transistor Punch are available for download purchase in the NI Online Shop for $59 / 49 EUR each.
www.Beat707.com

Here's a quick song I made in a few minutes, sorry its short and not superb, but still a great demonstration.

At the end I show how easy is to edit a pattern while in song mode: hit record, edit the pattern, hit left+right to go back to song mode where you left.

You can download the MP3 files at the following link:
http://www.beat707.com/downloads/Beat707_Song1.mp3
The Music Table is an experimental composing system that provides a tactile and visual representation of music that can be easily manipulated to make new musical patterns. It lets people experience their own music as patterns in musical space. Patterns of cards are arranged on a tabletop to become musical phrases. Completed phrases are stored on other cards and combined as multi-layered patterns. Animated characters provide fun visual feedback as you edit and arrange phrases, making abstract musical structures visible and tangible.
Propellerhead's James Bernard offers tips on getting creative with Reason + Record:
All of us have experienced some sort of writer's block at one point or another… and I have found that there are some features of Reason and Record that help to break me out of that block and get back to composing. This week I talk a bit about the Alter Note/Alter Pattern functions and using the ReGroove Mixer to inspire new ideas.
This is the latest in Bernard's series 52 Reason and Record Tips. See the link below for more episodes in the series.
Link: