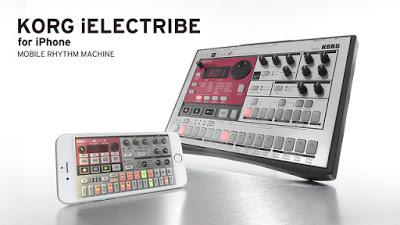 A full-fledged rhythm machine for iPhone. This app's intuitive operation allows anyone to easily create powerful beats on the ELECTRIBE series. The enormously popular ELECTRIBE-R instantly became a must-have item for track-makers around the world, and now it's been reborn as an app for iPhone.
With this app, we've effectively "put the original hardware chassis into your iPhone," by faithfully reproducing the sound engine and design of the ELECTRIBE-R. We've also included the latest preset patterns and many new functions that are currently featured on the "iELECTRIBE for iPad", released in 2010. , taking a further evolutionary step in technology. Taking advantage of the ease of use that you expect on iPhone, we have maximized the intuitive nature of the ELECTRIBE to make this new product worthy of its name: the iELECTRIBE mkII.
It won't take long for you to enjoy the ultimate experience of the Electribe series. This apps intuitive nature and familiar interface make it easy to create beats with an analog feel that's like nothing else.
Amazing rhythm machine that generates powerful grooves
We've perfectly replicated the thick-sounding synth engine of the ELECTRIBE-R and its intuitive step sequencer. Now you can instantly obtain extreme tonal changes and powerful rhythms with just one touch
Not only can iELECTRIBE for iPhone be easily enjoyed by anyone, but it also allows detailed beat-making that transcends iPhone specs. In addition to playing back the provided audio data, you can also freely synthesize sounds from a single waveform and combine those sounds into your own original beats. This allows for the true experience of music production that connects all musicians.
Three hundred built-in rhythm patterns that only this app can produce
With 64 of the latest preset patterns, 192 from the first-generation ELECTRIBE-R, and 32 template patterns for various genres, this app successfully draws out the full potential of the thick sounding analog beats. There are approximately 300 inimitable rhythm patterns that you'll hear only from iELECTRIBE for iPhone. Electro, house, techno, drum'n'bass, dubstep, hip hop, techno pop, and IDM are some of the wide range of electronic music genres that are provided.
An ELECTRIBE that you can put in your pocket and take anywhere
Whether you're on the train or bus while commuting to school or to work, at a coffee shop, or in your bedroom, you can enjoy beat-making anywhere and anytime you like. Your completed beats can be transferred to your DAW software via the audio export function. You can also use the WIST function to play wirelessly with a friend using two devices simultaneously.
Powerful functions that bring infinite possibilities to your grooves
We've packed maximum potential into this machine with eight types of powerful master effects featured on the upper-level models of the ELECTRIBE. This includes the ring modulation function of the ELECTRIBE-R and the cross-modulation function of the ELECTRIBE-R mkII. This app allows you to switch back and forth to choose between the two. It also includes the BEAT FLUTTER function that uses a proprietary randomizer to create fresh rhythms and the motion sequence function that remembers your knob movements. In addition, you can use an external USB-MIDI device such as the nanoPAD or nanoKONTROL for performance and control. There's also support for the latest iOS technologies such as Inter-App Audio, Audiobus, Virtual MIDI, and iCloud.
Operating Requirements
OS: iOS 8 or later
Device: iPhone 6, iPhone 6 Plus, iPhone 5s, iPhone 5c, iPhone 5, iPod touch fifth-generation, iPod touch sixth-generation
*Because of differences in screen resolution between models of iPhone, the display is smaller on the iPhone 4s. For the best experience, we recommend using iPhone 5 or later.
The ELECTRIBE is on sale for $9.99 (which is 50% off for launch)
Phone In Your Beatmaking! A remade iElectribe arrives for your iPhone, so you're ready to play anytime, anywhere.
This was just announced, this is my "First Look" review. Lots more soon, stay tuned!
Note: Please listen with headphones, iElectribe beats have a lot of bass you can't hear on smaller speakers! This is a direct "Line In" recording.
Yes, I realize the voice was recorded too loud, the next video will be better.
Do they sound the same? Check it out!
iElectribe for iPhone: https://itunes.apple.com/br/app/korg-…
Background video description:
Just picked up a pre-midi Juno 6 and wanted to clock the Arpeggiator. Had a thought about trying the Korg iElectribe on my iPad…didn't think it would work, but does. Audio from Juno 6 is direct in to Logic, but my Mic was from the crappy Camera.
A quick composition using the iElectribe app on the iPad.
The piece was 'composed' using the nanoKONTROL as a midi control surface for the sound control functions of the app and then as a pseudo 'mixer' for the video 'performance'.
Video created with the Socialcam app on iPhone: http://socialcam.com
Background info:
KORG's first dedicated iPad musical instrument app!
For over a decade, Korg's Electribe•R has been go-to gear for creative musicians from around the world and across multiple electronic and dance music genres. Now, you can take the power of the Electribe•R with you thanks to iElectribe, Korg's first dedicated app; bringing the fun of analog-synth style beat making to your iPad. Best of all, the iElectribe takes full advantage of iPad's 9.7 inch multi touch display to deliver a new style of musical instrument.
The popular Korg iElectribe App for iPad keeps getting better! The Korg iElectribe Version 1.5 is available for download at Apple's App Store (iTunes Store)
Key features of the Korg iElectribe Version 1.5:

WIST (Wireless Sync-Start Technology)
This innovation allows a wireless signal to simultaneously start two iElectribe v1.5 and/or iMS20 v1.5 apps on two separate iPads! Now you can perform with a friend or expand your iPad ensemble by using two units at once, expanding the ways you can create and enjoy musical performances. Mix and match iMS20 v1.5 and iElectribe V1.5 apps in new dynamic ways.
"AudioCopy" data sharing
AudioCopy allows the sharing audio data between apps. Now you can copy and paste audio data between apps using the AudioCopy function. Audio data exported from either app can be sent to other apps that support "AudioPaste."
External USB-MIDI control; plus Korg nanoPAD2/ nanoKONTORL2 Native Mode
The MIDI support implemented in the previous version is now much more advanced. Now, the iElectribe v1.5 supports "Korg Native Mode." Simply connecting a Korg nanoPAD2 or nanoKONTROL2 to your iPad will automatically complete all MIDI controller assignments.
SoundCloud online file sharing
iElectribe version 1.5 now features the same SoundCloud feature that has received rave reviews from iMS-20 users. Exported audio data can be easily uploaded and shared online at the SoundCloud site while using either app.
Support for iOS 4.3 (Added in Version 1.2)
MIDI Control (Added in Version 1.2)
iElectribe Version 1.2 adds MIDI control capabilities by using the Apple Core MIDI features found in iOS 4.2, via the Apple iPad Camera Connection Kit.
Audio Transfer Ability (Added in Version 1.1)
This feature provides the ability to transfer audio from the iELECTRIBE app into a MAC or PC via iTunes, using CD quality wav files. This feature ultimately allows you to use iELECTRIBE patterns and performances in your DAW or video editing software.
Main Features
Faithful recreation of the Electribe•R's entire sound engine and sequencer
64 Preset patterns ready for immediate use
8 Supercharged effects
Advanced Motion Sequencing takes the iElectribe to new frontiers
Available now at Apple's App Store (inside the iTunes Store).
Classic must-have Korg dance gear, now available as a dedicated iPad application
Since its debut in 1999, the aggressive sound, unique functionality, and intuitive beat-building style of the Korg Electribe series has continued to make it a favorite of creative artists around the world. Over the years, the Electribe series has continued to evolve in new directions. The vacuum-tube equipped Electribe•MX and SX went on sale in 2003, followed by the updated MKII versions of the Electribe•A and Electribe•R. The year 2010 marks another chapter for the Electribe family with the iElectribe – one of the world's first dedicated iPad musical instrument applications.
While fun to use, the iElectribe is no toy; it brings to the iPad the legendary capabilities of the Electribe series. Sound creation is easy and intuitive. Simply touch the step-sequencer's sixteen individual step keys to quickly start a groove, pick another part and repeat. This simple and understandable interface offers an intuitive "hardware" feel that will captivate the imagination of anyone – those familiar with the Electribe's power, and those who are experiencing it for the first time!
Faithful recreation of the Electribe•R's entire sound engine and sequencer
Like its hardware counterpart, the iElectribe offers a four-part percussion synthesizer and a four-part PCM synthesizer. The percussion synthesizer features analog synth-style versatility, including exciting cross modulation! The sample-based PCM parts deliver realistic drum hits, cymbals, and more. Using the Accent function adds emphasis where you need it – vital for creating compelling grooves. All in all, that's eight programmable parts combined with the easy-to-use 16-step sequencer, so anyone can start creating powerful beats instantly!
64 preset patterns ready for immediate use
The 64 preset patterns include familiar patterns from the Electribe•R as well as new patterns created especially for the iElectribe. The preset patterns cover a wide variety of dance music styles including techno, house, electro, trance, drum 'n' bass, dubstep, hip-hop, and R&B. Of course, there is plenty of room to program patterns that are all your own.
Supercharged Master Effect with 8 effect types
The Master Effect has been enhanced from the original Electribe•R, and has been optimized for use in today's music scene. The eight effect types can spice up your beats in a variety of ways that can become indispensable. Included are a chorus/flanger that fits any type of sound; a tempo-matching BPM delay; plus effects such as a grain shifter and decimator which can dramatically transform the sound.
Advanced Motion Sequencing makes patterns come alive
Simply stated, Motion Sequencing records all of your sound enhancing knob-twisting and tweaking so it can be memorized and replayed as part of a pattern. The knob motion of all parameters, for each and every part, can be recorded – so you can go wild and create diverse and complex patterns like never before.
Bring out the noise

I think the creator of this video sums it up pretty nice:
BOOM BA BOOM BA CLASH BAMM BANG Bip… Ping… BOOOM
2D's first tutorial on 'Playing with Patterns' on the new Korg iELECTRIBE Gorillaz Edition app for iPad.
Gorillaz has teamed up with Korg – the legendary electronic musical instrument developers – to create a new dedicated beatbox for the iPad: The iELECTRIBE Gorillaz Edition. Featuring the iELECTRIBE original beat-making characteristics, this special Gorillaz Edition has been customized to generate sounds from the band latest album The Fall.
Get iELECTRIBE Gorillaz Edition: http://itunes.apple.com/app/korg-ielectribe-gorillaz-edition/id430288460
More details here : http://gorillaz.com/KORG-iELECTRIBE-Gorillaz-Edition
Making Tracks! Two examples, using the WIST Wireless Sync between iElectribe and iMS20.
The fun and popular iElectribe & iMS20 iPad Apps from Korg have been updated to Version 1.5. This latest version adds WIST Wireless Sync Start Technology for starting apps on more than one iPad; Korg Native Mode for using the Korg nanoSERIES2 MIDI controllers, Audio Copy, SoundCloud sharing, etc. Visit our website for more info – www.korg.com.
Details below:
Korg has updated iElectribe and iMS-20 to version 1.5, adding Wireless Sync, SoundCloud support and more.
Here's what's new in Korg iMS-20 1.5:
WIST (Wireless Sync-Start Technology) allows wireless start between compatible apps on two iPads
AudioCopy has been added which enables the sharing of audio data between compatible apps
MIDI control capabilities have been enhanced (nano series 2 is now fully supported)
A few minor bugs have also been addressed, improving operational stability
Here's what's new in Korg iElectribe 1.5:
WIST (Wireless Sync-Start Technology) allows wireless start between compatible apps on two iPads
AudioCopy has been added which enables the sharing of audio data between compatible apps
MIDI control capabilities have been enhanced (nano series 2 is now fully supported)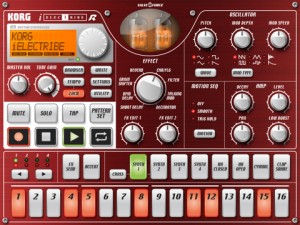 Korg has updated iElectribe, its virtual drum machine for the iPad.
Here's what's new:
iElectribe can now be played using external USB-MIDI devices
An Auto Restore function has been added which enables the last edit status to be automatically restored
A Backup function has been added that enables you to make backups of pattern data
Now compatible with iOS 4.3
A few minor bugs have also been addressed, improving operational stability
I haven't had a chance to check out the new version of iElectribe, so I'm not clear on how extensive it's MIDI support is.
If you've had a chance to try it out, leave a comment and tell us what you know.
iElectribe is currently $9.99 in the App Store.