Sonic explores Propellerhead's Thor alongside the CME Xkey, video description below:
I know its been a while, but we managed to get Gaz and Nick in the same room for long enough to shoot this episode in which we take a look at the CME Xkey which has affordable polyphonic aftertouch,plus we look at Propellerheads Thor Polysonic synthesizer
A quick run through of some of the 1000 presets that come with this stunning synth from Propellerhead
Thor Polysonic Synthesizer (on the iPad) with Elektron Octatrack, Analog Four, Waldorf Rocket
Propellerhead has brought their massive Thor synth to the iPad! Although there are lots of Thor tutorials out there, this one focuses specifically on the app and its uses in an iPad environment, while figuring out what the fuck "Polysonic" actually means.
After yesterdays announcement on Thor coming to iPad we are complementing that article with a video:
More info about Thor can be found here:
http://www.propellerheads.se/products…
Key Features:
– 1000+ expertly crafted synth patches, or create your own
– Multiple Filter and Oscillator Types
– Audiobus Support
– MIDI In allows for control from other apps or hardware controllers
– Collapse the keyboard to a scale and key of your choice, just like Figure
– Move patches back and forth between Thor on iPad and Thor in Reason
– Expressive touch interface with aftertouch and strumming
Thor is a comprehensive synth app for the iPad. Designed for mobile music making, it features a responsive interface optimized for hands on control, an innovative keyboard and the same massive synthesis engine as its desktop cousin. It's the same semi-modular synth with the same set of selectable oscillator and filter types and the same advanced routing of audio and modulation.
Aside from a regular piano style keyboard, Thor features a keyboard that can be locked to specific keys and scales, making it impossible to hit a wrong note. This is particularly useful on a mobile device when playing directly on the screen. More than just helping the player to stay in key, this musically aware keyboard is a source of endless inspiration and experimentation.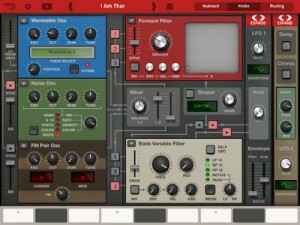 Propellerhead Software has launched Thor for iPad, a synthesizer app based on the flagship synthesizer in Reason. Here's all the detail:
Thor for iPad puts the mighty Thor synthesizer at your fingertips. Reason's legendary flagship synth delivers a thunderous sound, god-like sound sculpting capabilities and an innovative, lighting-fast keyboard designed for iPad. Thor is a synthesis playground, a flexible sonic workhorse, but above all, an expressive musical instrument for the iPad.
Thor highlights
Play Reason's Thor Polysonic Synthesizer on the iPad.
Load any of the 1000+ expertly crafted synth patches, or create your own from scratch.
Create your sounds using a palette of multiple oscillator and filter types.
Play Thor using an expressive touch interface keyboard with aftertouch and strumming.
Collapse the keyboard to a key and scale of your choice, just like in Figure.
Move your favourite patches from the iPad to your computer and use them with Thor in Reason
Thor sounds like no synthesizer you've ever heard before – and every single one of them. Where other synths use one specific form of synthesis and one single filter, the Thor polysonic synthesizer features six different oscillator types and four unique filters. What does this give you? Simply the most powerful synth ever created; an unstoppable monster of a sound generator that utilizes synthesizer technology from the last 40 years.
On the iPad, Thor comes with a specially designed interface that's optimized for touch control and the iPad screen. Cleverly designed panels expand and fold at the touch of a button to hide or reveal oscillators, filters, envelopes and more.
The app is divided into three main screens: Keyboard, Knobs and Routing.
Keyboard mode features:
Piano keyboard with transpose and range control
Modulation and pitch bend controls
Assist function lets you select key and scale to highlight chord notes or to collapse the keyboard to only show the chord notes of the selected scale.
Strum function lets you play arpeggios by holding a chord while strumming across the strum control.
Two assignable knobs and buttons acts like performance controls
Settings for polyphony and portamento
Knobs mode features:
Access to all of Thor's synthesis features
Three oscillator slots for Thor's six oscillator types: Analog, Wavetable, FM Pair, PhaseMod, Multi Osc and Noise
Three filter slots for for Thor's four filter types: Low Pass Ladder, State Variable, Comb and Formant
Three envelopes
Dual LFOs
Delay and Chorus
The Knobs screen is divided into panels that expand and collapse at the touch of a button
Miniature keyboard to audition your sounds as you are working on them
Routing features
Comprehensive but easy to use routing matrix lets you create complex modulation and signal flow setups
Step sequencer with 16-steps and six channels: Note, Velocity, Gate length, Step duration, Curve 1, Curve 2
General App features:
Patch compatible with Thor in Reason on your computer
Move patches to and from your iPad using iTunes or Dropbox
Sound bank with more than 1000 Thor patches from leading artists & sound designers (Kill the Noise, Richard Devine, Chris Petti and many more)
Gorgeous retina display interface
MIDI in – play Thor from an external MIDI source or from another app on the same iPad
Audiobus compatible – stream audio from Thor to another audio app on the same iPad
Audio in background option lets Thor keep playing in the background when working with other apps.
Note: We recommend using Thor for iPad with iPad 2 or later.
Thor is priced at $14.99.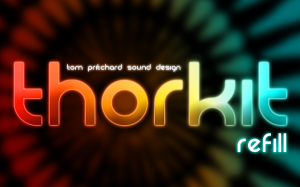 Tom Pritchard Sound Design has announced ThorKit, a new ReFill for the Thor synthesizer in Propellerhead Software's Reason.
Tom Pritchard Sound Design presents ThorKit – 200 patches that push Reason's Thor synthesiser to its limits!

Compatible with versions 4.0 and above, this ReFill contains 20 juicy monosynths, 94 punchy percussion patches, 54 deep polysynths, and 32 massive sequence synths.

With a mix of clean, crisp sounds and mashed, gritty tones, these patches are programmed to inspire with their expressive playability and evocative timbres.
ThorKit for Reason is available to purchase for £15 GBP.
Listen to samples and get it here >>
SoundCells has introduced something that I personally believe will be a classic: Thor Source Version 3 – the Moog Source ReFill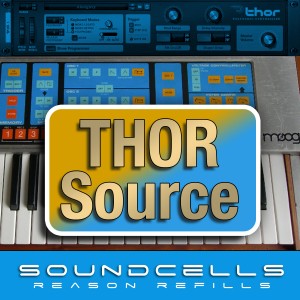 "Thor Source V3" – when Thor first saw the light of day Soundcells couldn't resist to test his strength by comparing him to a well known classic from Moog: the Source. Thor's modular design gave them the chance to rebuild the Source's details with great accuracy. Then Soundcells copied their favorite Source patches with great ease into Thor and after this they managed to take those sounds numerous steps further. The sounding results however stayed amazingly close to the Source's character. In this ReFill's documentary folder you'll find proof of this. Thor makes the Source polyphonic and velocity sensitive as well. By now you'll understand that this ReFill goes way beyond only emulating the past. Thor Source offers deep and fat basses, retro and nu style leads, wonderfull keyboard sounds, mouth watering pads, analog drums and more. Version 2 added four sampled raw oscillator settings from the original Moog Source, new combinator patches and new backdrops – with version 3 this ReFill comes with even more samples from the Source…
And let´s not forget to mention the 25 new version 3 combinator patches based on those new samples.Those will be there to give your music an extra greasy analog retro-Moog-bite.
Tweak the rebuild Source sounds in whatever direction using Thor´s tools or just "build" your own Moog Source while using the raw oscillator samples and/or the sampled Source sounds embedded within our NNXT patches. Please always take your time to try every button and knob as well as the Modwheel to get a good taste of all flavours these 214 fine combinator patches will present you with!
Thor Source Version 3 Contents:
– The 25 original documentary patches as described above plus 25 contemporary velocity versions of these patches
– 25 legato versions of the documentary patches, and also 25 legato versions of the contemporary velocity patches
– 69 "processed" combinator patches making full use of Reason's devices like the RV7000, the Scream and other gear.
This folder is subdivided into 4 sections: bass, keys & leads, misc and pads.
– 45 combinator patches based on the sampled raw oscillator settings and the fully sampled Source sounds which were
added to version 2 and version 3.
– 35 new and grooving rex loops.
A web address to link to for more info and "Thor Source V3" only MP3s:
Offering price is 19,90 ,- EUR per Unit (normally 29,90 ,- EUR)
Propellerhead guru James Bernard takes a look at Reason's Thor step sequencer, in the latest of his weekly series of tips for Reason + Record:
Have you ever loaded up a really neat Thor Step Sequencer patch that sounds great? Have you then done all sorts of automation to make it behave the way you want it to in your track? Well in this week's tip I'll show you how to tame the Thor Step Sequencer so you can trigger it, transpose it, and use note on/off messages from a controller to "play" the pattern exactly how you want.
You can view the full series on Propellerhead's YouTube channel.
Link:
Here's what they are saying about it:
Pantheon takes Refill quality to a whole new level. There are no compromises. Each one of the 164 Combinators inside Pantheon is unique, with a widely varied signal path. Further, all Combinator rotaries and buttons are assigned to unique destinations. And finally, each Thor patch *inside* each Combinator has its rotaries and buttons fully mapped! We have even saved all Thor patches separately so you can more easily build them into your own Combinators. There has never before been a Refill with this many powerful, creative modulation possibilities at your fingertips.
Some of the patches you'll find inside Pantheon range from physically-modelled drumkits; dirty filter FM basses; majestic pads; heavily sequenced chord patterns; pristine belltone layers; futuristic lead arpeggios and much more. Electronic musicians of all stripes will find Pantheon instantly inspiring, and infinitely tweakable. Details:
164 unique Combinators.
235 Thor patches.
28 Subtractor and Malstrom patches
9 .rps demo songs.
All Combinator and Thor rotaries/buttons uniquely mapped.
Detailed design documentation for each patch.
Demo refill can be found here >>
Dave909's Thor Sounds Vol. 2
At Combinator HQ a new refill has been uploaded that surely will be an asset to your next tunes. Travis Huckins has always provided good stuff so make sure to check this one out fast.
Included:
High energy trance leads, arps, sequences(Run), drums, bass, and fx. Also has some DnB patches. Combinator, Thor, Subtractor, malstrom, NN-19, and ReDrum patches, with samples.
NOTE: Free but requires registration