Interactive robot orchestra
more info and images – vtol.cc/filter/works/nayral-ro
The orchestra consists of 12 robotic manipulators of various designs, each of which is equipped with a sound-transmitting speaker. The manipulators, combined together, form a single multi-channel electronic sound orchestra. Due to constant displacement speakers in space, changing direction of the sound and the algorithms for generating compositions, the orchestra creates a dynamic soundscape. In order to interact with the orchestra, controller Leap Motion is used, that allows to control robots and sound by simple hands gestures in the air – similarly to conducting an orchestra.
The project is based on the idea of a combination of modern music, computer, interactive and robotic concepts and approaches for the creation of works of art. In many ways, it is inspired by well-known works that were presented in the recent past, such as Pendulum Choir (2011) and Mendelssohn Effektorium (2013). However, Nayral Ro is different from these projects in many ways. Its algorithmic system, in which sound and musical composition are being produced, is real time, and the acoustic environment also changes simultaneously with the process of creating the musical piece. Also, the whole process is completely subordinated by the "conductor", so this a role is similar to such of a composer, performer and operator at the same time.
Creation of more sophisticated versions, more subtly revealing the potential of Leap Motion for tuning to the movement and changes in sound, is being planned for the future development.
video by Nikolai Zheludovich
The new symphonic music creation app for iPad, here's a demo of all 10 of the included sounds.EDIT–see my blog at wtomusic.com for a written walk through of the app…no followup video will be posted.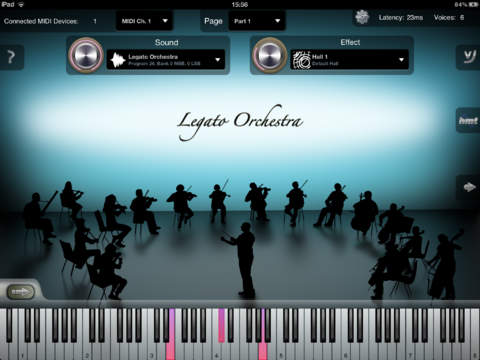 The ultimate orchestra sound app for sophisticated musicians, directed by Kurt Ader, designed as professional sound module for your iPad by connecting an external MIDI keyboard, using the Apple USB camera adapter or another adapter supported by Apple.¹

This app supports Apple's "Inter-App Audio" System (requires iOS 7 or higher) and the "JACK Audio Connection Kit" (up to iOS 6.1.3) for audio & MIDI connections from/to other audio apps!

iSymphonic Orchestra was designed with the goal to deliver you superb, extremely realistic and stunning orchestra sounds, instantly with the first key being pressed by you on your MIDI keyboard. Just select a sound and you are ready for your live performance or for a boost of creativity while composing new songs. The sounds used in this app were explicitly recorded to fulfill these requirements and involved several months of recording and post processing under supervision of Kurt Ader and included a variety of innovative, new recording techniques. So far these sounds were only available to very few, famous movie composers. Now they are finally available for the first time to everybody. The supreme quality of these sounds, combined with the unique way they were recorded and assembled, gives us confidence that you haven't heard anything comparable as of to date, even not on Mac or PC.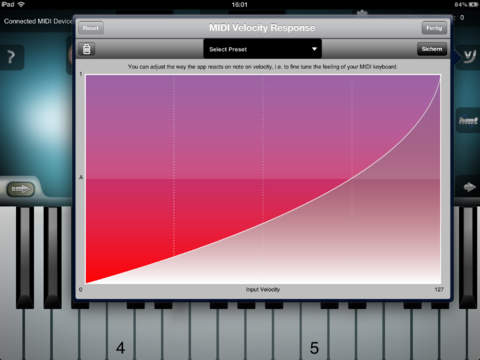 Sounds:
– 1. Orchestra Strings Spiccato & Legato
– 2. Orchestra Strings Slow 1
– 3. Chamber Arco Strings
– 4. Legato Orchestra Strings 1
– 5. Full Sordino Strings 1
– 6. Legato Orchestra
– 7. Staccato Orchestra 1
– 8. Staccato Orchestra 2
– 9. Tremolo Orchestra
– 10. Pizzicato Strings

>General Features:
– Low latency disk streaming.
– Polyphony up to 140 stereo voices.²
– Configurable audio latency down to 5 ms.
– Integrated effects with 18 presets.
– 16 parts.
– MIDI velocity response curve editor to fine tune the feeling of your MIDI keyboard.
– App can keep running in the background, so you can play on your keyboard while e.g. using Safari or another app to display scores or surfing the Internet.
– Hermode Tuning: Makes the sound more brilliant by controlling the pitch of the notes in multivoiced music to better frequency ratios than with fixed tuning. This dynamic tuning imitates the tuning behavior of well educated musicians of i.e. orchestras and choirs.
– Supports Apple's "IAA" system for audio & MIDI streaming between other apps (iOS 7 or higher).
– Supports "JACK Audio Connection Kit" for audio & MIDI streaming between other apps (up to iOS 6.1.3).
– Virtual on-screen piano keyboard with velocity support, scalable & scrollable.

MIDI Player / Recorder:
– Record, save and load your songs in standard MIDI file format.
– Unlimited amount of tracks.
– Configurable target MIDI channel per track.
– Unlimited recording and playback length.
– Download or upload MIDI files with iTunes.
– Load your favorite songs as MIDI files from the Internet, and watch at the virtual keyboard how to play it.
– Use the "Tempo Zoom" dial knob to i.e. slow down playback at any time and learn your favorite songs more easily.

Note: This app requires quite some hardware resources. In case there are problems with this app, please close apps in the background by double pressing the device's home button, the list of active apps appears on the bottom of the screen, tap and hold one app icon in the list, then press the respective app icon "minus" corner to quit those apps.

¹ For more informations about supported adapters and MIDI keyboard devices, please visit our product website.

² Sounds are using several voices per note. Polyphony depends on the exact device model being used. You find a polyphony table on our product website.

Anti-Spy Commitment: We take your privacy very seriously. None of our apps contain so called 'spy' behaviors and we committed ourself to a very high privacy standard. For more informations about our privacy commitment, read our 'Privacy Policy for Mobile Apps'.
gusli robot – russian folk bot,
portable electro-acoustic orchestra
more info – vtol.cc/filter/works/turbo-gusli
– servo motors x6

– dc motor x1

– stepper motor x1

– solenoids x3

– spings x8

– strings x38

– arduino uno x2

controlling software – pure data
Background video description:
Known for the world's fastest mobile network speed,
Korea marks its 30 years of mobile history this year.
Now the orchestra of 30 cell phones and 4 pagers is celebrating
the 30th year anniversary in a way that you never imagined.
Enjoy it now!
Created by Simon de Diesbach, Jonas Lacôte, Laura Perrenoud
Thanks to Andreas Gysin and Shiverland Productions
ECAL / University of Art and Design, Lausanne Switzerland
Bachelor Media & Interaction Design
Computer Orchestra is a crowdsourcing platform that allows users to create and conduct their own orchestra. They can choose to upload their own music or download samples to integrate into their formation. With a simple interface, they assign the chosen samples to each post. They can also arrange detection zones, that allow them to order the "musicians" to play, using various gestures. Once their orchestra is configured, they can direct it with the movements of their body.
Have a look at the full project on:
computer-orchestra.com
A Kinect detects the director's movements and transmits the data to Processing via the SimpleOpenNI library.
Processing then sends a signal to the corresponding computers via wifi. These then play the samples that are assigned to them and generate a visual derived from the outgoing sound.
In this manner, the 'musician-screens' not only send sound back to the director, but also visual feedback.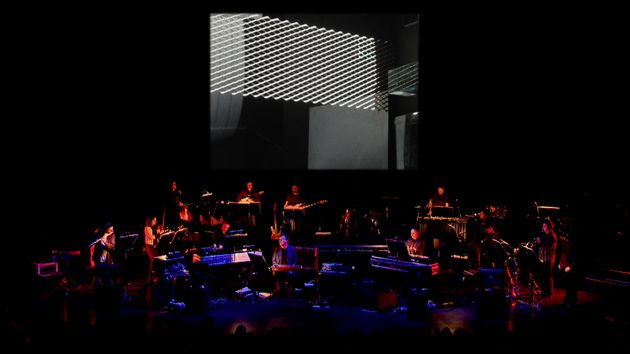 Rich Hilton is back from touring with Chic, which included a live appearance on X Factory in the UK, We talk Jimmy Sommerville, Elektro Moskva, Cubase Gesture Control, Da Vinci's Viola Organista, Zynaptiq Pitchmap and the tiny linux PC Cloudsto MK802IV LE Quad Core
ACTION STRIKES delivers high-impact, orchestral percussion with state-of-the-art workflow and playability. http://www.native-instruments.com/act…
Re-envision your orchestral percussion. 12 full ensembles plus 65 single instruments, exclusively recorded in uncompromising quality. Hundreds of timeless rhythms, adaptable for any project. And a state-of-the-art interface that lets you direct the drama in real time. Become the conductor — this is ACTION STRIKES.
Learn how to use Action Strikes' state-of-the-art interface in this informative tutorial video. http://www.native-instruments.com/act…
Gravitation in Time (2013)
Composition for Orchestra, Robotic Instruments, Leap motion and Electronics
Composed by GayBird
Gravity Glock (robotic instrument) concept and design: GayBird, Thomas Ip
Engineering and programming: Thomas Ip
Gravity, as an ultimate natural force on Earth, people living there may easily neglect its presence, and not to mention to its influence in our seemingly ordinary everyday experience.
We are used to take such magical force for granted, however, the potential energy that it can generate is indeed powerful. My work – Gravitation in Time, is intended to draw our attention to such force again.
To perform this piece, I have custom-made two pieces of robotic instruments – Gravity Glock. They are activated by the gravitational force, and incorporate with mechanical engineering and electronic sound processing, to provide a breath-taking audio-visual experience to audience.
Musically, the constantly progressing serpentine melodies symbolised the state of unawareness presence of gravity. The piece is structured from scattered to polyphonic texture, and developed into an integrity ensemble of repetitive melodies, that demonstrated the weight of gravity in an abstract sense.
Great Violin Concertos – Iskandar Widjaja Plays Wieniawski
Presented by Hong Kong Sinfonietta
Date: 12 October, 2013
Venue: Concert Hall, Hong Kong City Hall
The magic of the ARP Quartet lies in layering its four sounds (Brass, Organ, Piano, and Strings) together in interesting ways to create some huge analog sounds. Here are a couple short demos of the huge analog walls of sound that can be created by combining Brass & Strings, and Strings & Organ together.
More on the ARP:
The ARP Quartet is identical to the Italian made Siel Orchestra. In fact, it is the Orchestra! ARP bought, relabeled and sold it as the Quartet without changing it much. It's a 4-part orchestral synthesizer with 4 sections: Brass, Strings, Organ and Piano. These 4 tone color families can be played individually or two can be simultaneously played. They are also individually tweakable. Selected presets will light up LEDs to show you which sliders and buttons can be used to modify the current section. The synth itself is very limited however, and there's no external control, no pitch/mod wheel and few edit parameters. But it sounds very good and it is, after all, a classic analog synth.
The Brass section creates Trumpet and Trombone sounds with independent attack and sustain controls. The String section creates Cello and Violin sounds with independent attack and sustain controls. The Organ section is 2-voice and has a Celeste sound available as well. The Piano section offers two types, traditional or Honky Tonk.