The Laptop Orchestra of Lake Forest Academy plays Radiohead's "Meeting in the Isle" as they open their Fall 2012 concert. 8 musicians play and project iPads on sound panels behind them while using a combination of apps including Animoog, iMS-20, iElectribe, Reactable, and Garageband. The Laptop Orchestra is held as a class within the Fine and Performing Arts department alongside Orchestra and Choir. 2012 marks its 3rd year as a class and 6th year as a part of Lake Forest Academy student life.
Radioactive orchestra is a cross-boundary collaboration of nuclear physicists, a DJ and one media artist. The project wishes to inspire young people to learn about the natural sciences, but it also has an artistic aim to find new musically interesting patterns. By giving every radioactive isotop its own sound based on scientific algorithms they turn nuclear science into music, hence making a world available to us that our senses can not otherwise percieve.
Interesting experimental video from Chris Cairns, details below:
More Info: http://www.native-instruments.com/actionstrings
Action Strings is the epic, orchestral sound of blockbuster movies, made simple via immaculately sampled and easily playable phrases. With a truly natural sound, over 14 GB of live-recorded string phrases are ready to add big screen suspense and drama to your movie or game scores — or even spice up your rock, pop and R'n'B tracks.
Here a few moments from the Concerto for iPad Orchestra by Ned McGowan, performed by Keiko Shichijo on the iPad with the Sinfonia Rotterdam, conducted by Conrad van Alphen. This work is the 2nd in the Rotterdam Concerto series initiated by the Doelen and Sinfonia Rotterdam.
Some info about the piece: http://www.youtube.com/watch?v=rLMqQc1t80w
Sonokinetic has released Vivace, a sound library for Kontakt and Kontakt Player featuring cinematic orchestral fx and textures.
Vivace features tempo-synced tonal cues, each recorded in all 12 keys utilising our ITM (Intelligent tempo mapping) system so that every sample is automatically integrated perfectly into any arrangement. The pressure of tight deadlines always interferes with the creative process so we believe Vivace is an essential tool to keep orchestrating craftsmanship high in production schedules with tight deadlines and on demand client expectations.
Vivace is a dedicated performance sampling library that continues building the Sonokinetic legacy in original one-of-a-kind sampling tools for professional composers and sound designers. A vast collection with over 16,000 samples (32,000 total combination of 16 and 24 bit) propels this impressive library to new heights.
Vivace features
9 channels available, of which 8 to mix: Pre-mixed 'Tutti' channel, 3 Mic position channels and 5 cue group channels. Mix each Vivace cue specifically to your taste. Set global variations or for each individual cue.
Up to 3 additional multiple recordings of some motifs, available as variations.
FX at your fingertips. Configure 4 band EQ and in-built reverb to match your other libraries.
Samples recorded in the same environment as Sonokinetic 'Tutti' allowing seamless integration.
Assign your favourite cues to keyswitches.
19 patches in total with multiple cues within each patch.
33922 samples: 2x sample pool (16 & 24 bit) (full version sample pool 27,56 GB content: 16bit: 9,41GB & 24bit: 18,15 GB).
Royalty and copyright free content license. (English & German).
Vivace Reference manual (pdf).
Artwork : "Vivace" dvd cover. Designed by Pavel Fuksa.
Programming : "Vivace" Kontakt script and instruments by Son Thomsen.
Vivace is available to purchase for 199.90 EUR.
Arduino Light Sensor Symphony @ The Hack Factory
Not new but well worth watching

Sewing machine orchestra is the first version of a performance created by martin messier. the basic sounds used in this performance consist entirely of the acoustic noises produced by 8 sewing machines, amplified by means of microcontacts and process by a computer.
the microcontroller system also enable to use the sewing machines to affect certain parameters of the acoustic sound. the wheel, for exemple, can be assigned to the output volume, etc. machine's mechanism can be activated by remote, using microcontrollers and a computer, without the need for any other human intervention.
these old objects has the effect of taking the imagination further, primarily through their evocative power. whether they remind of specific incidents or recall the relationship to such objects, few people remain indifferent when they see them.
this creation was made possible with the support of the canada council for the arts.
audio, light, performance : martin messier
electronic: samuel st-aubin
For the first time ever, all of the instruments in a modern Chinese orchestra arrangement will be available in one box set — Kong Audio announced Chinee Orchestra, the said box set that includes 23 instruments from the Kong Audio lineup.
All sounds and effects created exclusively with DAMAGE: http://www.native-instruments.com/damage
DAMAGE provides an arsenal of deeply sampled drums, crushing loops, and smashing one-shots, all recorded in brutal detail. From battered dumpsters and exploding cars to edgy electronics, the entire gamut of modern cinematic sound comes together in this uniquely playable and inspiring instrument. Deep, thrilling and intense — DAMAGE is epic redefined!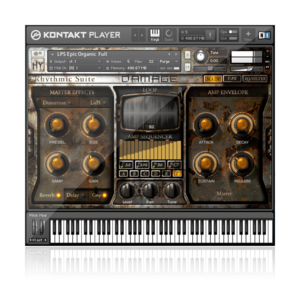 DAMAGE gives you 30 GB of drama, fusing industrial sounds and orchestral drums into a devastating electro-acoustic barrage. Percussive Kits provide more than 200 deeply sampled percussion sources, and over 500 single-shot elements, recorded in up to seven velocity layers and with up to nine round-robins per drum.
Over 700 beat-sliced loops come as menu-style loop suites or as single loops for detailed tweaking. Even the most complex sounds are instantly usable, and it's all in hair-raising, big-screen quality.