Sounds demo of iPad app iSymphonic Orchestra by Crudebyte
The new symphonic music creation app for iPad, here's a demo of all 10 of the included sounds.EDIT–see my blog at wtomusic.com for a written walk through of the app…no followup video will be posted.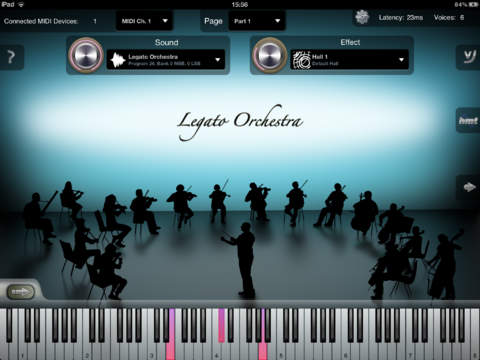 The ultimate orchestra sound app for sophisticated musicians, directed by Kurt Ader, designed as professional sound module for your iPad by connecting an external MIDI keyboard, using the Apple USB camera adapter or another adapter supported by Apple.¹

This app supports Apple's "Inter-App Audio" System (requires iOS 7 or higher) and the "JACK Audio Connection Kit" (up to iOS 6.1.3) for audio & MIDI connections from/to other audio apps!

iSymphonic Orchestra was designed with the goal to deliver you superb, extremely realistic and stunning orchestra sounds, instantly with the first key being pressed by you on your MIDI keyboard. Just select a sound and you are ready for your live performance or for a boost of creativity while composing new songs. The sounds used in this app were explicitly recorded to fulfill these requirements and involved several months of recording and post processing under supervision of Kurt Ader and included a variety of innovative, new recording techniques. So far these sounds were only available to very few, famous movie composers. Now they are finally available for the first time to everybody. The supreme quality of these sounds, combined with the unique way they were recorded and assembled, gives us confidence that you haven't heard anything comparable as of to date, even not on Mac or PC.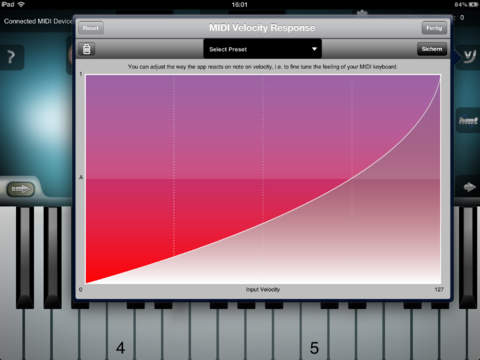 Sounds:
– 1. Orchestra Strings Spiccato & Legato
– 2. Orchestra Strings Slow 1
– 3. Chamber Arco Strings
– 4. Legato Orchestra Strings 1
– 5. Full Sordino Strings 1
– 6. Legato Orchestra
– 7. Staccato Orchestra 1
– 8. Staccato Orchestra 2
– 9. Tremolo Orchestra
– 10. Pizzicato Strings

>General Features:
– Low latency disk streaming.
– Polyphony up to 140 stereo voices.²
– Configurable audio latency down to 5 ms.
– Integrated effects with 18 presets.
– 16 parts.
– MIDI velocity response curve editor to fine tune the feeling of your MIDI keyboard.
– App can keep running in the background, so you can play on your keyboard while e.g. using Safari or another app to display scores or surfing the Internet.
– Hermode Tuning: Makes the sound more brilliant by controlling the pitch of the notes in multivoiced music to better frequency ratios than with fixed tuning. This dynamic tuning imitates the tuning behavior of well educated musicians of i.e. orchestras and choirs.
– Supports Apple's "IAA" system for audio & MIDI streaming between other apps (iOS 7 or higher).
– Supports "JACK Audio Connection Kit" for audio & MIDI streaming between other apps (up to iOS 6.1.3).
– Virtual on-screen piano keyboard with velocity support, scalable & scrollable.

MIDI Player / Recorder:
– Record, save and load your songs in standard MIDI file format.
– Unlimited amount of tracks.
– Configurable target MIDI channel per track.
– Unlimited recording and playback length.
– Download or upload MIDI files with iTunes.
– Load your favorite songs as MIDI files from the Internet, and watch at the virtual keyboard how to play it.
– Use the "Tempo Zoom" dial knob to i.e. slow down playback at any time and learn your favorite songs more easily.

Note: This app requires quite some hardware resources. In case there are problems with this app, please close apps in the background by double pressing the device's home button, the list of active apps appears on the bottom of the screen, tap and hold one app icon in the list, then press the respective app icon "minus" corner to quit those apps.

¹ For more informations about supported adapters and MIDI keyboard devices, please visit our product website.

² Sounds are using several voices per note. Polyphony depends on the exact device model being used. You find a polyphony table on our product website.

Anti-Spy Commitment: We take your privacy very seriously. None of our apps contain so called 'spy' behaviors and we committed ourself to a very high privacy standard. For more informations about our privacy commitment, read our 'Privacy Policy for Mobile Apps'.
Comments