Sebastian demonstrates how to use Audiobus to filter Loopy's output back into Loopy's input again, via NLog. What are you going to do with Audiobus? http://audiob.us
https://itunes.apple.com/app/loopy-hd/id467923185?mt=8
https://itunes.apple.com/app/nlogsynth-pro/id393879841?mt=8
Sebastian uses MultiTrack DAW to record SoundPrism PRO, Sunrizer and Funkbox, with some Virtual MIDI magic. What are you going to do with Audiobus?
http://audiob.us
SoundPrism PRO: https://itunes.apple.com/app/soundprism-pro/id425733007?mt=8
Sunrizer: https://itunes.apple.com/app/sunrizer-synth/id443663267?mt=8
Funkbox: https://itunes.apple.com/app/funkbox-drum-machine/id350437349?mt=8
MultiTrack DAW: https://itunes.apple.com/app/multitrack-daw/id329322101?mt=8
Sebastian uses Loopy HD to loop Sunrizer and FunkBox being filtered by NLog. Audiobus is a communications channel for sending live audio, like the audible output of a synthesizer app, or the output of a guitar amp effects app, for example.
http://audiob.us
Funkbox: https://itunes.apple.com/app/funkbox-drum-machine/id350437349?mt=8
NLog Synth PRO: https://itunes.apple.com/app/nlogsynth-pro/id393879841?mt=8
Sunrizer: https://itunes.apple.com/app/sunrizer-synth/id443663267?mt=8
Loopy: https://itunes.apple.com/app/loopy-hd/id467923185?mt=8
iOS developer Audiobus has now released a proper teaser video demonstrating the workflow of its potentially revolutionary inter-app audio routing device. Audiobus is an app designed to allow audio to be streamed between multiple iOS music making apps. No release date has been announced yet, but the app has been approved by Apple. For more info on the app, check out the Audiobus official site.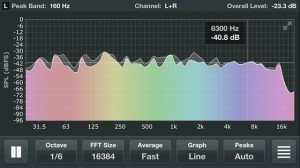 ONYX Apps has launched its Spectrum Analyzer for iOS, a powerful real-time audio analysis app.
Designed with musicians and recording engineers in mind, it can also be used by anyone interested in the world of sound. Ideal for room tuning or speaker tuning, the app enables portable, precision audio measurement and visualization.

Spectrum Analyzer harnesses the computational and graphical power of its host device to provide precision, real-time readouts that are smooth and responsive. It has been designed from the ground up to take full advantage of the newest features and capabilities of iOS 6. It is a completely integrated app – there are no plug-ins or in-app purchases available or required.
Spectrum Analyzer features
Octave Band Real Time Analyzer.
FFT Plot (Fast Fourier Transform).
Spectrograph module.
Test Tone and White/Pink Noise Generator.
Retina display and iPhone 5 ready.
http://youtu.be/gE2cBQH3l3c
More info here – http://www.image-line.com/documents/flstudiomobile.html (to be honest there isn´t much more additional info on this link, hehe, so stay tuned for more updates on FL Studio Mobile 2 right here at SBC)
FL Studio Mobile will allow you to create complete multi-track projects on your iPod, iPhone or iPad and, if you want, load mobile projects into FL Studio and take them to the next level. If it's a beat on the step sequencer, a melody on the piano roll or a full song on the playlist, FL Studio Mobile has you covered.
"Coming soon to OS X."
Sony has released a teaser for a new version of Sound Forge Pro, its digital audio editing software, and the new version is for Mac OS X. Details, including availability and pricing, are still to come – but it's 'coming soon'.
This video tutorial features creating a simple synth part in a synth called Magellan and using AudioCopy/Paste to import the resulting audio into Auria. Then the optional In-App Purchase, Fabfilter Micro, is used to create some filter sweeps.
About Auria:
The mobile DAW you've been dreaming of has finally arrived. Auria is a 48-track digital recording system designed from the ground up for the iPad. With professional-level features like AAF import/export, and optional third-party plugin support from names like PSPaudioware, Overloud, Fab Filter and Drumagog (available via In-App purchase), Auria clearly sets a new standard for mobile recording.
FEATURES:
• 48 tracks of simultaneous playback of stereo or mono files. (24 tracks on iPad 1)
• Up to 24 tracks of simultaneous recording when used with compatible USB audio interfaces (Camera Connection Kit required)
• Supports sample rates of 44.1KHz, 48KHz and 96KHz, at 24 bits (iPad 1 supports only 44.1KHz and 48KHz)
• Vintage-inspired ChannelStrip on every channel by PSPAudioware includes Expander, Multiband EQ and Compressor
• MasterStrip on all subgroup and master channels featuring PSPAudioware BussPressor, EQ and Mastering Limiter
• 64 bit double-precision floating point mixing engine
• Third party VST effect plugin support available via in-app purchase (only iOS-version plugins are supported. All plugins must be purchased through the in-app store)
• AAF import and export allows transferring complete sessions between popular DAWs like Logic, Pro Tools, Nuendo, Samplitude and others
• Convolution reverb plugin with included IR library by MoReVoX
• ClassicVerb reverb plugin included
• StereoDelay and StereoChorus plugins included
• ReTune plugin included for auto pitch correction of vocals
• 8 Assignable subgroups and 2 aux sends
• Powerful waveform editor with features like cut/copy/paste, crossfade, duplicate, separate, gain, normalize, dc offset, reverse, and more
• Flexible snapping tools allow snapping to events, cursor, bars, beats and more
• DropBox, SoundCloud and Audio Copy/Paste support
• Track freeze for minimizing CPU usage
• Full automation support on all controls with graphical editing
• True 100mm faders when used in Portrait Mode
• Optional video import feature allows sample accurate sync of video to an Auria project with adjustable offset times and video export capability
• Timeline ruler options include minutes:seconds, bars:beats, samples and SMPTE time
• Auto-punch mode
• WIST support for wireless syncing of other compatible music apps
• AuriaLink allows two iPads running Auria to play and record in sync, allowing for 96 tracks of playback and 48 tracks of recording
• Full delay compensation on all tracks, subgroups, and aux sends
• Adjustable metering modes, including pre or post fader, RMS and peak
• Adjustable pan laws
• Sample accurate loop function
• Automatic sample rate conversion
• Built-in metronome
Cloud Audio Recorder allows you to record the sound of musical instruments
to your iOS devices via the built-in microphone.
Available in App Store: http://itunes.com/app/cloudaudiorecorder
Silly but fun 😉
Download for FREE for iPhone and iPad: http://bit.ly/AutoRapDemo
Download for FREE for Android devices: http://bit.ly/AutoRapDemo-Android
YO. This is AutoRap.
It turns speech into rap and corrects bad rapping.
With Smule's patent-pending "rappification" technology, AutoRap maps the syllables of your speech to any beat, creating a unique rap every time.
Talk into the app, and AutoRap magically morphs your speech into a legit rap. Create your own original rap songs with Freestyle Beats, or use Premium Songs from artists like Snoop Dogg and Nicki Minaj, to AutoRap with the songs you know and love.
Note: Headphones recommended for maximum enjoyment.