The rack-mounted version of the U-20. Plenty of realistic sounds (especially for the time), and several drawn from classic Roland synths like Jupiter-8 and D-50.
The U-220 is a digital synthesizer that uses ROM samples of pianos, brass, strings, bass, drums, etc. However it is built for professional use and is truly a quality instrument, even though its sounds may seem like dated-eighties synth pop cheese. It's got nice piano sounds, but they're not the real thing. It features 6 part multitimbrality with a 7th drum part, plus 2 direct outputs and 2 stereo outputs. The 30 note polyphony helps if you take advantage of this synths multitimbrality for creating entire performances and ensembles. Digital reverb, chorus and delay effects liven up your sounds. Editing is simple, but there are no filters. With several performance features, the U-20 has a full 61 note keyboard with velocity and aftertouch. There's an on-board arpeggiator, a chord-memory feature and the U-20 accepts Roland SNU-110 sound library cards.
Time lapse build of the Sonic-Potions LXR digital drum synthesizer and some messing around with it for the first time. All sounds come from the LXR and the Shruthi-1. The Shruthi is slaved to the LXR and is just playing the equivalent midi notes as the drum sounds. The LXR is being run through a hardwire RV-7 pedal (seen directly north of the LXR). I am sure that this is only scratching the surface of the LXR's capabilities.
Released in 2003, the V-Synth was a new flagship synthesizer from Roland debuting some of their coolest features of the time, allowing for a new world of sounds full of life and motion. The V-Synth combines multiple oscillator technologies, user sampling and new COSM filtering for incredibly dynamic new sounds. The user has realtime control of a waveform's pitch, time and formant plus a killer arpeggiator and a host of realtime controllers including the revolutionary TimeTrip Pad and twin D-Beam controllers. All this leads to sounds that can move, morph, evolve and sound totally unique.
The V-Synth has dual oscillators that offer a choice of three different synthesis methods: analog modeling, PCM waveforms with user sampling, and external audio input processing–all with up to 24-voice polyphony. The PCM oscillator is powered by VariPhrase for complete sonic control. Choose from over 300 preset waveforms or sample your own. Then use the "TimeTrip" function to manipulate a waveform's time aspect in any way you wish. Slow it down to uncover rich moving harmonic content; speed it up to create high-speed tonal motion; freeze it at your favorite spot; or rewind it backward at any speed without changing pitch and formant, which can also be independently controlled. The Analog modeling offers several fat-sounding analog style waveforms. The third oscillator type is External Audio Processing, which lets you process any signal arriving at the V-Synth's analog inputs. All three oscillator types can be layered and mixed in several ways, or modulated using FM, ring mod and oscillator hard sync.
All programming is achieved via the large LCD Touch Screen plus a bunch of hands-on controls and knobs including the new TimeTrip Pad, twin D Beams and the velocity/aftertouch sensitive 61-note keyboard. While you can independently manipulate the pitch, time and formant of sampled waveforms using VariPhrase technology there is also powerful COSM processing offering analog-style filter modeling, a resonator and Side Band Filter, plus global reverb, chorus and multi-effects. The V-Synth's programmable arpeggiator can modulate sound parameters to provides additional rhythmic and timbral controls.
The V-Synth is fully suited to the modern day studio as well, with analog I/O and MIDI ports supplemented by USB and digital S/PDIF I/O ports. Use the analog or digital inputs to sample your own waveforms to be used in the variable oscillator. You can even exchange .WAV and AIFF files via the built-in USB port, which also works for MIDI. Resampling is also possible, allowing users to capture any performance with the TimeTrip Pad, D Beam or arpeggiator – or even effected sounds – as an entirely new waveform. All Preset Patches are fully re-writeable, giving users plenty of space for their own creations, which can also be saved via USB to a computer or to an optional PC card. With PC card adapters, other media such as CompactFlash, SmartMedia and MicroDrives can also be used.
Additionally, with V-LINK Onboard Video Control users are allowed playback and performance of video clips with music created on the V-Synth via the Roland DV-7PR Digital Video Workstation (sold separately). Use V-LINK to trigger different video clips with V-Synth's keyboard while using the bender to change playback speed. Using the TimeTrip Pad, you can scan a clip forwards or backwards with your finger, or change colors using the Twin D Beams. A totally unique feature perfectly suited for live use.
The V-Synth GT was later released in 2007 which adds Roland's Vocal Designer technology with revolutionary Articulative Phrase Synthesis technology. Articulative Phrase synthesis recreates the ever-changing behavior, nuance and sound of an instrument as it's being played. The results are stunningly expressive and realistic, and can be applied to acoustic instrument simulation as well as new, never-before-heard sounds. In a nutshell, it lets acoustic instrument sounds such as a violin sound like it's being played with a bow rather than keys on a keyboard. New front panel features include a color touch-screen with eight universal control knobs, and the addition of dedicated buttons and sliders to make access faster and easier. The GT could also has a maximum 28 voices of polyphony.
Playing the Korg DS-8 without any additional effects or eq. All you hear is coming straight out of the Korg DS-8.
"The Korg DS-8 employs 4 operator FM synthesis from Yamaha – but on the DS-8 you have sliders to tweak a sounds a bit. A pity, that it's not possible to save the sounds you have edited with the sliders. You have to edit the sounds in the normal edit mode.
On the DS-8 you have to deal with terminology from analog synths, not with "operators". It also has an useful effect processor with great delay and modulation effects. The little brother of the DS-8, the Korg 707 does not have this effect processor, which is a big minus.
In the video I show you the kind of sounds, which are the best on the Korg DS-8 in my opinion – mostly beautiful, relaxing pads. A lot of other sounds are also possible, but many of them are quite ugly, so I let them out….

"
Here is a Single patch on the Accelerator that attempted to replicate the sound of a Roland Jupiter-8. Chords were played over a sequenced portion of the same patch.
With clever programing a digital synth can sound really analog.
The LXR is a digital drum synthesizer. They sell it as a DIY kit, so you will have to build/solder it yourself.
The kit contains an unassembled frontpanel PCB and all needed parts, as well as an assembled mainboard with all the SMD components. A picture of the kit content can be found here.
"Today my new drum machine LXR arrived, this is a first test-jam where i tried out some functions and only playing around with other synths… so no real music here, sorry

"
Features:
Cortex M4 based
6 voices (VA and FM)
7 sequencer tracks (extra open HH channel)
44kHz / 16 bit audio
4 mono outputs
4 different instrument engines
1/128 step pattern resolution
USB/Din Midi
different lengths for each track
8 chainable patterns per preset
Step probability
SD-Card
Cowbells!
39 buttons
6 LFOs routable to every voice parameter
complete kit. comes with all needed parts for assembly
No SMD soldering required
open source
All! actions possible without stopping the sequencer playback
Patch details below:
the patch
snazzy fx ardcore running dual lfo sketch
triggers the two MFB seq 02 sequencers
both are running in AB mode 32 steps each
MFB OSC-02 Triple VCO is sequenced and modulated by
MFB seq 02 and Maths
MFB OSC-02 Triple VCO ing mod out is sent to the filter of monotron e
Maths
with black front panel white knobs
is patched into function
with black front panel and monotribe knobs
function is being fed by the monotron e LFO
EOC is sent to the filter cv of monotron-e
all audio outputs are mixed with MFB drum 99 mixer
this is sent to the alesis io dock input
a little KORG iELECTRIBE is added
this is all on channel 1
Ableton live 8 win7 64bit with hp Compaq L2105tm touchscreen
channel 2
midi input from korg ms20 legacy and DOEPFER A192 CVM 16
Max for Live
QM synth
channel 3
sonic charge microtonic
audio damage big sequence
Electronic Music by RetroSound
two new albums now available for download
1. A Voyage Into The Hearth Of Analog Synthesizers (16 tracks)
available here: http://directpaylink.com/?id=1002LYKPV
used synthesizers:
Oberheim OB-X
Oberheim OB-Xa
Roland Juno-60
Roland Juno-106
Roland SH-101
Roland Jupiter-4
Roland VP-330
Roland SH-101
Korg Polysix
Korg Mono/Poly
Crumar Performer
Arp Odyssey
Moog Minimoog
Moog Taurus 1
Moog Source
SCI Pro-One
Logan SM2
TR-808
TR-606
2. A Voyage Into The Hearth Of Digital Synthesizers (16 tracks)
available here: http://directpaylink.com/?id=1003XMKNO
used synthesizers:
PPG Wave 2.2
PPG Waveterm A
SCI Prophet VS
Yamaha DX7 II
Roland JD-800
Roland D-50
Roland D-550
Korg Wavestation
Korg DW-8000
Korg Z1
Yamaha AN1x
Roland TR-707
SCI Drumtraks
more info about RetroSound:
http://www.retrosound.de and
http://www.facebook.com/pages/RetroSo…
This video shows off a few modifications to a FR-777 bass synth, performed by Jered at FR some 15 years ago. Shown are the Oscillator sync, Endless-drone, and LFO-to-cutoff mods, plus variations.
"Around 2:20, when I say "Envelope", please substitute "LFO!"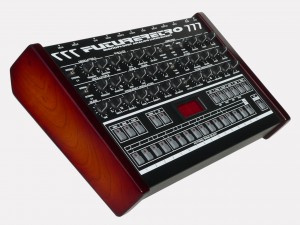 The Future Retro 777 is a monophonic analog synthesizer with a digital sequencer. The 777 is a sleek retro design that has realized the full potential of the monophonic pattern based synth. It's not just another TB-303 emulator. It uses analog circuitry and has a lot of hands-on knobs for instant sound tweaking. And while the 777 has extensive editing and modulation abilities, the layout is as basic and intuitive as an old SH-101 or MC-202!
The 777 functions quite well as either a standalone bass sequencer or as a sound module in a MIDI environment. Two oscillators (A / B) produce a fat bass sound. Modulation abilities are quite complex, the oscillators themselves can modulate each other for example. The filter is very nice with switchable 3 or 7 pole slopes as well as other sound shaping controls for a wide range of tones. An external sound can be routed through the filter too. The sequencer, OSC B and the decay envelope can also modulate the filter cutoff. The 777 also employs a smart accent effect for that extra bit o' kick in your bassline.
As a sequencer the 777 shines once again. Bear in mind that this sequencer accommodates a monophonic (single tone) instrument which normally has very basic sequencing needs. Notes are entered using the pseudo-keyboard buttons. Programming is different than other synth / grooveboxes of similar function but is relatively easy to master. Up to 256 patterns can be linked to form up to 16 songs all of which remain in memory. And of course all real-time editing can be recorded into your sequence and are also MIDI controllable. Final goodies include an internal MIDI to CV-gate converter, glide or portamento effects, distortion, chorus and phase effects and more!
"In this video you can hear the fusion of the two worlds:
Digital vs Analog
Thanks to the latest update of ReBirth can be synchronized via midi
I love both analog as digital …"