"Coming soon to OS X."
Sony has released a teaser for a new version of Sound Forge Pro, its digital audio editing software, and the new version is for Mac OS X. Details, including availability and pricing, are still to come – but it's 'coming soon'.
"i put a Thingamagoop 2 into the Filter Audio input of my x0xb0x and that Noise came out of it …"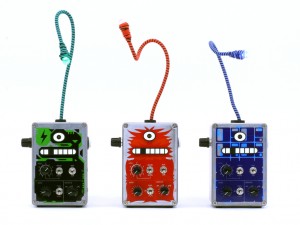 The Thingamagoop 2 is a handmade, analog + digital synthesizer you control with light.
What's new in Thingamagoop 2?
- Analog VCO controlled by photocell.
- Digital mode with sample and hold, Arpeggios, noise, and bit crush effects.
- Open source, Arduino code so you can program your own sounds!
- Analog mode with all the sounds of the original Thingamagoop.
- Controllable "LEDacle" – Ramp and random waveforms with rate control.
- New modulators – Square wave amplitude modulator and triangle wave pulse width modulator.
- Tough, stomp box type body with silk screened graphics in 3 different styles.
- Easy to access battery – No more screws.
- Much fuller and louder speaker.
- CV out. Control your vintage synth or modular with light!
- Kit now comes with a pre-drilled enclosure.
- Still assembled in Austin, Texas by Dr. Bleep and friends.
A voyage into the heart of the Yamaha DX7 II FD from the year 1987.
Exploration by Marko Ettlich
FM Synthesizer
16 Voice Polyphonic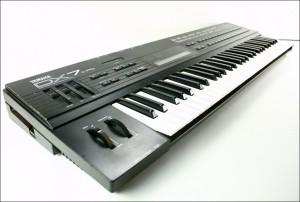 It has been used by Human League, a-ha, Depeche Mode, Tony Banks, Toto and many more.
The DX7 was an amazing digital FM synth. The DX7s carries on the torch once held by the DX7. It offers the same great FM synthesis method and can also create sounds just as unique and wild as the DX7. However, they can be just as difficult to program and understand for most users. Some general improvements include enhanced MIDI support, micro-tuning, aftertouch controlled pitch bending, and multiple LFOs. Although many improvements have been made to the DX7 in this upgrade there still could have been room for improvement, which is where the DX7IID and DX7IIFD come in.
These next models allowed for keyboard split and layering capabilities. The DX7IID (pictured above) and DX7IIFD hold 64 voices in internal memory, as well as an additional 64 voices in a RAM/ROM cartridge that can be accessed. These voices can be layered in dual mode providing very rich sounds or a nice combination of sounds that would be impossible on the original DX7. They can also be split, for a two voice multi-timbral capability. Again, impossible on the original DX.
They have wonderfully clean sound and are stereo, providing pans and chorus and a few other nice effects. There are two real time sliders on these instruments, allowing control of user-programmable items in real time. Micro-tuning, as well as fractional tunings for eastern music etc. is possible. The FD includes a floppy drive for storage of patches, performance presets and sysex information.
Synth arts lesson 1 – the physics of sound
original title: secrets of analog & digital synthesis
(c) 1985, 1986 Ferro Productions
by Steve de Furia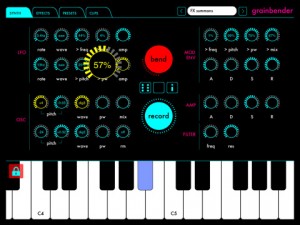 GrainBender is a new iPad synthesizer that makes designing new sounds easier than ever before. Just tap the bend button and sculpt your new sound directly in realtime. GrainBender is capable of making a wide range of sounds, from traditional analog favorites to exotic digital effects.
Key features:
- unique, intuitive sound design interface
- versatile oscillators with analog & digital waveforms
- audio clip recording and export to other apps via AudioCopy
- extensive but easy-to-use modulation
- effects ranging from chorus and delay to digital grunge
Capable of making a wide range of sounds – here are the features:
intuitive sound design interface
versatile oscillators with analog & digital waveforms
audio clip recording and export to other apps via AudioCopy
extensive but easy-to-use modulation
effects ranging from chorus and delay to digital grunge
It's available for $4.99 in the App Store.
Audio demos:
GrainBender sound demos by kuniklo
Nice demo of the suONio
"Alessandro Cortini who played Buchla in NIN and Scott The Harvestman maker of interesting synth modules in Seattle joined forces to make a modular patchable 2×16 sample playback machine out of alessandro's new album and released 200 of these crazy machines into the world. Here's my experience with one."
http://www.sonoio.org/
http://www.theharvestman.org/
iCircuit is the premier iPad and iPhone app for designing and experimenting with circuits. Its advanced simulation engine can handle both analog and digital circuits and features realtime always-on analysis. It is the perfect companion to students, hobbyists, and engineers.
You use it as you would any CAD program: you add elements, connect them together, and set their properties.
But iCircuit is unlike other CAD programs because it is always simulating. It's just like working with the real circuit. You do not stop to take a measurement or spend a lot of time configuring reports. Instead, you just play with the circuit as you normally would, with the power on!
There are over 30 elements you can use to build your circuits. The app has everything from simple resistors, to switches, to MOSFETS, to digital gates.
The app features a multimeter that you use to probe around the circuit to instantly read voltages and currents. If you want to see how a value changes over time, then you can add values to the built-in oscilloscope. The scope can simultaneously track many signals over time and features a touch interface to control the total time displayed and stacked and unstacked modes to easily compare signals.
Supported elements include:
* Signal generators, Voltage sources, and Current sources
* Resistors, Capacitors, and inductors
* Manual SPST/SPDT Switches, and SPST/SPDT relays
* Diodes, BJ Transistors, and MOSFETs
* Speakers, Buzzers, and LEDs
* ADCs, and DACs
* Logic gates: AND, OR, NAND, NOR, XOR
* JK and D Flip-flops
* Because iCircuit is a very CPU intensive application, it is recommended that you only use it on newer generation hardware including: iPhone 3GS, iPhone 4, and iPads. However, it will still function on the older hardware.
Krueger Systems, Inc."