Patch details below:
the patch
snazzy fx ardcore running dual lfo sketch
triggers the two MFB seq 02 sequencers
both are running in AB mode 32 steps each
MFB OSC-02 Triple VCO is sequenced and modulated by
MFB seq 02 and Maths
MFB OSC-02 Triple VCO ing mod out is sent to the filter of monotron e
Maths
with black front panel white knobs
is patched into function
with black front panel and monotribe knobs
function is being fed by the monotron e LFO
EOC is sent to the filter cv of monotron-e
all audio outputs are mixed with MFB drum 99 mixer
this is sent to the alesis io dock input
a little KORG iELECTRIBE is added
this is all on channel 1
Ableton live 8 win7 64bit with hp Compaq L2105tm touchscreen
channel 2
midi input from korg ms20 legacy and DOEPFER A192 CVM 16
Max for Live
QM synth
channel 3
sonic charge microtonic
audio damage big sequence
Electronic Music by RetroSound
two new albums now available for download
1. A Voyage Into The Hearth Of Analog Synthesizers (16 tracks)
available here: http://directpaylink.com/?id=1002LYKPV
used synthesizers:
Oberheim OB-X
Oberheim OB-Xa
Roland Juno-60
Roland Juno-106
Roland SH-101
Roland Jupiter-4
Roland VP-330
Roland SH-101
Korg Polysix
Korg Mono/Poly
Crumar Performer
Arp Odyssey
Moog Minimoog
Moog Taurus 1
Moog Source
SCI Pro-One
Logan SM2
TR-808
TR-606
2. A Voyage Into The Hearth Of Digital Synthesizers (16 tracks)
available here: http://directpaylink.com/?id=1003XMKNO
used synthesizers:
PPG Wave 2.2
PPG Waveterm A
SCI Prophet VS
Yamaha DX7 II
Roland JD-800
Roland D-50
Roland D-550
Korg Wavestation
Korg DW-8000
Korg Z1
Yamaha AN1x
Roland TR-707
SCI Drumtraks
more info about RetroSound:
http://www.retrosound.de and
http://www.facebook.com/pages/RetroSo…
This video shows off a few modifications to a FR-777 bass synth, performed by Jered at FR some 15 years ago. Shown are the Oscillator sync, Endless-drone, and LFO-to-cutoff mods, plus variations.
"Around 2:20, when I say "Envelope", please substitute "LFO!"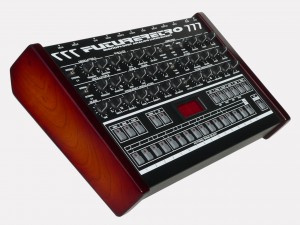 The Future Retro 777 is a monophonic analog synthesizer with a digital sequencer. The 777 is a sleek retro design that has realized the full potential of the monophonic pattern based synth. It's not just another TB-303 emulator. It uses analog circuitry and has a lot of hands-on knobs for instant sound tweaking. And while the 777 has extensive editing and modulation abilities, the layout is as basic and intuitive as an old SH-101 or MC-202!
The 777 functions quite well as either a standalone bass sequencer or as a sound module in a MIDI environment. Two oscillators (A / B) produce a fat bass sound. Modulation abilities are quite complex, the oscillators themselves can modulate each other for example. The filter is very nice with switchable 3 or 7 pole slopes as well as other sound shaping controls for a wide range of tones. An external sound can be routed through the filter too. The sequencer, OSC B and the decay envelope can also modulate the filter cutoff. The 777 also employs a smart accent effect for that extra bit o' kick in your bassline.
As a sequencer the 777 shines once again. Bear in mind that this sequencer accommodates a monophonic (single tone) instrument which normally has very basic sequencing needs. Notes are entered using the pseudo-keyboard buttons. Programming is different than other synth / grooveboxes of similar function but is relatively easy to master. Up to 256 patterns can be linked to form up to 16 songs all of which remain in memory. And of course all real-time editing can be recorded into your sequence and are also MIDI controllable. Final goodies include an internal MIDI to CV-gate converter, glide or portamento effects, distortion, chorus and phase effects and more!
"In this video you can hear the fusion of the two worlds:
Digital vs Analog
Thanks to the latest update of ReBirth can be synchronized via midi
I love both analog as digital …"
"Coming soon to OS X."
Sony has released a teaser for a new version of Sound Forge Pro, its digital audio editing software, and the new version is for Mac OS X. Details, including availability and pricing, are still to come – but it's 'coming soon'.
"i put a Thingamagoop 2 into the Filter Audio input of my x0xb0x and that Noise came out of it …"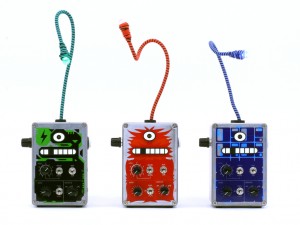 The Thingamagoop 2 is a handmade, analog + digital synthesizer you control with light.
What's new in Thingamagoop 2?
– Analog VCO controlled by photocell.
– Digital mode with sample and hold, Arpeggios, noise, and bit crush effects.
– Open source, Arduino code so you can program your own sounds!
– Analog mode with all the sounds of the original Thingamagoop.
– Controllable "LEDacle" – Ramp and random waveforms with rate control.
– New modulators – Square wave amplitude modulator and triangle wave pulse width modulator.
– Tough, stomp box type body with silk screened graphics in 3 different styles.
– Easy to access battery – No more screws.
– Much fuller and louder speaker.
– CV out. Control your vintage synth or modular with light!
– Kit now comes with a pre-drilled enclosure.
– Still assembled in Austin, Texas by Dr. Bleep and friends.
A voyage into the heart of the Yamaha DX7 II FD from the year 1987.
Exploration by Marko Ettlich
FM Synthesizer
16 Voice Polyphonic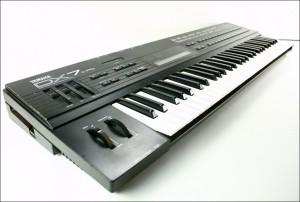 It has been used by Human League, a-ha, Depeche Mode, Tony Banks, Toto and many more.
The DX7 was an amazing digital FM synth. The DX7s carries on the torch once held by the DX7. It offers the same great FM synthesis method and can also create sounds just as unique and wild as the DX7. However, they can be just as difficult to program and understand for most users. Some general improvements include enhanced MIDI support, micro-tuning, aftertouch controlled pitch bending, and multiple LFOs. Although many improvements have been made to the DX7 in this upgrade there still could have been room for improvement, which is where the DX7IID and DX7IIFD come in.
These next models allowed for keyboard split and layering capabilities. The DX7IID (pictured above) and DX7IIFD hold 64 voices in internal memory, as well as an additional 64 voices in a RAM/ROM cartridge that can be accessed. These voices can be layered in dual mode providing very rich sounds or a nice combination of sounds that would be impossible on the original DX7. They can also be split, for a two voice multi-timbral capability. Again, impossible on the original DX.
They have wonderfully clean sound and are stereo, providing pans and chorus and a few other nice effects. There are two real time sliders on these instruments, allowing control of user-programmable items in real time. Micro-tuning, as well as fractional tunings for eastern music etc. is possible. The FD includes a floppy drive for storage of patches, performance presets and sysex information.
Synth arts lesson 1 – the physics of sound
original title: secrets of analog & digital synthesis
(c) 1985, 1986 Ferro Productions
by Steve de Furia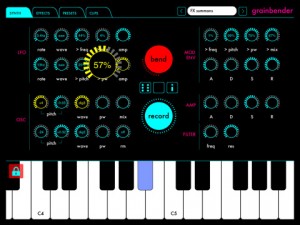 GrainBender is a new iPad synthesizer that makes designing new sounds easier than ever before. Just tap the bend button and sculpt your new sound directly in realtime. GrainBender is capable of making a wide range of sounds, from traditional analog favorites to exotic digital effects.
Key features:
– unique, intuitive sound design interface
– versatile oscillators with analog & digital waveforms
– audio clip recording and export to other apps via AudioCopy
– extensive but easy-to-use modulation
– effects ranging from chorus and delay to digital grunge
Capable of making a wide range of sounds – here are the features:
intuitive sound design interface
versatile oscillators with analog & digital waveforms
audio clip recording and export to other apps via AudioCopy
extensive but easy-to-use modulation
effects ranging from chorus and delay to digital grunge
It's available for $4.99 in the App Store.
Audio demos:
GrainBender sound demos by kuniklo