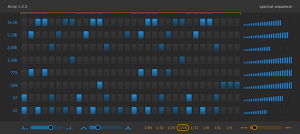 SineVibes has introduced Array – an AudioUnit plugin for creating rhythmic spectral effects.
Array divides the input sound using 8 finely-tuned, smooth -36 dB/octave band-pass filters, and allows to sequence each frequency band individually.
What can it do?
Completely reconstruct and transform drum and percussion loops.
Turn synths, basses, pads or pretty much any static sound into spectrally and rhythmically rich new material.
Liven up final productions with intricate breaks and transitions.
Compatibility
Array works with Logic, MainStage, GarageBand, Live, Maschine, Studio One, ReNoise, Reaper, Bidule and other Mac software that supports AudioUnit effect plugins. It comes in 32/64 bit versions for both Intel and PPC, and requires OS X version 10.5 or later.
SineVibes Array is available now for $19.
Russ gets his hands on the UAD Ampex ATR-102 tape emulation and puts it through its paces in this extended video. He takes a novel approach and looks at the effect it can have on different instruments rather than just as a mix-buss process. Find out more and get top Pro Tools and recording tips and tricks at http://www.pro-tools-expert.com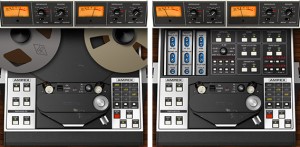 Background data:
It's Not a Record Until it's Mastered on an Ampex® Tape Machine.
For more than three decades, the two-channel Ampex ATR-102 Mastering Tape Recorder has turned music recordings into records. With its cohesive sound, punch, and ability to provide subtle-to-deep tape saturation and color, the ATR-102 is a fixture in major recording and mastering studios — and is considered by many engineers to be the best-sounding tape machine for final mixdown. The perfect complement to the workhorse Studer A800 Multichannel Tape Recorder, the ATR-102 Mastering Tape Recorder plug-in for UAD-2 can provide the final "analog polish" on your music, turning songs into albums.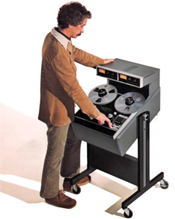 Features
Ampex®-authenticated plug-in emulation of the ATR-102 Mastering Tape Recorder — the most popular professional 2-track machine ever made
Provides rich, cohesive tape sound, without the hassles of calibration, maintenance, tape degradation, etc.
Models entire ATR-102 electronic path, including transformers, amplifiers, Repro, Sync, and Input paths
Features multiple tape formulas, head configurations, and calibration levels
Adjustable Wow, Flutter, Hiss, Hum, Crosstalk, and (L/R) Tape Delay
Requires a UAD-2 DSP Accelerator Card available from authorized dealers worldwide
Impeccably modeled in the renowned UAD engineering tradition — and incorporating presets from noted ATR-102 users Chuck Ainlay, Richard Dodd, Buddy Miller, Mike Poole, and more — the ATR-102 Mastering Tape Recorder plug-in emulation for UAD-2 faithfully replicates the unique dynamics, frequency response, and saturation characteristics of the original hardware. Scrutinized and fully authenticated by the Ampex Corporation, the sound of the ATR-102 plug-in for UAD-2 is virtually indistinguishable from its analog cousin.
History
Introduced in 1976, the Ampex ATR-102 2-Track Tape Recorder was a near-instant hit, thanks to its revolutionary servo-controlled reel motors and capstan, which provided smooth, continuous tape tension and handling. The large capstan, and absence of pinch rollers, provided nearly non-existent speed drift and ultra-low flutter. The clever ATR-102 design allowed users to change out heads and guides in mere minutes, with a 1″ head being a very popular "hot-rod" modification in more recent years — especially when running at 15 IPS (inches per second). The ATR's role in modern recording history is so prevalent, that it would be easier to list classic albums that weren't mixed down on this machine, rather than to try to list all those that were.
More info below:
http://www.pointblankonline.net/courses/ableton-live-courses.php
In this tutorial Danny J Lewis breaks down the connection process when recording material from your music apps into your chosen DAW (in this case Ableton Live). He uses a camera connection kit to connect a MIDI keyboard to bring a traditional method of inputting note data, and a simple stereo mini jack to 2 x mono phono jack lead to connect the iPad to your audio interface.
Go to: http://www.pointblankonline.net/courses/ableton-live-courses.php to find out how you can learn more about using Ableton Live as a recording tool. Please get in touch with our course advisors at advice@pointblankonline.net if you want to find out more.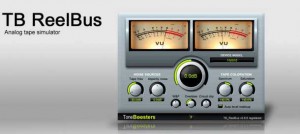 TB ReelBus is an analog tape recording simulator that aims at accurate simulation of all properties related to tape, including its frequency and level dependent saturation, inter-modulation effects, bias dependencies, tape hiss, asperity noise, wow and flutter, and clipping of electronic circuitry. It is especially suitable for bus processing (including the master bus) to subtly sweeten and enhance the sound.
A spokesperson says, "TB ReelBus currently contains 7 preset recorder simulations, which can be adjusted individually by offsetting the tape hiss, asperity noise, amount of spectrum and saturation processing, and alike."
Features
Very low-latency processing (only 4 samples delay) as a result of analog design
Support of all sampling rates from 44.1 up to 192 kHz
Adjustable record level with auto level makeup option
Accurate simulation of existing reel-to-reel recorders with different tape speeds
Adjustable tape hiss and asperity noise levels
Adjustable tape spectrum and tape saturation
Adjustable wow and flutter strength
Option to amplify bias strength for overbiasing
Simulation of both tape saturation as well as analog circuitry clipping
Calibrated analog VU meters
Each and every processing element carefully modeled after analog circuits and filters
Based on the VST 2.4 specification to allow compatibility with virtually all host programs
Pricing and Availability:
EUR 10.00
More information:
Here's a cool video of bullet recording, check it out:
There is a first time for everything and recording bullet pass bys and impacts was a first for me. I've always wanted to try my hand at bullet recording but never had the knowledge or association with anyone that had a permit to use a gun suppressor. After some searching, now I do.
Here are some clips from the first recording session of a iMac being shot at with slow moving bullets shot from a suppressed Glock 22 with custom made 40 caliber rounds.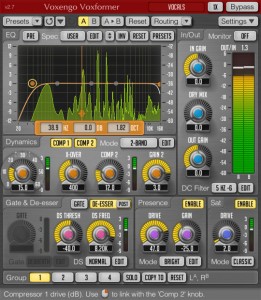 Voxengo has updated its Voxformer multi-functional vocal channel strip plugin for
Windows and Mac to version 2.7.
The coolest feature of Voxformer is its one-knob vocal compressor. Using only a single knob, you can get a tight, open and definitive professional vocal sound with an excellent articulation in no time. You do not have to worry about common ratio and make-up gain controls since they are automatically selected by the advanced compression algorithm while attack and release parameters are stored in a mode preset.
Changes in Voxformer v2.7
Native 64-bit AudioUnit and VST support on Mac OS X added.
Crossover frequency can be now set on the equalizer control
surface.
Note that on Mac computers, Soniformer now supports Mac OS X v10.5 and higher only, running on Intel processors. Mac PowerPC support is not available.
Voxformer for Windows and Mac (VST/AU) is available to purchase for S$69.95 USD.
The software developer Mixed In Key, known for its popular Mixed in Key 5 harmonic mixing analysis tool, announce that it has released Mashup for Windows and Mac OS X.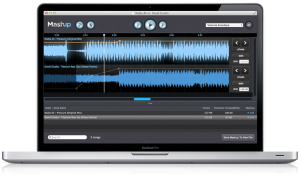 "Mashup" is a purpose-built audio editor that makes it significantly easier to do, you know, MASHUPS.
Mashup (available for $39 with free updates until Version 2.99) is a new audio editor designed to let DJs and music producers quickly and easily beatmatch two or more audio files, edit them, and then save their results to a new audio file. Mashup uses Mixed In Key 5's harmonic algorithm to find compatible songs, making the process of mashup creation extremely simple.
According to Mixed In Key's president Yakov Vorobyev, the company's goal with Mashup was to allow users to create a mashup in five minutes or less, and to make the process easier than it currently is with Ableton Live.
Mashup's user interface is intended to be streamlined and intuitive. When users import songs into Mashup, it will analyze them for key and tempo. Next, when a song is dragged into Mashup's audio editor, its tempo will become the master for the project (or users can manually enter in a different master tempo).
Once a song is added, Mashup's song browser will show users which other songs in their collection are 100% harmonically compatible with their original song. Then other songs can be dragged into the editor window, where they're automatically beat-matched to the master tempo, using Mashup's professional time-stretching algorithm.
From there, Mashup lets users graphically edit each song's volume, as well as three bands of EQ, with breakpoint-style automation. The editor also allows users to select and silence portions of songs, adjust phase, slide them in time, and more.
When editing has been completed, the results can be exported to a 320kbps MP3 file or a 16-bit, 44.1kHz WAV file.
For users who have already installed Mixed In Key 5, Mashup will load its database and skip the analysis step. Mashup and Mixed In Key 5 work seamlessly with each other.
Video demonstration of and step-by-step tutorial on changing melodies and harmonies of a mixed musical recording in real-time, using the Zynaptiq PITCHMAP AudioUnits Plug-In controlled by live MIDI input in Apple Logic Pro. Original recording provided courtesy of absolutesongs.com
"An audio processing graph is a Core Foundation opaque type, AUGraph, that you use to construct and manage an audio unit processing chain. A graph can leverage the capabilities of multiple audio units and multiple render callback functions, allowing you to create nearly any audio processing solution you can imagine." – From Apple's "Audio Unit Hosting Guide For iOS"
AudioGraph is a superset of Apple's MixerHost application.
Features include:
* Mono and stereo mic/line input
* Audio effects including:
o Ring modulator
o FFT passthrough using the Accelerate vDSP framework.
o Real-time variable pitch shifting and detection using STFT
o Simple variable speed delay using a ring buffer
o Recursive moving average filter with variable number of points
o Convolution example with variable filter cutoff frequency
* Stereo level meter
* Synthesizer example – sine wave with an envelope generator
* iOS 5 features (from Chris Adamson) including:
o MIDI sampler audio unit
o file player audio unit
o audio unit effects
* Runs on iPad, iPhone, and iPod-Touch
* Basic audio session management including detection of input devices and available channels
* Commented source code.
* Original music by Van Lawton
* Plus everything from MixerHost
Requirements:
* A device that runs iOS 5.x
* Headphones.
Instructions:
Launch the app and press Play.
Source code, documentation, support:
http://zerokidz.com/audiograph
audiograph@zerokidz.com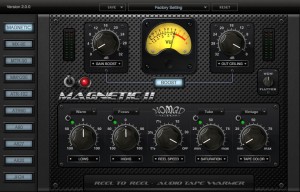 Nomad Factory has released Magnetic 2, a virtual reel-to-reel audio tape warmer effect for Windows and Mac.
The plug-in features pure analog reel-to-reel tape speeds, tape/tube saturation and tape color effects, as well as a dedicated vintage style EQ and a built in Boost mastering section. The result is a creamy, warm sound that can only be achieved by MAGNETIC II.
New in Magnetic 2
9 tape models that give you the authentic sound of the famous vintage tape machines:

Otari MX-80 2-inch 24-track
Otari MTR-90 2-inch 24-track
Ampex MM1200 2-inch 24-track
Ampex ATR-102 half-inch two-track
Tascam ATR60-16 1-inch 16-track
Studer A80 Mk II 2-inch 24-track
Studer A827 2-inch 24-track
Studer A820 2-inch 24-track
MCI JH24 2-inch 24-track

Real Tape Model Mode: To engage the new Real Tape Model mode, simply turn the Reel Speed knob between 1 and 30 and it will activate the selector buttons on the left.
Wow & Flutter Knob: Turning the Reel Speed knob between 1 and 30 also activates the Wow & Flutter knob which gives you the irregularities in the playback speed of analog recordings.
Magnetic Tape Color: When the Reel Speed knob is set to DASH, this engages the original Magnetic Tape-Color sound. Any other Reel Speed Knob setting allows you to select between different Tape Model modes, including Magnetic.
Magnetic 2 is available to purchase for the introductory price of $79 USD. The upgrade from Magnetic v1.x is $20 USD for a limited time.
The Story of Reel-to-Reel Tape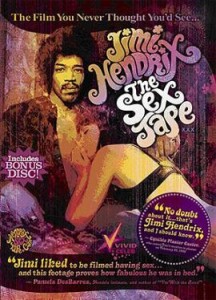 Every hit album made before the 1990's was recorded on some form of Tape… The Beatles, Jimi Hendrix, Led Zeppelin, The Doors, Queen, the list goes on and on. That's why those songs still sound so good today, because the way they were recorded. Even today, some artists of all genres prefer analog tape's "musical", "natural" and especially "warm" sound. Due to harmonic distortion, bass can thicken up, creating the illusion of a fuller-sounding mix. In addition, the high end can be slightly compressed, which is more natural to the human ear. It is common for artists to record to digital and re-record the tracks to analog reels for this effect of "natural" sound. In addition to all of these attributes of tape, tape saturation is a unique form of distortion that many artists find very pleasing.
Before large hard disks became economical enough to make hard disk recorders viable, studio digital recording meant recording on digital tape. Mitsubishi's ProDigi and Sony's Digital Audio Stationary Head (DASH) were the primary digital reel-to-reel formats in use in recording studios from the early 1980s through the mid 1990's. With the MAGNETIC, Nomad Factory has captured the essence of DASH technology and made the sound of high-fidelity digital tape recording available in plug-in format.