Ferrite Recording Studio – the new iOS DAW
A quick preview of our new app for iPad, iPhone and iPod touch, Ferrite Recording Studio. Record and edit audio on the go!
http://www.wooji-juice.com/products/f…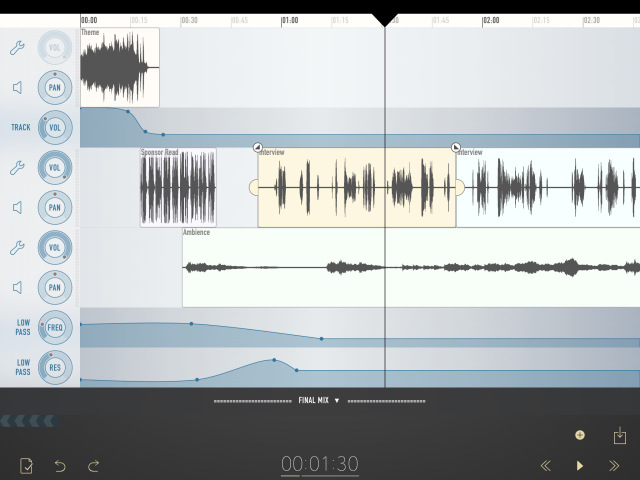 Wooji Juice has announced Ferrite Recording Studio for iOS – a new mobile multitrack recording app.
The developers say that Ferrite Recording Studio "makes it fast and easy to record and edit audio on-the-go — while making powerful features like effects and automation available when you need them."
Ferrite focuses on workflow, with features to speed you up and a clean UI designed to get out of your way.
It works just like a voice memo app, with immediate access to recording. But there's also a full editing suite to assemble your recordings — and imported clips — into polished final audio.
Radio journalism, podcasts, lecture recordings, audio presentations and more: all made easier with Ferrite Recording Studio tools such as bookmarking, automatic ducking, and silence removal. Enhance your audio with extras like dynamic compression or filtering. And if you really want to get in and sweat the details, Ferrite has a powerful automation system, which can continuously adjust the sound of individual tracks or the final mix.
When you're done, you can add cover art, show notes or lyrics, and share your projects as standard AAC files — the same high-quality audio format used by the iTunes Store. Send your finished work via popular messaging or file storage services such as email, iCloud or Dropbox — Ferrite supports iOS Sharing Extensions, to make the widest range of services available.
Details on pricing and availability are to be announced.
Comments