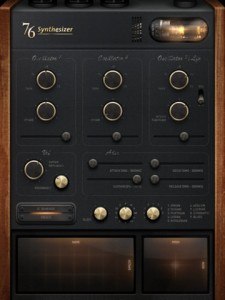 Keen on getting that true retro feeling onto your iPad, well here's your chance. 76 Synthesizer is a virtual analog monophonic synth for the iPad. Inspired by synthesizers from the 70′s, the 76 Synthesizer combines playability with style.
For a limited time only, get 76 Synthesizer for 50% off!
If you have already tried it – let us know what you think
Features:
Three Oscillators with sine, sawtooth, triangle, square waves and switchable filter LFO.
Voltage controlled filter
ADSR
Glide
Pitch bend/modulation touch pad
Three octave touch pad for note input with nine different scales
Eight different effects: reverb, phaser, flanger, chorus, overdrive, delay, tremolo and vocoder— tap the outputs to patch into two effects simultaneously
Eight different writable presets
Stunning retro interface
The app is priced at $1.99.
Another useless device.
Imperial march played by two floppy disk drives.
Homepage: http://silent.org.pl/home/
How does it work?
"It's nothing new and it's very simple. The sound comes from a magnetic head moved by stepper motor. To make a specific sound, head must be moved with appropriate frequency.
FDD has a simple interface – the description may be found for example [ HERE ]. To move the head you need to activate the drive by pulling the DRVSB0 or 1 (depends on the cable you have and the connector – notice the crossover on the FDD ribbon cable) pin low and then falling edge on STEP pin makes the head move one step in direction dependent on DIR pin state.
An ATMega microcontroller is generating those frequencies and it makes the drives play music."

Starting now, Ableton gives all users of Ableton Live 8 or Suite 8 its most popular Partner Instrument: Puremagnetik's Retro Synths! Registered users of Ableton Live 8 or Suite 8 can now download Retro Synths free of charge. In addition, purchasers of Ableton Live 8, Suite 8 or any relevant upgrade before October 31, 2011 will also receive Retro Synths for free.
We invite you to enhance your Ableton Live experience with a free download of Retro Synths by Puremagnetik, our most popular Partner Instrument. Retro Synths represents the best of Puremagnetik's meticulously multi-sampled vintage synthesizer packs, including samples from classics such as the Korg MS-20, Roland D-50 and more. With intelligently selected macros, Retro Synths is immediately playable in Live.

Retro Synths is free for all Ableton Live 8 and Suite 8 users. It is also included with any upgrade or new purchase of Ableton Live 8 or Suite 8 until October 31, 2011.
VNV Nation are ready to release their 7th studio album. Out this September.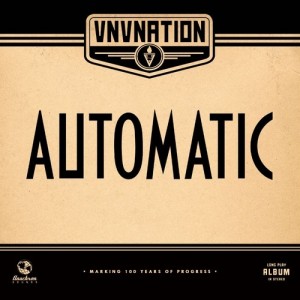 On "Automatic", the band have been put together something far more conceptualized and thematic than previous releases. Something you can witness by looking at the cover.
In a recent press release, were the album is called "an opus of retro-futurism", it is explained that Ronan Harris has been streamlining everything into a concept that encompasses the industrialization and technology of late 30′s America while embracing the technology of today.
"Automatic" will be released on September 16th through the bands own label Anachron Sounds.
Tracklist to be revealed soon!
VNV Nation performs Illusion live on Fearless Music.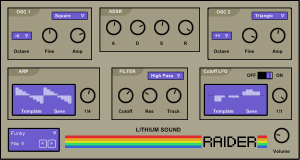 Raider is a 2 oscillator modulation sequencer based synthesizer. Raider allows you to modulate pitch and filter cutoff via two step sequencers. Each sequencer allows one to simply draw in their own pitch and filter modulations or use one of the pre-configured templates. Both sequencers are tempo synced and the filter sequencer can be switched on or off. Raider makes sounds suitable for techno, electro, house, breakbeat, glitch and many other styles. Sounds are remanecent of the 303 and 8-bit game sounds of the 1980′s and one can produce a wide range of sounds from FX and screaming acid leads to Arps and house grooves to percussion and a whole lot more.
Features:
2 oscillators (sine, saw, square, triangle)
1 step sequencer pitch control
1 step sequencer filter control
1 ADSR Amp envelope
1 State Variable Filter (Lowpass,Highpass,Bandpass)
32 presets
Listen to it:
Raider Audio Demo (Raider + drum kits)
Retro footage of Dan Laskowski demonstrating his 1984 Lead Synthesizer software for the Commodore 64
Progress Productions has released a video interview with Mr. Jones machine (unfortunately for most of you in Swedish
However, for those of you who cannot enjoy the interview we have added at least a small video below featuring the band on stage:
Read our post on their new album here >>
"Electric Woman part 2″
intro, strings and lead sounds: Oberheim OB-Xa
bassline: Moog Minimoog
drums: SCI Drumtraks
recording: multi-trak
(special thanks to susa for the assistance)
the audio file:
http://soundcloud.com/retrosound/elec…
On March 30th, Swedish Synthpop trio Mr Jones Machine will release their long-awaited third studio album "Monokrom". Jouni Ollila, Jarmo Ollila and Magnus Lindström have worked on the album for almost four years and once again the trio will stick to swedish lyrics. The new album is said to be more mature then ever and a much stronger side of the band.
Before this, on March 16th, the band will release – together with a very impressive video – a limited 7 inch vinyl of the track "De Månblekta Tingen", which is a duet between Jouni and the famous 80′s icon Susie Päivirinta from the cult duo Lili & Susie, known from the 80′s with hits like "Oh Mama!".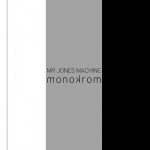 This track will be accompanied with the exclusive b-side "Elektricitet".
This video, via retrosound, is a demo of the PPG Waveterm A + Wave 2.2 – a vintage wavetable synthesizer from 1982.

PPG Waveterm A and Wave 2.2 Wavetable Synthesizer from the year 1982.

The Waveterm is the heart of the legendary PPG system and based on an old german computer called Eltec Eurocom II with Motorola 6809 processor.

- creation of Waves and Wavetables
- fourier analysis / resonator
- additive synthesis
- 8 bit Sampling for the WAVE 2.2
- sequencer / event generator
- storage of sounds on 8″ disc

this first demo video shows only a few functions (creation of waves, wavetables) of the Waveterm A. more coming soon.