August 25, 2011 · Posted in
Uncategorized
·
Comments Off

on Future pop kings VNV Nation goes retro on their upcoming album
VNV Nation are ready to release their 7th studio album. Out this September.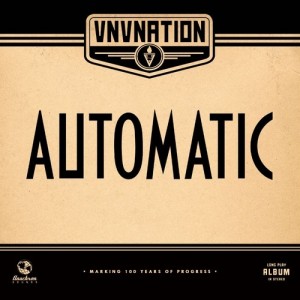 On "Automatic", the band have been put together something far more conceptualized and thematic than previous releases. Something you can witness by looking at the cover.
In a recent press release, were the album is called "an opus of retro-futurism", it is explained that Ronan Harris has been streamlining everything into a concept that encompasses the industrialization and technology of late 30′s America while embracing the technology of today.
"Automatic" will be released on September 16th through the bands own label Anachron Sounds.
Tracklist to be revealed soon!
VNV Nation performs Illusion live on Fearless Music.
June 9, 2011 · Posted in
Uncategorized
·
Comments Off

on More cool retro C64 type synths coming your way – introducing Raider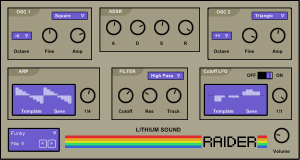 Raider is a 2 oscillator modulation sequencer based synthesizer. Raider allows you to modulate pitch and filter cutoff via two step sequencers. Each sequencer allows one to simply draw in their own pitch and filter modulations or use one of the pre-configured templates. Both sequencers are tempo synced and the filter sequencer can be switched on or off. Raider makes sounds suitable for techno, electro, house, breakbeat, glitch and many other styles. Sounds are remanecent of the 303 and 8-bit game sounds of the 1980's and one can produce a wide range of sounds from FX and screaming acid leads to Arps and house grooves to percussion and a whole lot more.
Features:
2 oscillators (sine, saw, square, triangle)
1 step sequencer pitch control
1 step sequencer filter control
1 ADSR Amp envelope
1 State Variable Filter (Lowpass,Highpass,Bandpass)
32 presets
Listen to it:
Raider Audio Demo (Raider + drum kits)
April 28, 2011 · Posted in
Uncategorized
·
Comments Off

on 8 BIT Commodore 64 Music 1984
Retro footage of Dan Laskowski demonstrating his 1984 Lead Synthesizer software for the Commodore 64
February 21, 2011 · Posted in
Uncategorized
·
Comments Off

on Interview in Swedish with Mr. Jones machine
Progress Productions has released a video interview with Mr. Jones machine (unfortunately for most of you in Swedish
However, for those of you who cannot enjoy the interview we have added at least a small video below featuring the band on stage:
Read our post on their new album here >>
February 17, 2011 · Posted in
Uncategorized
·
Comments Off

on Electric Woman

"Electric Woman part 2"
intro, strings and lead sounds: Oberheim OB-Xa
bassline: Moog Minimoog
drums: SCI Drumtraks
recording: multi-trak
(special thanks to susa for the assistance)
the audio file:
http://soundcloud.com/retrosound/elec…
February 9, 2011 · Posted in
Uncategorized
·
Comments Off

on Retro synthpop act Mr Jones Machine returns
On March 30th, Swedish Synthpop trio Mr Jones Machine will release their long-awaited third studio album "Monokrom". Jouni Ollila, Jarmo Ollila and Magnus Lindström have worked on the album for almost four years and once again the trio will stick to swedish lyrics. The new album is said to be more mature then ever and a much stronger side of the band.
Before this, on March 16th, the band will release – together with a very impressive video – a limited 7 inch vinyl of the track "De Månblekta Tingen", which is a duet between Jouni and the famous 80′s icon Susie Päivirinta from the cult duo Lili & Susie, known from the 80′s with hits like "Oh Mama!".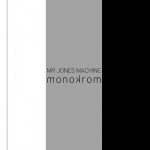 This track will be accompanied with the exclusive b-side "Elektricitet".
February 4, 2011 · Posted in
Uncategorized
·
Comments Off

on Demo of PPG Waveterm A + Wave 2.2
This video, via retrosound, is a demo of the PPG Waveterm A + Wave 2.2 – a vintage wavetable synthesizer from 1982.

PPG Waveterm A and Wave 2.2 Wavetable Synthesizer from the year 1982.

The Waveterm is the heart of the legendary PPG system and based on an old german computer called Eltec Eurocom II with Motorola 6809 processor.

– creation of Waves and Wavetables
– fourier analysis / resonator
– additive synthesis
– 8 bit Sampling for the WAVE 2.2
– sequencer / event generator
– storage of sounds on 8″ disc

this first demo video shows only a few functions (creation of waves, wavetables) of the Waveterm A. more coming soon.
December 20, 2010 · Posted in
Uncategorized
·
Comments Off

on Retro style Analog / Wavetable unison synth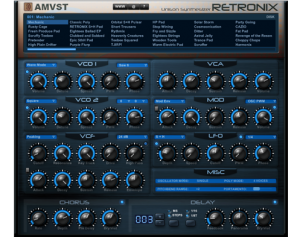 Retro style Analog / Wavetable unison synth. The synth comes with 2 x 5 oscillators and one of them features a wavetable mode with 135 waves. The filter has an overdrive, key tracking, ADSR envelope and an extra High Pass filter to filter out unwanted low frequencies. Retronix is offered as freeware and can be used in commercial productions without restrictions. RETRONIX is available free on the official Angular Momentum site at http://www.amvst.com/node/184
Main features
2 Oscillators (1 with Wavetable Mode)
Unison Detune and Spread
Single/Dual/Fat/Ultrafat switch
Stereo SV Filter with overdrive and second HP Filter
Amp ADSR Envelope
Filter ADSR Envelope
Stereo Chorus
Stereo Delay
Portamento
Pitch bend
180 Patches
Minimum System Requirements
Processor: Pentium/AMD with SSE/SSE2 instructions
Processor speed: 1800 MHz RAM (Cache): 512 MB RAM
Operating system: Windows 98/ME/XP/Vista or 2000
Host application: Cubase VST 3.7 or higher or other VST 2.0 compatible host software
Other Components: PC equipped according to the specifications of the host software
October 29, 2010 · Posted in
Uncategorized
·
Comments Off

on Weekend chip delight
Awesome new video created by "virt"
Artist: virt (Jake Kaufman)
Song: Retro City Rampage Theme
It's Retro City Rampage: The Soundtrack! The tracks from the video game are heading to your headphones!
Download this track at: retrocityrampage.com
October 18, 2010 · Posted in
Uncategorized
·
Comments Off

on Retrosounds gives us a vintage heads up
http://www.youtube.com/watch?v=QqRJyOql3ac
vintage synth demo by RetroSound
"Odyssey feat. Minimoog"
2 VCO deep bass: Moog Lintronics Minimoog
2 VCO lead sound: ARP Odyssey MkIIII
FX: Lexicon reverb and delay
more info: http://www.retrosound.de and
http://www.myspace.com/retrosound72