This video, via retrosound, is a demo of the PPG Waveterm A + Wave 2.2 – a vintage wavetable synthesizer from 1982.

PPG Waveterm A and Wave 2.2 Wavetable Synthesizer from the year 1982.

The Waveterm is the heart of the legendary PPG system and based on an old german computer called Eltec Eurocom II with Motorola 6809 processor.

- creation of Waves and Wavetables
- fourier analysis / resonator
- additive synthesis
- 8 bit Sampling for the WAVE 2.2
- sequencer / event generator
- storage of sounds on 8″ disc

this first demo video shows only a few functions (creation of waves, wavetables) of the Waveterm A. more coming soon.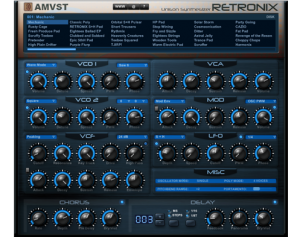 Retro style Analog / Wavetable unison synth. The synth comes with 2 x 5 oscillators and one of them features a wavetable mode with 135 waves. The filter has an overdrive, key tracking, ADSR envelope and an extra High Pass filter to filter out unwanted low frequencies. Retronix is offered as freeware and can be used in commercial productions without restrictions. RETRONIX is available free on the official Angular Momentum site at http://www.amvst.com/node/184
Main features
2 Oscillators (1 with Wavetable Mode)
Unison Detune and Spread
Single/Dual/Fat/Ultrafat switch
Stereo SV Filter with overdrive and second HP Filter
Amp ADSR Envelope
Filter ADSR Envelope
Stereo Chorus
Stereo Delay
Portamento
Pitch bend
180 Patches
Minimum System Requirements
Processor: Pentium/AMD with SSE/SSE2 instructions
Processor speed: 1800 MHz RAM (Cache): 512 MB RAM
Operating system: Windows 98/ME/XP/Vista or 2000
Host application: Cubase VST 3.7 or higher or other VST 2.0 compatible host software
Other Components: PC equipped according to the specifications of the host software
Awesome new video created by "virt"
Artist: virt (Jake Kaufman)
Song: Retro City Rampage Theme
It's Retro City Rampage: The Soundtrack! The tracks from the video game are heading to your headphones!
Download this track at: retrocityrampage.com
http://www.youtube.com/watch?v=QqRJyOql3ac
vintage synth demo by RetroSound
"Odyssey feat. Minimoog"
2 VCO deep bass: Moog Lintronics Minimoog
2 VCO lead sound: ARP Odyssey MkIIII
FX: Lexicon reverb and delay
more info: http://www.retrosound.de and
http://www.myspace.com/retrosound72
Keen on exclusive video games then here's a treat for you. Slightly off topic, but I am inclined to believe there are good retro tunes on them as well, if you have the money that is

Some Japanese videogame collectors won't settle for perfect copies of titles they played in their youth. For a handful of devotees, it's all about getting their hands on the rarest retrogames in the world, some of which were manufactured in batches of just a few hundred.
In Tokyo's Akihabara electronics district, a retrogame's relative scarcity drives pricing. "When only a handful of games are made, they can charge what they want for it". Such retrogames used to be spread all over Akihabara, but these days the rarest ones have funneled into three specialty stores: Mandarake, Trader and Super Potato.
Here are the 10 most expensive game cartridges in all of Akihabara, photographed in the three retrogame superstores. If you bought them all, it would cost you roughly $15,250.
Via WN
Angular Momentum has released Retronix, a free retro-style software synth plugin for Windows.
The synth features 2 x 5 oscillators and one of them offers a wavetable mode with 135 waves.
The filter has overdrive, key tracking, an ADSR envelope and an extra High Pass filter to filter out unwanted low frequencies.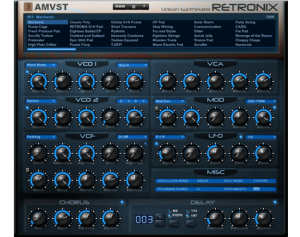 A modern musical take on the 'Teaserama' and Bettie Page 1950s burlesque acts and stripteases. The music was composed by Danny Hahn at the NeoKitsch studio using the Haken Continuum Fingerboard as the main instrument.
Retro pin ups
http://www.youtube.com/watch?v=hjTzGXjhkCE&feature=player_embedded
WOK has release CromFX, the effect section of Cromina String Machine as separate plug-in with enhanced options. You can select from 4 different chorus types (modeled after vintage circuits), 3 phaser models and 2 delays. Here's what WOK has to say…
CromFX is the perfect addon for our string machine, but can of course add brightness and warmth to any sound source. In the chorus section you will find the lush and warm chorus of Cromina plus 3 more variations, modeled after famous designs from Korg™ and Roland™.
For the phaser we added 2 more designs which support host sync, as the two delays (one additional analog tape style delay) do.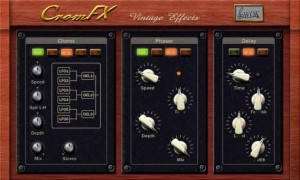 CromFX is available as a VST plugin for Windows.
…an ARP 2500 in action
Can it be much cooler, LOL
This is a demo of the Helmtronic Challenger – a new retro-style analog synthesizer.
Only at the MusikMesse you have the opportunity to meet with a manufacturer of analog synthesizers all buttons and knobs. Challenger and equipment with four oscillators, two filters, dual audio path and panel-style recliner Minimoog. The price, once reached the marketing of the series, should be very interesting.